AIChE ChemE Jeopardy Competition - Regional & Annual Student Conferences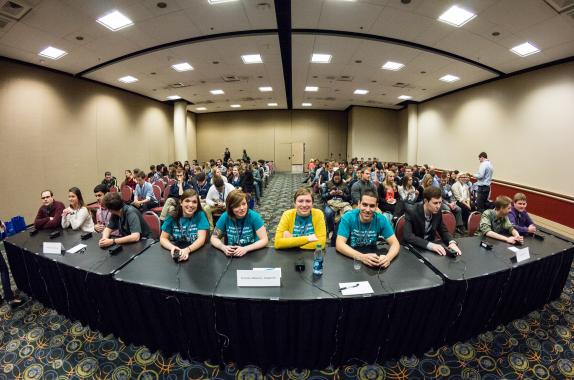 Jeopardy Game utilizing questions from Chemical Engineering Undergrad Coursework. ChemE Jeopardy Games are held at the Regional Conference level in the Spring. The Championship teams from each of the 9 Regional Conferences go on to compete at the Annual Student Conference in the Fall to determine the Champion school for the year.
The Rules for ChemE Jeopardy were updated as of May 2019. Please download the most up to date copy of the rules here:
AIChE ChemE Jeopardy Rules and Instructions
Award Sponsors
Instructions
ChemE Jeopardy at Regional Conferences
The host school is responsible for developing the clues & responses following the criteria given above. Suggestions for generating clues & responses include:

Utilizing chemical engineering (and other) textbooks.
Ask professors in your department to write clues & responses for courses that they have taught recently
Review clues & responses from previous competitions for ideas. These can be obtained upon request from David Murhammer (david-murhammer@uiowa.edu).

The completed board(s) must be inspected and approved by the AIChE Student Chapter Advisor and/or other chemical engineering faculty in order to verify the accuracy of the clues/responses and to identify potential alternative correct responses.
The Emcees and assisting students should be trained for their roles and be aware of thecorrect responses and potential alternative correct responses. Note that multiple Emcees and assisting students will be needed for preliminary round games that are held simultaneously.
Team Members: Team members must all be undergraduate students at the time of the

competition, i.e., no graduate students are allowed to be team members.
ChemE Jeopardy at the Annual Student Conference
The winners of the nine Regional Conference competitions will automatically qualify for the national competition held at the Annual Student Conference.
If the winning team of any of the nine Regional Conference competitions is not able to compete in the national competition, then the 2nd place team from that Region will be invited to compete.
At large ChemE Jeopardy teams will be selected on a first come, first serve basis as needed to fill all nine spots at the national competition if any of the Regional Conferences fail to hold a ChemE Jeopardy competition.
There will be three randomly selected teams in each of three preliminary games at the Annual Student Conference. These games will be conducted simultaneously using the same Jeopardy and Final Jeopardy clues.The winners of the three preliminary games will meet in the championship round to determine the national champion.
The clues & responses will be developed by ChemE Jeopardy subcommittee members.
ChemE Jeopardy subcommittee members will serve as the Emcees in the preliminary and championship games.
Team members: All members of the team that participated in the regional competition are eligible to compete in the national competition, including students that have received their BS degree since the regional competition. Furthermore, any or all of the members of the regional competition team can be replaced with other students, but these replacement team members must be undergraduate students at the time of the national competition
Nomination Packet (Documents)