Thanks to Scaleup Sponsors, Undergraduate Chemical Engineering students are able to join at no cost.
Thanks to ScaleUp program sponsors for helping to enrich the next generation of chemical engineers. AIChE acknowledges the following generous sponsors whose support has made ScaleUp a continued success.
Platinum Level Sponsors
Chevron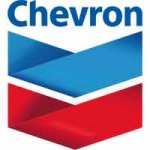 Chevron. Providing Energy for Human Progress
Chevron is one of the world's leading integrated energy companies. Our success is driven by our people and their commitment to get results the right way—by operating responsibly, executing with excellence, applying innovative technologies and capturing new opportunities for profitable growth. We are involved in virtually every facet of the energy industry. We explore for, produce and transport crude oil and natural gas; refine, market and distribute transportation fuels and lubricants; manufacture and sell petrochemical products; generate power and produce geothermal energy; invest in profitable renewable energy and energy efficiency solutions; and develop the energy resources of the future, including researching advanced biofuels.
Our diverse and highly skilled global workforce consists of approximately 64,700 employees, including more than 3,200 service station employees.  In 2014, Chevron's average net production was 2.571 million oil-equivalent barrels per day. About 74 percent of that production occurred outside the United States. Chevron had a global refining capacity of 1.9 million barrels of oil per day at the end of 2014.
We focus on technologies that improve our ability to find, develop and produce crude oil and natural gas from conventional and unconventional resources. We also invest in the development of emerging energy technologies, such as finding better ways to make nonfood-based biofuels, piloting advanced solar technology for our operations and expanding our renewable energy resources.
We recognize that the world needs all the energy we can develop, in every potential form. That's why our employees work to responsibly develop the affordable, reliable energy the world needs.
For more information visit www.chevron.com
Gold Level Sponsors
Air Products
Air Products touches the lives of consumers around the globe in positive ways every day. The company is recognized for its innovative culture, operational excellence and commitment to safety and the environment. Our aim at Air Products is to develop lasting relationships with our customers and communities based on human qualities: an understanding of their needs, integrity and honesty in the way we do business, and a passion for exceeding expectations.
Air Products was established in 1940 in Detroit, Michigan, on the strength of a simple but then revolutionary idea: the "on-site" concept of producing and selling industrial gases, primarily oxygen. At the time, most oxygen was sold as a highly compressed gas product in cylinders that weighed five times more than the gas itself. Air Products proposed building oxygen gas generating facilities adjacent to large-volume users, thereby reducing distribution costs. The concept of piping the gas directly from the generator to the point of use proved sound and technically solvable.


Today, Air Products serves energy, electronics, chemicals, metals, and manufacturing customers globally with a unique portfolio of products, services, and solutions that include atmospheric gases, process and specialty gases, electronics and performance materials, equipment, and services. The Company is the world's largest supplier of hydrogen and has built leading positions in growth markets such as helium, refinery hydrogen, semiconductor materials, natural gas liquefaction, and advanced coatings and adhesives.
For more information visit www.airproducts.com.
AspenTech
The AspenTech University Program has been a cornerstone of commitment to the academic community for more than 25 years. By empowering professors and students worldwide with AspenTech solutions, schools can strengthen their curriculum and better prepare tomorrow's leaders for evolving challenges in the process industries.
This program provides students with insight into the entire lifecycle of a plant with integrated software solutions for engineering operations. The technology enhances their education by delivering the tools they need to apply theoretical concepts hands-on. Students use realistic and practical simulated exercises to solve real-world problems, and gain the critical skills and expertise needed to succeed in the workforce.
It also enables professors to demonstrate the proper tools to resolve critical engineering issues that occur in the process manufacturing industries. Numerous articles and textbooks have been published outlining AspenTech modeling products, and engineering faculty are encouraged to share their experiences as part of an expanded teaching community.
The AspenTech University Program is available to universities that agree to use AspenTech software for undergraduate and graduate student education and research. It is also available for educational use by non-profit "academic" research organizations or institutions that freely publish their results.

If you would like to find out more about the program and how it can help expand the engineering programs at your college or university, please email university.program@aspentech.com or visit www.aspentech.com/industry_solutions/universities/.
Corning

Corning is the world leader in specialty glass and ceramics. We create and make keystone components that enable high-technology systems for consumer electronics, mobile emissions control, telecommunications and life sciences. Corning succeeds through sustained investment in R&D, over 150 years of materials science and process engineering knowledge, and a distinctive collaborative culture. Our products include glass substrates for LCD flat panel televisions, computer monitors and laptops; ceramic substrates and filters for mobile emission control systems; optical fiber, cable, hardware & equipment for telephone and internet communication networks; optical biosensors for drug discovery; and other advanced optics and specialty glass solutions for a number of industries including semiconductor, aerospace, defense, astronomy and metrology.
For more information about Corning, please visit www.corning.com.
Dow
Dow (NYSE: DOW) combines the power of science and technology to passionately innovate what is essential to human progress. The Company is driving innovations that extract value from the intersection of chemical, physical and biological sciences to help address many of the world's most challenging problems such as the need for clean water, clean energy generation and conservation, and increasing agricultural productivity. Dow's integrated, market-driven, industry-leading portfolio of specialty chemical, advanced materials, agrosciences and plastics businesses delivers a broad range of technology-based products and solutions to customers in approximately 180 countries and in high-growth sectors such as packaging, electronics, water, coatings and agriculture. In 2014, Dow had annual sales of more than $58 billion and employed approximately 53,000 people worldwide. The Company's more than 6,000 product families are manufactured at 201 sites in 35 countries across the globe. References to "Dow" or the "Company" mean The Dow Chemical Company and its consolidated subsidiaries unless otherwise expressly noted. More information about Dow can be found at www.dow.com.
Praxair

With 27,000 employees and operations in more than 30 countries, Praxair is focused on helping our customers become more profitable, efficient and environmentally friendly. A Fortune 300 company with 2009 sales of $9 billion, Praxair supplies atmospheric, process and specialty gases, high-performance coatings, and related services and technologies.
For more than 100 years, Praxair has taken something as fundamental as air and turned it into ways to make food taste better, plants operate more cleanly and efficiently, breathing easier – in short, to make all our lives better. Using our expertise as one of the leading industrial gases companies in the world, we're developing ever more inventive ways to meet the demands of today's complex world, while preserving the promise of the future.
By applying innovative thinking and diverse points of view to pressing, real-world problems, our employees are creating the technology, products and services that make a difference to the lives of people everywhere. Just as Praxair serves diverse customers around the world, we work hard to identify, attract, develop and retain qualified individuals from a diversity of backgrounds, cultures, and perspectives. 
For more information visit www.praxair.com.
UOP

UOP LLC, headquartered in Des Plaines, Illinois, USA, is a leading international supplier and licensor of process technology, catalysts, adsorbents, process plants, and consulting services to the petroleum refining, petrochemical, and gas processing industries. UOP has been delivering cutting-edge technology to these industries for over 90 years.
The company's roots date back to 1914, when the revolutionary Dubbs thermal cracking process created the technological foundation for today's modern refining industry. In the ensuing decades, UOP engineers have generated thousands of patents, leading to important advances in process technology, profitability consultation, and equipment design. In addition, our latest proprietary discovery methods for identifying new catalysts and adsorbents are enabling us to bring such products to the marketplace faster than ever before.
UOP is a wholly-owned subsidiary of Honeywell International, Inc. and is part of Honeywell's Specialty Materials strategic business group.
For more information visit www.uop.com.
Becoming a Scale Up Sponsor
For more information on the Scaleup Sponsorhsip Program, contact Ian Sergo at ianse@aiche.org or 646-495-1518