Young Professionals Community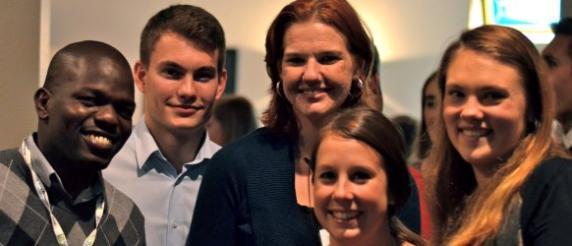 Young Professional (YP) members are a vital and active group of AIChE members.  AIChE Young Professionals are:
Under the age of 35 and have graduated from an undergraduate institution,
Those new to the working world,
Masters or PhD students,
Those looking for a career in chemical engineering post-graduation, and
Those who have been working for a few years and starting to advance in their careers.
The Young Professionals Committee (YPC) works to increase participation among Young Professionals in AIChE benefits, services and volunteer opportunities.  The committee
Serves as an intermediary between undergraduate students moving into the next phase of their professional or academic careers,
Creates technical and social programming for YP's at AIChE conferences,
Supports sub-sections of local sections that hold events especially geared toward YP's,
Supports and vocalizes the needs of YP's within the Institute, and
Helps define the future of AIChE and the chemical engineering profession.
Interested in getting involved? E-mail ypc@aiche.org for more information.
Recent Events
Friday, January 30, 2015, 4:00pm-7:00pm CST
Young Professionals Upcoming Event The South Texas Section of AIChE Young Professionals can use your help! STS-AIChE YP has several volunteer positions. If you have an interest in being more involved with your local AIChE Section, contact us at sts-yp [at] aiche.org to learn more! STS-AIChE YP...
Read more
Thursday, January 29, 2015, 6:30pm-8:00pm EST
Want to network with like minded people? Kick of 2015 right & come network with Young Professionals in your area! Meet members of the Executive Board of the North Jersey Section! See what other Chemical Engineers have to say! Join the party! Have some drinks! Appetizers provided by North NJ...
Read more
Recent Activity
AIChE has a new online home for its Young Professional members. Find everything you need to: ·Take advantage of your benefits of membership ·Stay up to date on Young Professional events, activities and news, including YP Local Section Events. ·Read blog/newsletter articles covering topics of...
Read more