Young Professionals Community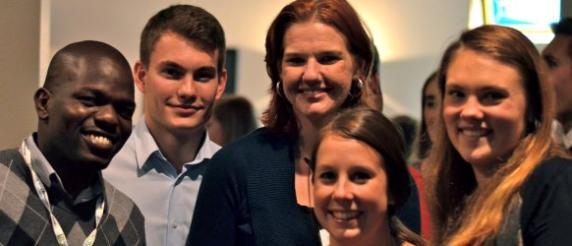 Young Professional (YP) members are a vital and active group of AIChE members.  AIChE Young Professionals are:
Under the age of 35 and have graduated from an undergraduate institution,
Those new to the working world,
Masters or PhD students,
Those looking for a career in chemical engineering post-graduation, and
Those who have been working for a few years and starting to advance in their careers.
The Young Professionals Committee (YPC) works to increase participation among Young Professionals in AIChE benefits, services and volunteer opportunities.  The committee
Serves as an intermediary between undergraduate students moving into the next phase of their professional or academic careers,
Creates technical and social programming for YP's at AIChE conferences,
Supports sub-sections of local sections that hold events especially geared toward YP's,
Supports and vocalizes the needs of YP's within the Institute, and
Helps define the future of AIChE and the chemical engineering profession.
Interested in getting involved? E-mail ypc@aiche.org for more information.
Upcoming Events
Thursday, September 10, 2015, 12:00pm-4:00pm EDT
The AIChE Virtual Career Fair is scheduled on September 10 th from 12 noon to 4 p.m., with a student hour from 3 to 4 p.m. Register directly or using your LinkedIn account and make connections with chemical engineering industry leaders, such as recent participating employers Occidental, CPKelco and...
Read more
Recent Events
Thursday, July 9, 2015, 6:00pm CDT
AIChE East Tennessee Young Professionals Club invites anyone and everyone to Salsa Dance Lessons and Party! There is dance instruction for beginnners, networking opportunity for all, snacks and drinks provided, beer (For 21+), and even a contest if you dare! It is Thursday, July 9 from 6-10 in the...
Read more
Monday, April 27, 2015, 10:00am-5:00pm CDT
AIChE Career Services is sponsoring a full day workshop to power your job seeking skills - Two one-on-one consulting sessions to review your advancement strategy & questions - Plus these four key skill improvement categories 1. Developing Your Introduction: 30-second Value Statement 2. 10 Plus...
Read more