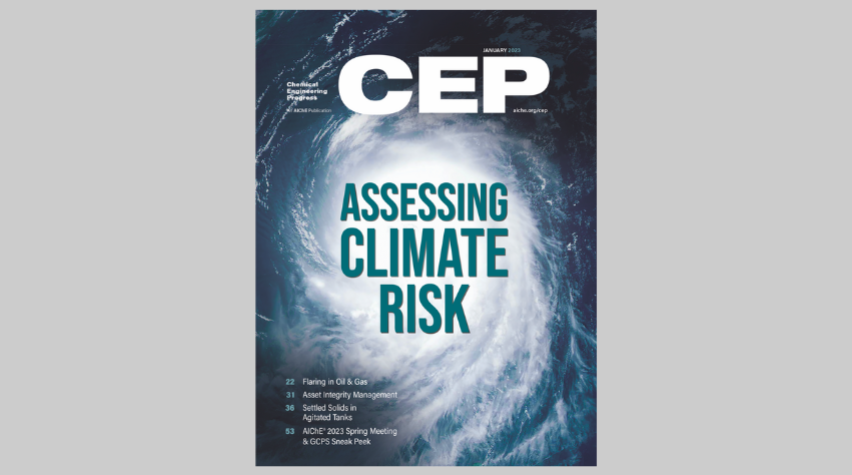 Environmental Management
Minimize Flaring in Oil and Gas Facilities
Flaring is one of the most visible forms of waste at upstream and downstream oil and gas facilities. Capturing flare gas not only has environmental benefits, it has economic incentives as well.
Safety
Use Risk-Based Methodologies to Improve Asset Integrity Management
A risk-based approach to asset integrity management offers several cost, safety, and productivity benefits.
Fluids and Solids Handling
How to Re-Suspend Settled Solids in an Agitated Tank
If a process that involves solids in suspension loses power, it can be difficult to re-suspend the solids, depending on the particle characteristics. This article offers some practical solutions.
Critical Issues
Conducting a Climate Risk Vulnerability Assessment
As extreme weather events increase in frequency and severity, the potential impact on safe and reliable operations of process plants can be evaluated using a climate risk vulnerability assessment.
Update
New CRISPR-Based Technique Edits Whole Genes
What Caused the 2021 Pacific Northwest Heat Wave?
Using Porous Protein Crystals to Track Mosquitoes
New Experimental Vaccine Targets Every Flu Type
Business Update
Plus
Editorial: Bringing New Light to Gas Flaring
Catalyzing Commercialization: New Firefighting Nozzles Suppress Wildfires More Quickly
AIChE Journal Highlight: Integrating Brown and Blue Pathways with Green Hydrogen Infrastructure
Process Safety Beacon: Effects from Changes May Take Years to Appear
New Products: Bioprocessing; Instrumentation; Fluids and Solids Handling; Software; Laboratory Equipment; Operations and Maintenance
Patent Update: Patents Expire, But Trademarks Can Last Forever
ChE in Context: Be a Champion of Engineering and Science
Emerging Voices: Looking Back at the Senior Design Project
Meeting Sneak Peek: AIChE Spring Meeting and 19th Global Congress on Process Safety, Mar. 12–16, Houston, TX
Institute News

President's Message: Expanding our Impacts in a Disrupted World
AIChE Gala Honors Chevron, Ecolab for Societal Contributions; MIT's Paula Hammond Receives Doing a World of Good Medal
2022 AIChE Annual Meeting – in Pictures
The January issue of CEP is now available on the AIChE website, on the CEP app, and as a digital flipbook.