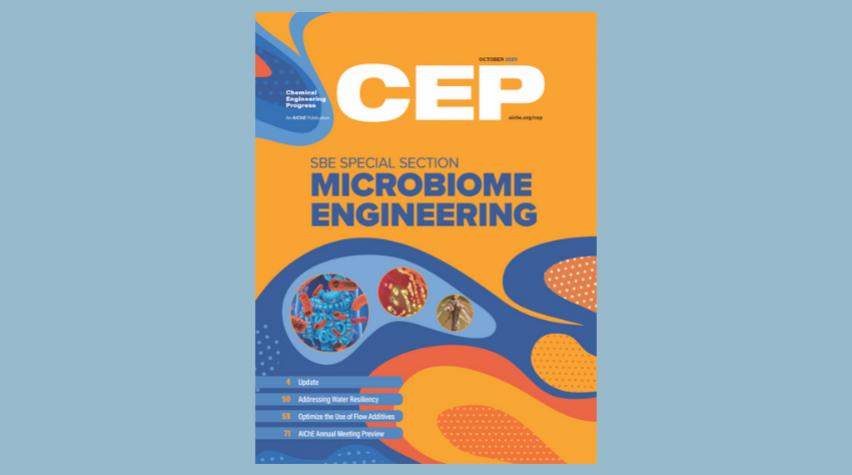 SBE Special Section: Microbiome Engineering
Engineering Gut Bacteria as Living Therapeutics

Developing Precision Microbiome Medicines (Read this article now)

Leveraging Bugs as Drugs

Unraveling Plant and Soil Microbiomes
This four-part special section details the use of genetically engineered gut microbes to treat disease, the role of artificial intelligence in understanding microbiomes, the challenges of manufacturing live biotherapeutic products, and the importance of soil microbiomes to human health.
Environmental Management
Building Water Resiliency at Hydrocarbon Processing Facilities
Use these strategies to manage and treat water sources for reuse within evaporative cooling towers.
Back to Basics
Optimize the Use of Flow Additives
Optimally blend flow additives to improve manufacturing efficiency and transform the performance of commercial products.
News Update
A New Highly Specific COVID-19 Test
Chemical Engineers Improve Biomass-to-Biofuel Process
Non-Slip Shoe Grips Inspired by Kirigami
Expanding on Green Jet Fuels
Turning CO2 into Carbon Nanotubes
Novel Gene Editing Techniques Deletes Herpes
Plus
Editorial: Going with Your Gut
Catalyzing Commercialization: With Self-Erasing Ink, Paper Does Not Have to be Disposable
AIChE Journal Highlight: Integrating Process Design, Scheduling, and Model Predictive Control
New Products: Instrumentation; Software; Materials and Chemicals; Laboratory Equipment, Fluids and Solids Handling; Environmental, Health, and Safety; Operations and Maintenance
Process Safety Beacon: Hazardous Chemicals Hidden in Plain Sight
Profile: Phillip Savage — Fostering an Environment of Sustainability and Learning
The ChE in Context: Old Tricks for New Dogs
Advanced Manufacturing Progress: Strengthening U.S. Manufacturing through Service, Analytics, and Education
Career Connection: Financial Strategies for Difficult Times
Meeting Preview: 2020 Virtual AIChE Annual Meeting
Institute News

2020 AIChE Annual Meeting Goes Online Nov. 16–20
AIChE Election Ballots Due Oct. 19
SBE to Recognize Laurencin and Maranas at AIChE Virtual Annual Meeting
Newly Elected Fellows
Daniel I. C. Wang, Bio Pioneer and Co-Founder of AIChE's Society for Biological Engineering Dies at 84
In Memoriam: Edward W. Merrill
AIChE Members now have four options for reading CEP: Print, New Digital Flipbook, CEP App, and the AIChE Website. What is your favorite way to read CEP? Find out here.