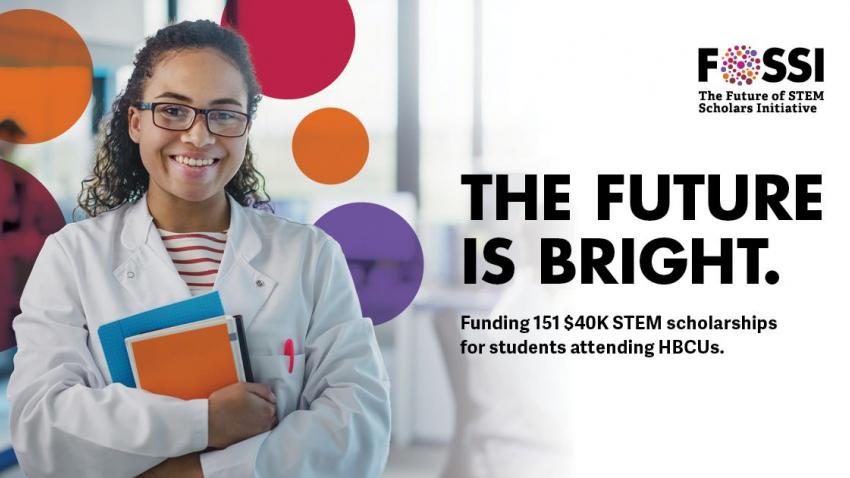 Major Milestone for the Future of STEM Scholars Initiative (FOSSI) & Spring Meeting Roundtable
On May 11th, FOSSI founding partners AIChE, ACC, Chemours and HBCU Week Foundation announced a major milestone for the Future of STEM Scholars Initiative. With funding from 43 chemical manufacturers and related industry stakeholders, the inaugural goal to fund scholarships for 150 students majoring in science, technology, engineering, and math (STEM) at Historically Black Colleges and Universities (HBCUs) has been met and surpassed. FOSSI will support 151 scholars in its inaugural year, at an investment of $7.2 million dollars. Multi-year commitments from sponsoring organizations have raised an additional $4 million in support of future scholars.
The 151 scholarship recipients represent 26 states, with students planning to attend 23 HBCUs. Over 1,700 students applied for FOSSI scholarships, and it is clear there is a vast pool of talent waiting to be tapped. The founding partners are looking forward to building on this initial effort to fully ensure that more young people are given a chance to succeed in the STEM profession.
Earlier this month, The Future of STEM Scholars Initiative was showcased at a roundtable discussion at the 2021 AIChE® Virtual Spring Meeting and 17th Global Congress on Process Safety.
AIChE's Executive Director & CEO, June Wispelwey kicked off the meeting with an overview of the program and a short film. Ashley Christopher, CEO of HBCU Week Foundation, followed Wispelwey with a brief history of HBCUs, and the importance of an HBCU education. Christopher spoke movingly of the reactions of students and parents to receiving the good news.
Joining Christopher on stage, Kimberly White, Vice President, Regulatory and Technical Affairs Division, American Chemistry Council (ACC); Elliot Wolf-Stokes, Global Process Safety Leader, The Chemours Company; and Juste Sylvestre Ki, Chemical Engineering Student, Prairie View A&M University, Class of 2021, participated in an 30-minute discussion, outlining how FOSSI creates value for both industry and underrepresented students by making STEM fields more accessible to people of diverse racial backgrounds, and sharing the many ways that individuals and companies can get involved.
An announcement of the names of the inaugural FOSSI Class is expected in early summer.
FAST FACTS
Launched in November 2020, in partnership with ACC, Chemours and the HBCU Week Foundation.
Provides $10K/year (for 4 years) in scholarship funding for students pursuing STEM degrees at HBCUs and connects students to internships, leadership development, and mentoring opportunities at participating companies.
FOSSI is part of AIChE's All for Good: Engineering for Inclusion Initiative, a comprehensive industry-wide effort to drive equity, diversity and inclusion at each stage of engineering career continuum – from the classroom to the boardroom.
HOW YOU CAN GET INVOLVED
Serve as a mentor
Volunteer at a FOSSI event
Build awareness with your ERGs and engage parents, STEM teachers/educators in your local community
Visit our FOSSI page to learn more
Join us with a gift to FOSSI and help underwrite a student scholarship