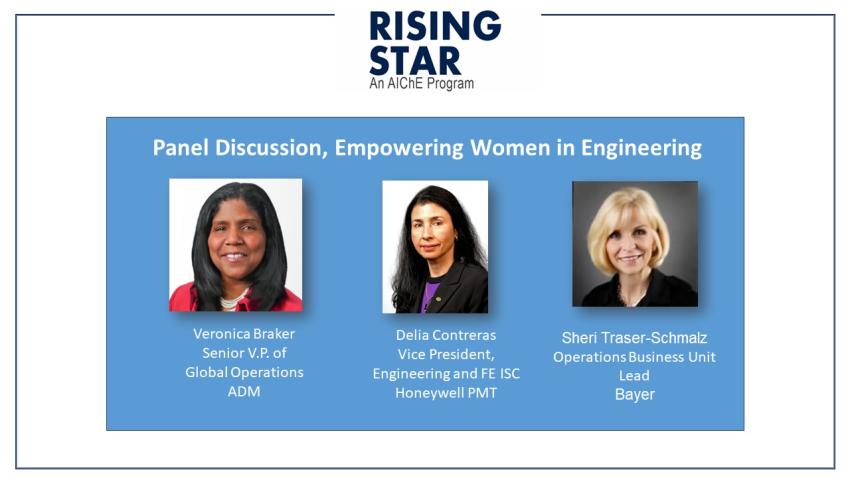 All for Good: Engineering for Inclusion Programs continue to Do More Good!
The AIChE Foundation had another successful year of programming supported by All for Good; Engineering for Inclusion Initiatives (
AFG
). Our signature event, Leadership Workshop for Rising Star Women Engineers drew nearly 250 women from both industry and academia. The Workshop, which is geared towards high performing early to mid-career women engineers, utilizes best practices and leading research on gender to advance professional goals. In 2021, three virtual Rising Star workshops were held along with a new virtual networking session allowing participants to establish a community. It was wonderful to expand our program participation with participants joining from 39 companies and 10 Universities across the country!
The workshops were led by our program partner, Susan Dunlap of the Women's Leadership Forum and we applaud the excellent career strategies and communication advice she shared during these sessions. Each session also included senior level volunteers from our Corporate partners and Academia who engaged in robust Q&A with the attendees. We thank our volunteer speakers whose participation truly enhanced the program with their advice and wisdom.
The Leadership Equity in Engineering (LEE) forum relaunched in 2021 with three virtual sessions, plus a networking session designed help build relationships and community. This executive development program is for exceptionally talented members of under-represented minority communities who are seeking to attain senior management level roles. The 2021 cohort was led by two distinguished AIChE volunteer leaders; Shariq Yosufzai, Past Chair, AIChE Foundation, VP Global Diversity, Chevron Corporation (Retired), Partner, Accordant Advisors and Gayle J. Gibson, Director Engineering DuPont (Retired) and Partner, Accordant Advisors. AIChE is very grateful for their leadership and guidance. Plans are underway to establish a new cohort in 2022 with the goal to nurture and grow this talent pipeline. The continued success of these programs helps AIChE and our All for Good supporters drive positive change as reflected in the AIChE Equity, Diversity and Inclusion (EDI)
statement.
All For Good: Engineering for Inclusion is a core priority of the Doing a World of Good campaign. Stay tuned for updated information on programs and timing in the new year!