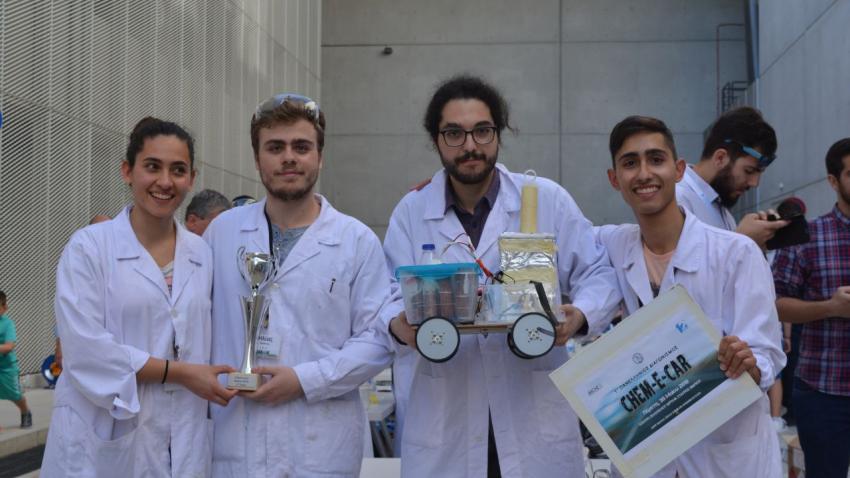 2019 AIChE Student International Regional Conferences
In 2019, the AIChE Foundation supported its growing membership by launching three International Regional conferences that were held in South Korea, Brazil and Greece. KAIST University in South Korea held its first International Conference and Chem-E-Car Competition in Daejon, South Korea on July 20, 2019. Two teams competed with the winning team going to the 2019 Annual Student Conference (ASC) that was held in Orlando, Florida.
The National Technical University of Athens played host to the Greece International Regional Conference and Chem-E-Car competition that was held on May 30, 2019. There were 5 teams competing with the winning team going on to represent in the 2019 ASC.

As a result of the various competitions, we established new and multiple student chapters in each of the host schools and countries. AIChE Membership and Chem-E-Car Committee provides support and guidance throughout the planning stages and mentoring on live events. They train student chapters and judges on the competition judging process, especially concerning safety. While host student chapters from each country provide logistical and leverage their local network of faculty, alumni and undergrad students to provide the support needed to carry out the event.
By forming new chapters, student conferences bring in a fresh pool of young talented professionals, industry members, an opportunity to collaborate and expands the AIChE membership. The AIChE Foundation's Annual Fund generously supported the International Regional Student Conferences.
View a promo video from the Greece International Regional Conference and Competition.
Links to the Events:

KAIST International Regional Conference and Competition

Greece International Regional Conference and Competition