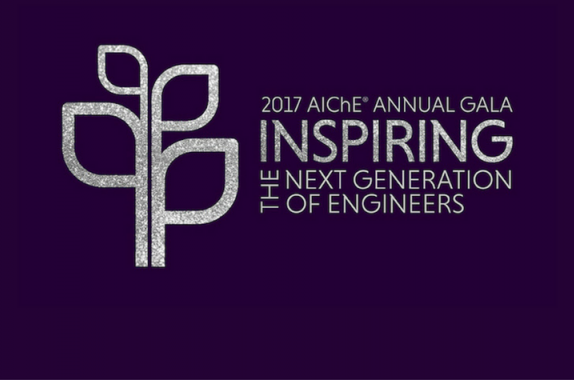 AIChE's 2017 Gala to Honor Corporate Leaders for Endeavors that Inspire Young Engineers
LyondellBasell CEO and Bechtel President and COO — along with DowDuPont's Jim R. Fitterling — to be honored in New York City on December 6
The American Institute of Chemical Engineers (AIChE) will honor Bhavesh V. (Bob) Patel, Chief Executive Officer and Chairman of the Management Board of LyondellBasell; and Jack Futcher, President and Chief Operating Officer of Bechtel, at its 2017 Gala, which will celebrate organizations and industry leaders that have demonstrated an exemplary commitment to science, technology, engineering, and math (STEM) education and the mentorship of young engineers.
Patel and LyondellBasell are being recognized for inspiring K-12 students in the Houston, Texas, area through the company's support of science and engineering fairs, mentoring programs, teaching awards, and provision of role models for DiscoverE's "Introduce a Girl to Engineering" event.
Futcher and Bechtel are being recognized for supporting the organizations DiscoverE, Junior Achievement®, the FIRST® Robotics across the world, and the recent IMAX film Dream Big, which promotes the importance of engineering in creating better lives for people around the world.
The gala will also feature the presentation of the AIChE Foundation's inaugural Doing a World of Good Medal to Jim R. Fitterling, Chief Operating Officer for the Materials Science Division of DowDuPont. The honor salutes the achievements of an individual who has advanced the societal contributions of engineers. Fitterling is being recognized for his dedication to safety in engineering, for his advocacy of diversity and inclusion in the workplace, and for his professional and personal commitment to mentorship.
The gala will be held December 6, 2017, at the Essex House in New York City.
In announcing the gala honorees, AIChE Executive Director June Wispelwey said, "AIChE is delighted to honor these outstanding executives and the organizations they lead and inspire. Mentorship of future generations of engineers is a part of AIChE's mission, and the good works of this year's gala honorees are a benchmark to which all organizations and engineers can aspire — to ensure that the engineering workforce remains strong, talented, and committed to excellence."
The 2017 Gala dinner chairs are (as of September 25): Andreas Kramvis, Operating Partner, AEA Investors LLP; Lynne M. Lachenmyer, Vice President, Exxon Mobil Corporation; Jeff Sipes, Principal Vice President, Bechtel; John Y. Televantos, Partner, Arsenal Capital Partners; Gavin P. Towler, Vice President and Chief Technology Officer, Honeywell Performance Materials Technologies; and S. Shariq Yosufzai, Vice President for Global Diversity, Chevron.
The gala is organized by the AIChE Foundation and will raise funds to support the Institute's work to increase the inclusiveness of the chemical engineering profession, engage and retain undergraduate chemical engineering students in the field, and strengthen pre-college STEM education outreach programs. Such projects are part of the AIChE Foundation's "Doing a World of Good" campaign, which supports initiatives that bring chemical engineering expertise to bear for the benefit of society.
For more information about the 2017 AIChE Gala, visit www.aiche.org/gala.
About AIChE: AIChE is a professional society of more than 53,000 chemical engineers in 110 countries. Its members work in corporations, universities and government using their knowledge of chemical processes to develop safe and useful products for the benefit of society. Through its varied programs, AIChE continues to be a focal point for information exchange on the frontier of chemical engineering research in such areas as nanotechnology, sustainability, hydrogen fuels, biological and environmental engineering, and chemical plant safety and security. More information about AIChE is available at www.aiche.org.