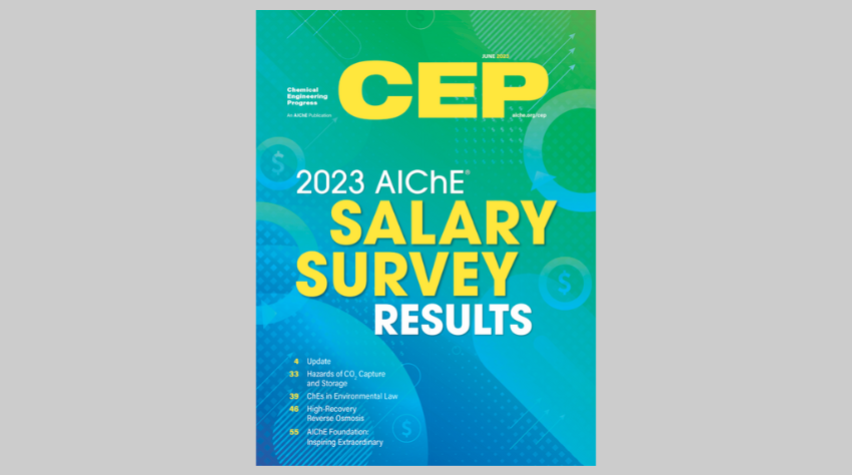 Salary Survey
2023 AIChE Salary Survey Results
The results of the 2023 Salary Survey are in! Uncover how factors such as gender, race, age, experience, location, and industry affect salary.
Safety
Carbon Dioxide Major Accident Hazards Awareness
Commercial carbon capture and sequestration projects will handle very large quantities of carbon dioxide, which will present new challenges and hazards.
Career Catalyst
Wanted: Chemical Engineer Environmental Attorneys
Chemical engineers who are interested in an invigorating and meaningful career path can fill critical gaps in the practice of environmental law.
Reactions and Separations
Improving Water Sustainability with High-Recovery Reverse Osmosis
As organizations set goals to increase the sustainability of their water resources, reverse osmosis (RO), particularly high-recovery RO, offers a robust method to achieve these corporate initiatives.
Update
Same Looms, New "Smart" Textiles
Lab-Grown Meat Just Got Tastier
Novel Device Captures Solar Energy for Hydrogen Production
Using Nanomotion to Test for Antibiotic Resistance
Business Update
Plus
Editorial: Crunching the Numbers
Catalyzing Commercialization: Corn Zein-Based Edible Coatings Reduce Fresh Produce Waste
AIChE Journal Highlight: Sustained Ocular Delivery of Anti-Inflammatory Therapeutics
Process Safety Beacon: Maintain a Sense of Vulnerability
New Products: Fluids and Solids Handling; Instrumentation; Laboratory Equipment; Materials and Chemicals; Operations and Maintenance; Environmental, Health, and Safety; Software
Profile: Breaking New Ground in Geothermal Energy Technology
Career Connection: How to Introduce Yourself in an Interview
Institute News

Introducing Some of AIChE's Recently Elected Fellows
Empowering Possibilities: AIChE's 2023 Gala will Celebrate Chemical Engineering Organizations and Their Leaders
AIChE and IChemE Announce Alliance on Hydrogen
The June issue of CEP is now available on the AIChE website, on the CEP app, and as a digital flipbook.