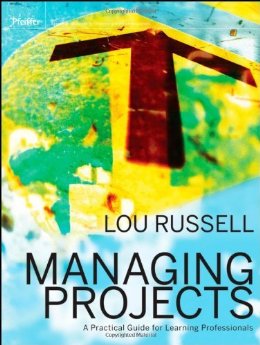 Managing Projects: A Practical Guide for Learning Professionals
by Lou Russell. Pfeiffer, 2012. 205 + xvii pages. US$45.00.
Most chemical engineers (ChEs) work on many projects throughout their careers. Some are mega-projects, such as designing a world-class refinery complex, while others are small projects, such as improving energy efficiency by replacing a pump in an existing facility. Regardless of the size of the projects you encounter, it is important for ChEs to learn to manage and lead project activities during their careers.
Lou Russell's new book, Managing Projects, is geared toward new leaders of mostly small projects. The methodology she presents in this easy-to-read text generally follows project management practices of organizations like AIChE and the Project Management Institute (PMI). This is a great book for anyone new to the concepts and methodologies of project management.
Chapter 1 starts at the beginning: defining a project (a temporary endeavor with a temporary team) as opposed to routine operations and support work. Chapters 2 through 5 lay out a simplified approach to project management:
Define (Chapter 2),
Plan (Chapter 3),
Manage (Chapter 4), and
Review (Chapter 5).
Four steps to manage small projects
Defining the project answers the question of why the organization is spending money on the project in the first place. This phase of project management will address whether the project increases revenue, avoids costs, or improves service.
Planning, perhaps the most important aspect of project management in this reviewer's opinion, answers the question "how?" A key output of the planning phase is the project charter, objectives, and high-level requirements (scope, schedule, and budget). Another output of the planning phase is the risk management plan. ChEs will recognize similarities between HAZOP reviews and identifying/managing project risks.
Managing the project requires an ability to adapt and be flexible during project implementation. Engineers are typically good problem-solvers and this skill comes in handy during project execution. Discoverables and project changes require the project leader to develop alternate plans that will still deliver the product of the project on schedule and within budget.
Finally, reviewing a project allows the project manager, the project team, and the organization as a whole to learn and grow. I wholeheartedly agree with the author that lessons-learned reviews are lacking in most corporations and represent a lost opportunity for future cost savings on projects.
Unique to Ms. Russell's methodology is a visual approach to developing the project charter (see Exhibit 2.5, for example). Engineers will identify with this graphical approach showing all of the key tasks and stakeholders on a single diagram.
Because Managing Projects is focused on smaller projects, the author offers advice on simple tools for project management using familiar software, like Microsoft Word and Excel. Engineers, however, should have familiarity with project management software tools like Microsoft Project and Oracle Primavera in order to take advantage of sophisticated project management analyses.
Chapter 6 addresses organizational change in general, while Chapter 7 introduces the concept of a project management office (PMO). Many large oil, gas, and chemical companies use PMOs to serve as consultants for projects or as full-service engineering, procurement, and construction (EPC) offices. Most engineering design firms and contract EPC companies will also have centralized PMO functions to offer templates, procedures, and policy guidance for client project management.
In the end, Chapter 8 wraps up with ten tips to help any project leader grow in his/her career. My favorite is #10, Laugh (pg. 193). Laughing can make us more creative and accepting of change. And, of course, the purpose of any project is to create positive change.