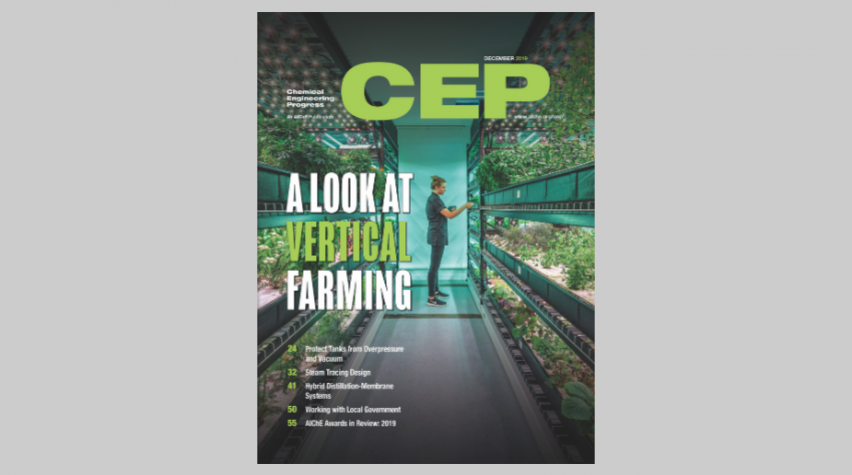 Back to Basics
Protect Tanks from Overpressure and Vacuum
Low pressure does not mean low risk. If low-pressure tanks are compromised, they can release large volumes of material to the environment. Develop a safeguarding strategy for each tank at your site.
Heat Transfer
Tracing the Causes of Heat Maintenance Issues
Steam tracing systems are used throughout oil and gas and chemical facilities. Common problems, such as steam locking caused by incorrect installation, can hinder the performance of these systems.
Reactions and Separations
Retrofitting Distillation Columns with Membranes
Purification via distillation can be an extremely energy-intensive process. Energy requirements can be reduced by redirecting a lower-purity distillate or bottoms stream into a low-energy system, such as a membrane, for final purification.
Business Management
Get to Know Local Government
You might find yourself either employed by a local government or working on a project that requires you to interface with officials and the community. Know the types of local governments, funding mechanisms, and methods to best interact with the public before diving into unfamiliar waters.
News Update
Going Against the Grain: Vertical Farming in the City
Metal Foam Streamlines Airplane Wings
Creating Artificial Blood Vessels to Combat Heart Disease
Sticky Chameleon Tongue Inspires Robotics
Catalyzing the Battle Against Antibiotic Resistance
Municipal Waste Provides Feedstocks for Biofuels
Plus
Editorial: Paper or Silicon?
Catalyzing Commercialization: High-Purity Glucaric Acid Produced by Microbes
New products: Bioprocessing; Materials and Chemicals; Instrumentation; Fluids and Solids Handling; Software
Process Safety Beacon: Identified Flying Objects
Career Connections: Coping with a Layoff
Profile: Michelle Ampuero - A Proactive Engineer, Not a Reactive Engineer
Advanced Manufacturing Progress: Securing the Critical Materials Supply Chain
Patent Update: Broaden Your Portfolio with Design Patents
Technical Entity Trends: Metabolic Engineering: From Conception to Consumers
Books
AIChE Awards in Review: 2019
Institute News

Recently Elected Fellows
AIChE Election Results
Center for Hydrogen Safety to Collaborate with the Hydrogen Council
Grant from Celanese Boosts AIChE's Doing a World of Good Efforts
Your AIChE Membership: K-12 Committee Launches with Annual Meeting STEM Showcase
The December 2019 issue of CEP is now available online. AIChE members receive access to CEP, including a searchable archive of issues dating back to 2001, online at https://www.aiche.org/cep.