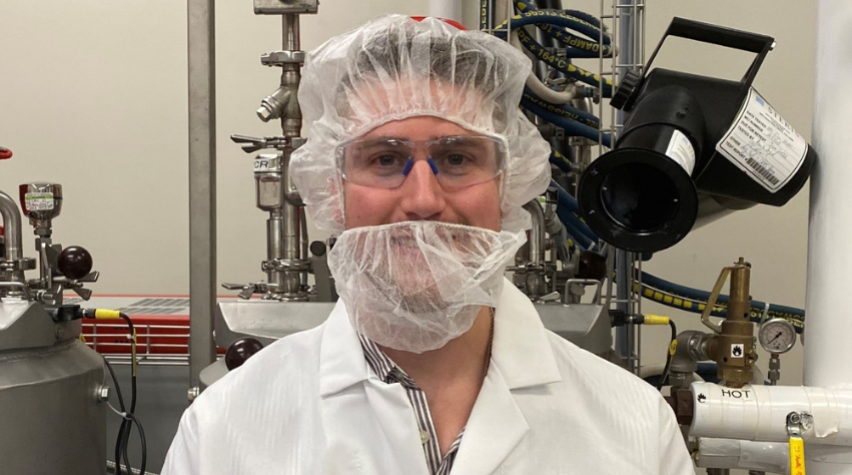 Welcome to the latest in a series of AIChE blog posts profiling process engineers, a diverse group of professionals spanning multiple industries and regions. In this series, we profile process engineers who work in a wide range of fields, including petrochemicals, pharma, bulk chemicals, food, or any process-intensive industry.
Are you a member and process engineer interested in being profiled? We'd love to hear from you via this volunteer opportunity. Please also check out our online discussion group specifically for process engineers. You can find out about these initiatives and join our efforts by visiting aiche.org/process-engineers.
This month, we introduce you to Andrew Ferguson, Research Engineer at Church & Dwight Co., Inc. He discusses the path that led to his career in process engineering, his joy for problem solving, overcoming challenges, and the importance of his work.
Tell us a bit about your work as a process engineer.
I started my career working at a manufacturing plant as a process engineer in the cosmetics and personal care industry. From there, I transitioned to another cosmetics/personal care company, but this time in R&D where I had hands-on experience making batches. Currently, I work as a process development engineer in R&D in the gummy vitamin industry.
There are three main elements to my role. The first is to evaluate new product developments for manufacturability via pilot and analytical testing and scale those processes to the manufacturing plant. New products are always coming through the pipeline and can have dramatically different behavior, so it's important to perform trials at a pilot scale first to mitigate the potential for problems at the plant.
The second is to troubleshoot and scale down any issues that may arise during manufacturing. Sometimes products that have been running at the plant suddenly start running into issues. These problems could possibly be due to an equipment change, the process falling out of control, or the need for a new raw material supplier for an ingredient. Regardless, these issues need to be understood and resolved, and the only way to effectively test this is at the pilot scale.
The third element of my role is to use engineering and physics to build models to determine how to best scale up different unit operations in our process. Understanding how our process works from lab to pilot to plant scales and actually being able to model it makes the scale-up process proceed smoothly with far fewer difficulties.
I love to solve challenging problems, and as a process engineer, there's an endless number of problems to solve.
Why did you become a process engineer?
For me, the reason is much the same as why I chose to become a chemical engineer in the first place – I love to solve challenging problems, and as a process engineer, there's an endless number of problems to solve. This includes new equipment integration and testing, troubleshooting when your equipment fails, or when a slight formula change seems to upend your entire process.
I think modeling and optimization are the most fun part of what I do. They lie at the core of my joy of solving these problems. Analyzing a specific unit operation, breaking it down into its engineering fundamentals, testing against real-world data, and then developing a way to actually implement the results, checks off just about every box in the engineer's toolbox.
In addition to this, I think an attractive part of being a process engineer is the opportunity to be hands on with your work. In my role on the R&D side, I get to be intimately familiar with the equipment in a pilot plant with an up-close view as different products are tested. This affords the opportunity to really play with the operating conditions of a process versus needing to run to a set specification in a manufacturing environment.
Finding the proper balance of outward communication, as well as knowing how to extract critical information from others, are important skills and will always be challenging in the world of process engineering…
What were some of the biggest challenges you faced in your role as a process engineer?
The biggest challenge I have faced as a process engineer, regardless of where it has been, is ensuring open and productive communication channels. To effectively fix a problem or start up a new product or piece of equipment, communication is needed across many organizational groups and internal and external stakeholders.
The problems usually arise not because any group is trying to be disingenuous but rather because passing on the full scale of information from person to person isn't practical or possible. If you try to communicate everything, information about critical factors can be diluted, but if you don't communicate enough, the critical factors may never be addressed.
For example, consider a scenario where a product is having trouble at the manufacturing scale and something as simple as the color of the product is different at the pilot and plant scales. The color by itself may not seem out of place to those involved at each scale, but the fact that the color of the product is different between the two scales may tell an important story about what is happening. Finding the proper balance of outward communication, as well as knowing how to extract critical information from others, are important skills and will always be challenging in the world of process engineering, given the technical concepts and diverse groups of people involved.
How is your work as a process engineer critical to your particular job assignment or industry?
During the creation of a new product, there is so much that is unknown and so much that can potentially go wrong that cannot be properly vetted on a lab scale. This might mean not seeing separation of components, difficulty of mixing of certain ingredients, or rheological effects that would prove troublesome to processing.
I see my role on the R&D side as being the gatekeeper to the manufacturing world. It is my responsibility to ensure that any formula or process combination that heads into manufacturing is robust enough to withstand the rigors and variability of the plant process. Anything that can cause downtime or create inefficiencies in the process is costly – either by way of lost production time, poor quality product that is scrapped, or potential equipment damage.
What do you think is most important about what you do as a process engineer?
I think the most important part of my work as a process engineer is creating robust scale-up models that allow for a consistent, high-quality product to be made. It takes a long time to study, test, collect data, and implement these models, and it's truly satisfactory to see the impact that it has. I think the importance of creating models for scale-up also lies in the fact that they result not only in a single benefit but in various benefits that elicit production efficiencies across the entire product line.
Connect with Andrew on AIChE Engage
Join the Community of Process Engineers

The Community of Process Engineers is brought to you by Scott & Karen Love. Their support enables the AIChE Foundation to advance process engineers at every stage of their career allowing them to Do a World of Good.