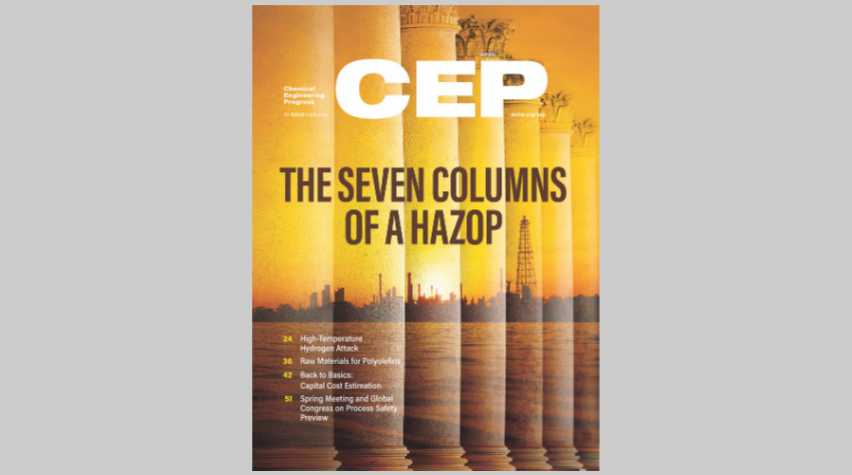 Fluids and Solids Handling
Mitigate a Subtle Cause of High-Temperature Hydrogen Attack
Estimate the hydrogen partial pressure of liquid-filled systems to select suitable metallurgies for industrial piping and equipment.
Safety
Seven Columns, Seven Questions: The Essence of HAZOPs
Conduct a hazard and operability study (HAZOP) by answering a series of seven questions.
Reactions and Separations
Navigating Raw Material Purification in Polyolefins Plants
Catalysts used in polymerization systems are sensitive to the purity of raw materials. Proper knowledge transfer from purification technology providers is key to meeting these high-purity requirements.
Back to Basics
Early-Stage Capital Cost Estimation
Early-stage capital cost estimates are critical to determining the financial feasibility of a project.
News Update
Wearable Health Monitor Could Help Diagnose COVID-19
Manufacturing Clean, Green Styrene
Delivering CO2 in Conversion Systems
RAPID Sponsors Sustainable Pulp and Paper Research
Sustainable, Plant-Based Plastics Close the Recycling Loop
Self-Growing Living Materials
Plus
Editorial: The Spring Thaw Reveals Surprises
Catalyzing Commercialization: Polymer Composite Utility Poles Offer Grid Resilience to Wildfires
AIChE Journal Highlight: Keeping Chemical Engineering Education Relevant
New Products: Instrumentation; Laboratory Equipment; Bioprocessing; Software; Environmental, Health, and Safety
Process Safety Beacon: Recent Nitrogen Fatalities Are a Vivid Reminder
Advanced Manufacturing Progress: Managing Risk Through Modular Process Intensification
Profile: Shivali Kadam — Miss Oregon and ChE Shirks Gender Stereotypes
Career Connection: Detox Your Digital Life
ChE in Context: Context for AIChE's Climate Change Policy
Institute News

Chemical Engineering and Safety Communities to Unite Online at AIChE's Virtual Spring Meeting & 17th Global Congress on Process Safety, Apr. 18–23
AIChE Announces Candidates for 2021 Officer Election
Kadri is Selected as 2021 AGILE Award Keynote Lecturer
The April issue of CEP is now available online at www.aiche.org/cep.