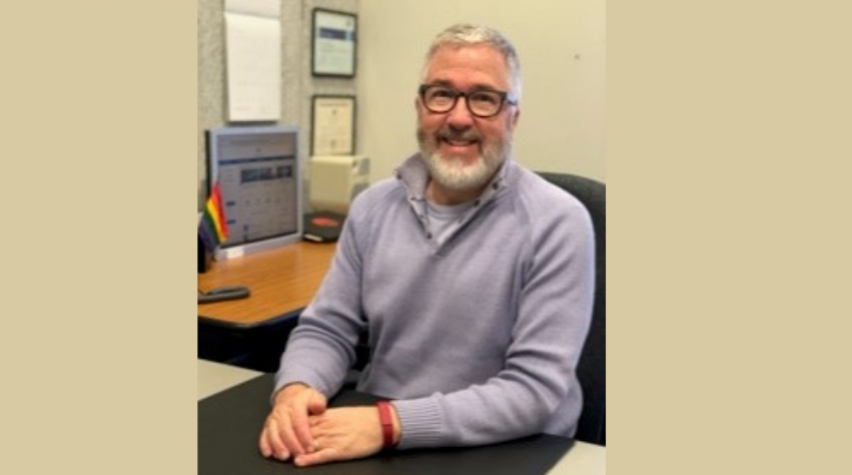 AIChE presents the most recent post in this series featuring LGBTQ+ engineers and their allies as part of an ongoing effort to share stories of equity, diversity, and inclusion. Other related efforts include a variety of LGBTQ+ programs and events at this year's Annual Meeting and those held at least year's meeting. These programs and events were all supported by the AIChE Foundation's Doing a World of Good Campaign.
In this installment of our series, we interviewed Kirk Nass, who discusses his experience as a gay chemical engineer and retiree from Chevron Oronite Company.
Where did you complete your chemical engineering education?
I received my BS in chemical engineering from the University of Illinois – Urbana Champaign and my PhD in chemical engineering from the University of Washington in Seattle.
How many years have you been a member of AIChE?
I've been a full member of AIChE for 37 years and I was a student member as an undergrad.
Tell us a bit about your previous job and your job responsibilities. What was a typical day at work?
Before retiring in October 2020, I was the leader of Chevron Oronite's Dispersants, Inhibitors, and Fuel Additives Team; a bench-top synthetic chemistry group designing additive compounds. Successful candidates could be used in motor oils or in TECHRON®, the additive in Chevron and Texaco gasolines.
My responsibilities included managing both people and projects. I focused a lot on developing personnel and creating and executing technology strategies for identifying new additives to meet future performance needs of customers and the industry. On a typical day, I'd participate in project governance meetings, talk to the formulators testing the team's candidates, and visit the chemists to discuss any safety issues or project bottlenecks I could resolve to help them safely achieve the team's research goals.
As a supervisor, I found the best way to help my team to be successful was to ask them what barriers they faced in achieving their goals, listen to what they said, and then work to remove those barriers. I believe that allies should use the same approach with LGBTQ engineers: ask, listen, and work to remove the identified barriers.
Tell us a bit about your experience as an out LGBTQ professional working in engineering.
Overall, my experiences as a gay engineer working in R&D were positive and I felt accepted and supported by my management and coworkers. On my first day at Chevron, I put a photo of my husband (who was then my partner) on my desk, so I was an out gay chemical engineer throughout my entire career. Looking back, I'm confident that my performance and contributions were evaluated solely based on their technical merit. Co-workers openly talked about their families and asked about mine, and my husband was invited to company social events.
However, there were a few times I wondered whether or not my sexual orientation might be an issue. Like when I was cautioned by one supervisor to "not wear a pink shirt" to a meeting with a certain technical manager and coached by another supervisor to "be less emotional" (but a few straight managers were well-known for frequently losing their tempers in meeting).
Being an out engineer actually provided another avenue for developing my leadership skills and contributing to the company by helping to change the workplace for Chevron's LGBTQ employees. Placing my husband's photo on my desk not only led to a lot of interesting discussions with co-workers about LGBTQ workplace issues, but it also led to my connection to an informal network of LGBTQ Chevron employees in the Bay Area. That local network formed the basis of a formal, global employee network which was later officially recognized by Chevron. I was a founding Board member of the group and eventually served as Chair for several years.
When I started working in 1989, sexual orientation wasn't covered by any company non-discrimination or anti-harassment policy. I couldn't cover my partner in my medical coverage, and the company didn't recognize any employee diversity network. By the time I stepped away from a network leadership role after 10 years, all of that had changed. By the time I retired, gender identity and expression had been added to company policies and there were 13 recognized employee diversity networks.
What are the most important issues that LGBTQ engineers deal with in the workplace today?
The biggest challenge I see for LGBTQ engineers, and for nearly every other group of diverse engineers, is *real* inclusion in the workplace. Companies talk at length about "diversity" which is usually focused on optics: making sure that when you look around a room you see a variety of people represented. But, if the perspectives of those people aren't being considered in making decisions, has anything been gained from that diversity? A symptom of this problem is a lack of visible LGBTQ people in senior leadership positions; middle management positions seem to be the current "rainbow ceiling."
As with diversity in general, it's a multidimensional problem to solve: having a pipeline bringing LGBTQ engineers into the organization, developing their leadership skills, and providing them opportunities to make significant contributions. While those are actions an employer can take, we have the responsibility to be open and out to co-workers and management since being LGBTQ isn't always obvious to people. However, that's not easy to do unless people feel that it's safe to do so.
Do you know others in the profession who struggle with being out in today's workplace?
Even at Chevron, I knew of LGBTQ engineers who didn't feel comfortable being out at work and wouldn't join the LGBTQ employee network.
How can people (peers who are allies, and members of management and leadership who are allies) help foster a more inclusive environment for LGBTQ chemical engineers?
As a supervisor, I found the best way to help my team to be successful was to ask them what barriers they faced in achieving their goals, listen to what they said, and then work to remove those barriers. I believe that allies should use the same approach with LGBTQ engineers: ask, listen, and work to remove the identified barriers. Many of the changes made in Chevron for LGBTQ employees were because the people who could either influence or make decisions took that approach.
I've observed a puzzling trend over the past few years of allies speaking on behalf of LGBTQ people or equating their personal stories of LGBTQ acceptance to the stories of LGBTQ people trying to be accepted and be treated equitably. While it's nice to feel supportive, I don't think those approaches do anything meaningful to improve the working environment for LGBTQ people.
Tell us a bit about your personal life.
My husband, Michael Gillespie, and I live in San Francisco and have been together for nearly 37 years. We've been legally married for just over 12 of those years. When we met in 1984, Michael was divorced with two children who are now adults, and our family has grown to include two grandsons. They all live in the Pacific Northwest, so a high priority post-pandemic activity will be to get some quality in-person time with them after a year of FaceTime visits.
Mike is an excellent cook and spends as much time in the kitchen as he can. I'm the house sommelier and plan to learn more about wine now that I'm retired. We're both fairly nerdy and enjoy sci-fi. When we moved to San Francisco, we wanted to take advantage of the world-class cultural resources available here, so we enjoy going to the San Francisco Ballet and to the art museums. We also like to hang out with friends in the Mission District and talk politics over coffee and lunch.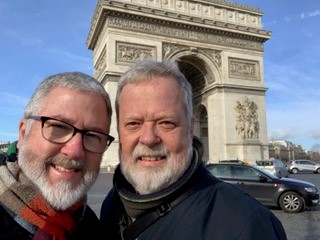 Here, Kirk (left) is pictured with his husband, Michael Gillespie, sightseeing in Paris
Are there any LGBTQ inspirations, role models, or moments in history that are important to you?
On June 26, 2015, the US Supreme Court ruled in favor of Obergefell, which had the effect of making same-sex marriage legal in the United States. Co-workers came to my office when the ruling was announced and we cried together with joy. The Supreme Court ruling was made on the Friday starting Pride Weekend, and the San Francisco Pride Parade was the most massive, joyous celebration I have ever seen.
Do you have a coming out story you'd like to share?
I came out to myself a few months before I turned 24. I literally woke up one Saturday morning and said to myself, "You're gay, accept it." It took few months to come out to friends and a few years to come out to my family, but I did and I never looked back.
What's your dream getaway?
Mike and I have been able to travel to France quite a bit for both my work and vacations. Our post-pandemic dream getaway is to return to Paris, hang out in our favorite café in the Marais, explore parts of the city we've not yet been to, then rent a place in the countryside in the south and host our kids, grandkids, and friends for a few weeks.
Join AIChE's LGBTQ+ & Allies Online Community
This community is open to professional AIChE members who are LGBTQ+ and allies. Topics of discussion will include the ongoing development of LGBTQ+ initiatives at AIChE, plus issues concerning, and opportunities for, LGBTQ+ chemical engineering professionals.
Learn more about the community.
Learn more about AIChE's Diversity and Inclusion Initiatives.
Interested in helping?
Are you an LGBTQ+ chemical engineer and AIChE member interested in sharing your story to help create awareness around diversity and inclusion? Are you an LGBTQ+ ally interested in helping with diversity and inclusion efforts? Send us a note at chenected@aiche.org with the subject "Diversity and Inclusion."