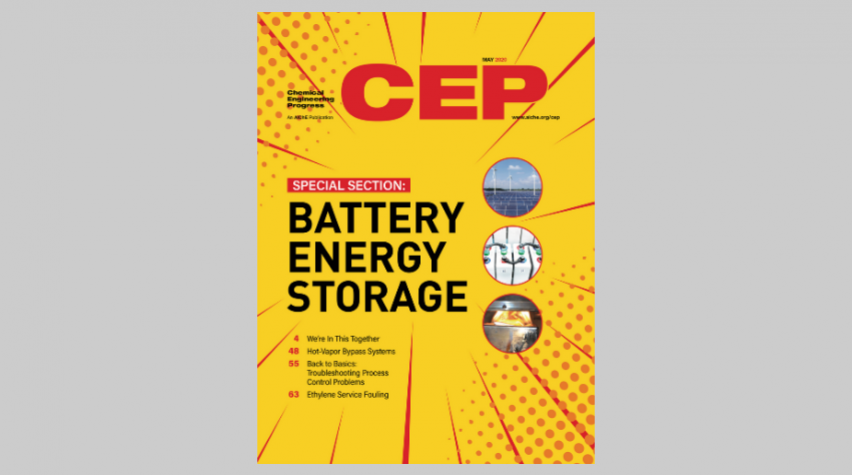 Special Section: Battery Energy Storage
This special section on battery energy storage covers the economic, environmental, and social drivers that are motivating the adoption of grid-level energy storage, as well as the impact this has on safety and grid resilience. It also introduces some battery chemistries that could challenge the market dominance of lithium-ion batteries and serve medium-to-large scale storage applications.
Articles:
The Future of the Electric Grid
Battery Energy Storage in Stationary Applications
Mitigating the Hazards of Battery Systems
Hybrid Flow Batteries for Stationary Energy Storage
Rechargeable Manganese Dioxide-Zinc Batteries
Download the Battery Energy Storage Special Section
Heat Transfer
Details Matter in Hot-Vapor Bypass Systems
A hot-vapor bypass system maintains distillation tower pressure control. The key to operational success is to minimize the energy transfer from the hot vapor to the bulk subcooled liquid within the reflux drum.
Back to Basics
Troubleshooting Process Control Problems
Identifying and troubleshooting problematic control loops can significantly improve plant performance.
Reactions and Separations
Visual Clues Give Insight into Ethylene Service Fouling
Fouling is an unfortunate part of ethylene and reactive monomer production. This handy guide will give you some clues as to what's happening in your process based on the type of fouling you are seeing.
Update:
Slowing Down Fast Fashion
Chemical Engineer Expands Research to Battle COVID-19 Pandemic
Ethylene Sensor May Prevent Food Spoilage
Light-Activated Coating Kills Bacteria
Plus
Guest Editorial: ChEs Tackle COVID-19
We're in This Together: Surviving Self-Quarantine: 3 Tips from an Astronaut
Catalyzing Commercialization: Novel Concrete Wall Panels Lower a Building's Energy Footprint
AIChE Journal Highlight: Initiatives to Improve Faculty-Student Experiences
Process Safety Beacon: Permitted Work — A Special Cause of Increased Risk
New Products: Fluids and Solids Handling; Environmental, Health, and Safety; Instrumentation
YPOV: Gen Z Joins the Team
Technical Entity Trends: Addressing Waste Plastics
Safety Minute: Supervisors Are Key to Safety
Institute News

Meet Some of AIChE's Recently Elected Fellows
AIChE Responds to COVID-19
The May 2020 issue of CEP is now available online. AIChE members receive access to CEP, including a searchable archive of issues dating back to 2001, online at aiche.org/cep.