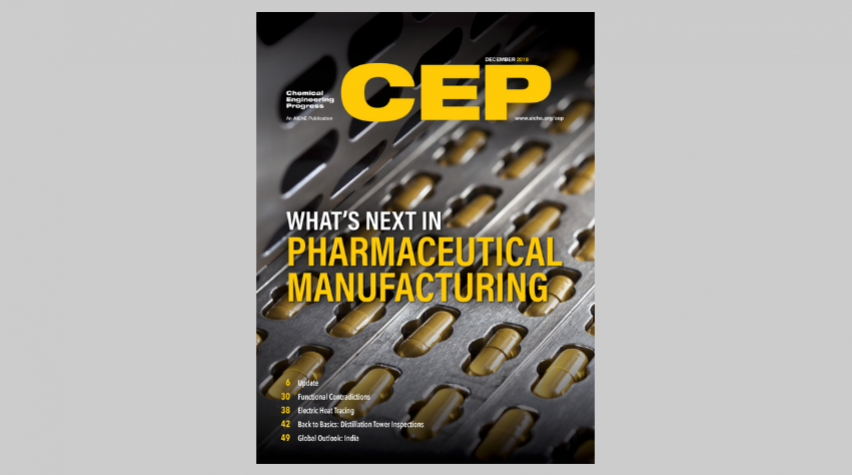 Heat Transfer
Troubleshooting Electric Heat Tracing Systems
Determine why your electric heat tracing system is not satisfying your process heating demands.
On the Horizon
Pharmaceutical Manufacturing: Current Trends and What's Next
Engineers in the pharmaceutical industry are creating modular, continuous, and scalable processes and manufacturing environments to meet cost and quality challenges head on.
Process Design and Development
Functional Contradictions: Insights into Process Improvement
Process intensifications are a critical part of process development in the chemical process industries (CPI). In addition to traditional approaches, identifying and resolving contradictions can bring about new and valuable process improvements.
Back to Basics
Inspecting Distillation Towers Part 2: Revamps and Other Inspections
Process engineers are responsible for inspecting distillation columns. Follow this guide to prepare for a column revamp and other inspections.
Global Outlook
India's Expanding Chemical Industry
The chemical industry is the backbone of India's industrial and agricultural development. Achieving the industry's ambitious growth targets will require a combination of policy intervention, company-level initiatives, industry-academic partnerships, wise investments, and greater international access.
Update
Army Research Lab Uses Discarded Plastic to 3D Print Supplies
Wristband Can Measure Blood Sugar
Designer Molecules Can Trap Nerve Agents
Monitoring Drug Release in the Human Eye
Staying Cool with Polymer Paint
The Future of Carbon Utilization
Plus
Editorial: AIChE Beer Brewing Competition: Novices Welcome
Catalyzing Commercialization: Innovative Catalysts for Low-Temperature Automotive Exhaust Abatement
AIChE Journal Highlight: Jay Bailey's Legacy as an Innovator in Biochemical Engineering
Process Safety Beacon: Be Alert for Common-Cause Failures
Profile: Jasmine Corbin: Doing Good, No Matter the Cost
New Products: Fluids and Solids Handling; Instrumentation; Environmental, Health and Safety
Patent Update: The Long-Term Consequences of Not Paying Maintenance Fees
Career Corner: Leading a Diverse Team
Technical Entity Trends: CAR T-Cell Therapy Individualizes Cancer Treatment
2018 AIChE Awards in Review
Annual Meeting Highlights
Institute News

AIChE Unfolds New Strategic Roadmap
2018 AIChE Election Results
Institute and Board of Directors' Award News and Nominations
The December 2018 issue of CEP is now available online. AIChE members receive access to CEP, including a searchable archive of issues dating back to 2001, online at https://www.aiche.org/cep.

Chemical Engineering Progress (CEP) now has a mobile app available for download on the Apple and Android platforms. You can now have CEP at your fingertips — from the latest R&D news and new equipment to feature articles and special sections. Download the app.