Disclosure: This post is sponsored by Genomatica and reflects their views, opinions, and insights.
Genomatica is a leader in bioengineering of biobased process technologies that enable a "better way" to produce chemicals from alternative feedstocks. Christophe Schilling, Genomatica's CEO, has been attending the Metabolic Engineering Conference series since 2000. We talked to Christophe about where he sees the metabolic engineering community going and how the Metabolic Engineering Conference series can help to get it there.
What is the most exciting development you have seen in the metabolic engineering community over the past year?
Our ability to program biology keeps getting better. As an industry, we have more and better tools; we're getting better at creating and using big data to drive improvements; and we're applying automation where it can be used productively, such as for pathway prototyping in new foundries. These improvements help to reduce timelines and costs, while improving the prospects for successful outcomes, whether our various firms are developing fine, specialty or high-volume chemicals.
As one of the most well-known, commercial success stories in metabolic engineering, tell us about the role that Genomatica continues to play in advancing this field.
Thank you. Our focus continues to be delivering commercial bioprocess technologies that have increasing impact on the sustainability of everyday products and the quality of people's lives — as well as pushing the envelope of what bio can deliver.
2017 was a record year, with our highest revenue ever: five new partnerships including the largest R&D agreement in our history; a smoothly-running commercial plant for our first product, bio-BDO; our second product, Brontide™ bio-butylene glycol, which is in early commercialization and won the ICIS Innovation Award; and we have been rated #1 in delivering sustainability technology by the mainstream chemical industry. 2018 is shaping up to be even bigger. We announced our collaboration with Aquafil for polyamide intermediates, enabling more sustainable nylon products like carpets and apparel. And you'll see more on BDO, Brontide, and more partnerships as we add more products and continue to focus on technology innovation in this sector.
Nelson Barton, the SVP of R&D at Genomatica, will be giving a keynote talk in the Tools for Commercial Bioprocess Design, Economic Analysis, and Scale-up workshop at ME12. Can you give us a brief preview of that presentation?
Nelson has organized a dynamite workshop to share best practices in developing commercial high-yield bioprocesses. The session will include four of Genomatica's senior scientists and process experts. They'll cover the importance of developing "process-first" rather than organism-first; techno-economics; identifying and fixing bottlenecks; "scaling down" through smart modeling as a better way to scale up; and robustness. And they'll present three case studies to show how people can successfully apply these disciplines.
Genomatica has been involved with the Metabolic Engineering Conference series for many years. What are the most valuable takeaways that you have gained from the conference?
The Metabolic Engineering Conference has a permanent warm place in my heart, ever since we started coming here in 2000. Genomatica is founded on the ideas that AIChE and this conference continue to champion, including a systems approach and modeling. While many people come for hard-edged updates on science and best practices, I love the people and ideas. Often, that's more about hearing the thinking that drove an initiative or the philosophy of the team — that, plus it's great to see long-time friends and colleagues. When I was invited to deliver the keynote for ME X in 2014 I worked very hard to create a fresh look at the learnings from Genomatica's (then) 15-year journey (see video here) – and loved doing so.
To learn more, see Genomatica's website; the Brontide website; and Novamont's BDO plant (one minute video).
You can still register for Metabolic Engineering 12, taking place from June 24-28, in Munich, Germany.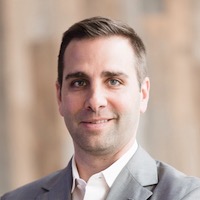 Christophe Schilling
Christophe Schilling founded Genomatica in 1998. Since being named CEO in May 2009, he has led Genomatica to widespread recognition as a leader in industrial biotech, with a commercialized first process and plant (for 1,4-butanediol), a second process in early commercialization (for Brontide™ butylene glycol, winner of the ICIS Innovation Award), and multiple leading partners.
Disclosure: This post is sponsored by Genomatica and reflects their views, opinions, and insights.