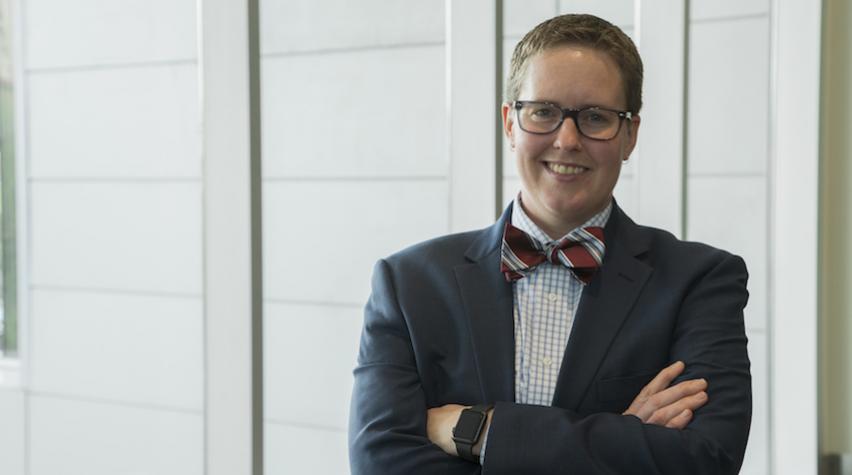 As part of its continuing efforts in diversity and inclusion, ChEnected is publishing this series focused on LGBTQ chemical engineers. Other related efforts include Safe Zone Workshops, which were held at the 2015 Spring Meeting and the 2016 Annual Meeting and accompanied by a leadership reception for LGBTQ members and allies. All aforementioned initiatives are supported by the AIChE Foundation's Doing a World of Good Campaign.
In the second installment of our series, I interviewed Brenda Seggerman, a process safety professional I met at the 13th Global Congress on Process Safety. Brenda works for Hydrite Chemical Co. in Wisconsin.
Where did you complete your chemical engineering education?
Iowa State University – Go Cyclones!
How many years have you been a member of AIChE?
Five.
Tell us a bit about your job and your job responsibilities. What's a typical day at work?
I am an environmental, health, and safety (EHS) engineer for Hydrite and we are a chemical manufacturing and distribution company that provides chemicals to the agriculture, biofuels, oil and gas, food and beverage, and pulp and paper industries to name a few. My facility performs batch tolling for customers, and my primary role is in process safety, but I also provide process safety support throughout Hydrite.
I love working in the field of process safety because I can have immediate and long-lasting impacts in process safety and on the safety of those I work with. A typical day for me could include reviewing changes being made to a process, performing pre-start safety reviews or facilitating a process hazard analysis. I might also conduct an incident investigation, review operating procedures, develop or modify existing process safety, training, and mechanical integrity procedures, or work with operators on the processes they run to make them safer, or coordinate vessel and piping inspections. I enjoy that every day is different and I can work in every element of process safety.
Tell us a bit about your experience as an out LGBTQ professional working in chemical engineering.
I have been very fortunate throughout my career to work in organizations and in locations where there are protections in place and the climate has been accepting. I'm typically not a very "out" person and thankfully I have not encountered a lot of issues in my workplaces, although I was asked once during an internship if I was one of those "funny" people.
What are the most important issues that LGBTQ engineers deal with in the workplace today?
Being able to communicate your needs and know how to navigate your career in an ever-changing political environment.
How can people help foster a more inclusive environment for LGBTQ chemical engineers?
Being mindful of the language that they and others use in day-to-day conversations and of the fact that there may be people you work with who are not out.
How could AIChE help you to fulfill your professional and personal goals?
As a person involved in process safety, AIChE is a wonderful organization to help you advance your professional and personal goals. Personally, I had a goal of presenting at the Global Congress on Process Safety (GCPS) conference and I was able to achieve that goal this past March. It was an honor for me to present at GCPS and speak with a very talented group of process safety professionals from all over the world who work in academia, industry, and regulatory agencies.
There are many webinars through AIChE that can help you learn more about various elements of process safety. The periodical, Process Safety Progress, has great articles to give you insight into what other companies are doing at their facilities to manage process safety. The annual GCPS can connect you with process safety professionals from throughout the world and allows you to hear presentations on various aspects of process safety. The Safety and Health Division of AIChE can connect you to process safety professionals from academia, industry, and regulatory agencies to work toward common goals in process safety.
Tell us a bit about your personal life.
My wife and I live outside a small town in rural Wisconsin where we own a horse boarding and training facility. She works as a traffic safety engineer, so we like to think our barn is as safe as can be, even offering our barn as a training facility for large animal rescue for our local fire department. I recently retired from playing women's football and have taken up golfing.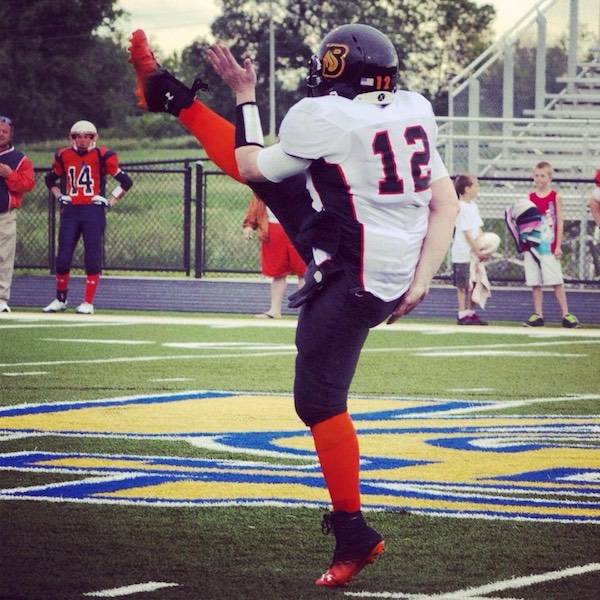 Are there any LGBTQ inspirations, role models, or moments in history that are important to you?
A moment in history that is very important to me is when we could legally marry. Most people take for granted the luxury of the legal right to be beside your wife's/husband's side in the hospital, emergency room, or an intensive care unit during those times of need. I'm so thankful that if anything ever happened to my wife that I would now be able to be there in the same room.
Do you have a coming out story that you'd like to share?
I came out to my mom while I was in graduate school. I'm pretty sure she knew before I told her, but I was very lucky in the fact that my mom was accepting of me. It took her a little while to speak to me after I told her, but she eventually communicated her love and support through a letter that I still have today.
What's your dream getaway?
A visit to an oil refinery, since I'm a process safety geek, but otherwise a trip to Hawaii and Iceland!
Learn more about AIChE's Diversity and Inclusion Initiatives supported by the AIChE Foundation's Doing a World of Good Campaign.
To learn more about it, click here.
Interested in helping?
Are you an LGBTQ chemical engineer and AIChE member interested in sharing your story to help create awareness around diversity and inclusion? Are you an LGBTQ ally interested in helping with diversity and inclusion efforts? Send us a note at chenected@aiche.org with the subject "Diversity and Inclusion."