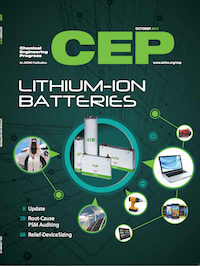 ENERGY SUPPLEMENT: Lithium-Ion Batteries

Battery Materials: The materials used in the construction of a battery's components must be chosen carefully to optimize battery performance for the specific application.
Raw Material Considerations: Among the many materials that can react to convert chemical energy into electricity, lithium is currently king. This article looks at the lithium supply picture and the implications of supply and demand on lithium-ion battery technologies and markets.
Battery Basics 101: Batteries come in a variety of chemistries and designs. Using fundamental principles, the theoretical performance of these electrochemical cells can be determined, enabling you to engineer the optimal device.
Endless Uses of Lithium-ion Batteries: Lithium-ion batteries can be tailored to suit a range of products in almost any industry. This article describes the main applications for which these batteries are used, and explores some of the challenges hindering future advances.
BACK TO BASICS: Sizing Pressure-Relief Devices (click here to read this article now)
Although relief devices may never be activated, they must be designed and sized to function correctly every time they are necessary. This article provides an introduction to sizing pressure-relief devices for liquid and vapor service.
SAFETY: A Root-Cause Approach to PSM Audits
Tracing audit findings back to the management system that allowed the failure to occur is an effective way to uncover deficiencies in an organization's process safety management system. Follow the guidance provided in this article to apply root-cause-based audits to your facility.
News: Uncovering the Costs of Grid-Scale Storage ... Engineered Tissue Mingles with Blood Vessels ... Green Tea Performs Double Duty ... Purple Bacteria Inspire Light-Absorbing Materials ... 2D Model Could Push Nanowires Ahead of ITO ... Solar Cells Make the Right Connections.
Plus: Letters ... What's New ... Process Safety Beacon: Electrical Equipment in Hazardous Areas ... Software ... Product Digest: Heat Transfer ... Career Corner: Career Success through Networking ... Books ... Institute News: 2013 Institute and Board of Directors' Award Recipients; UOP's Gautam is Selected to Receive the Inaugural AIChE Government and Industry Leaders (AGILE) Award; Anseth will Present Bailey Award Lecture at San Francisco Annual Meeting; Member News ... Calendars.
The October 2013 issue of CEP is now available online. AIChE members receive access to CEP, including a searchable archive of issues dating back to 2001, online at http://www.aiche.org/cep.