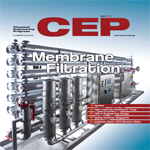 Back to Basics: Introduction to Membrane Filtration
Membrane filtration is an integral part of many industrial processes, as it is often more environmentally sustainable and cost-effective than other separation technologies.
Reactions and Separations: Apply Quantitative Gamma Scanning to High-Capacity Trays
Push valves, multiple downcomers, and truncated downcomers boost tray capacities, but they also present troubleshooting challenges. Use quantitative gamma-scan analysis to measure froth heights, froth densities, and blowby in order to solve operating problems with these trays.
Safety: Integrate Health, Safety, and Environment into Engineering Projects (click here to read this article now)
Apply HSE principles during front-end engineering design to assure safe, operable, and economical facilities.
Global Outlook: Singapore's Chemicals Industry: Engineering an Island
The chemicals industry is a pillar of Singapore's economic success. The island city-state's emergence as a chemical industry leader has been boosted by investment in infrastructure and the creation of an industrial-island complex.
News Feature: Graphene Marches Down a Long Road to Commercialization
With so much graphene research underway, it can be hard to keep track of the progress, as well as to evaluate the commercial viability of such developments. Here's a look at what scientists and engineers are doing and saying about graphene.
News: A Stretchable, Rechargeable Li-Ion Battery Makes its Debut ... Gold Lights the Way to Quantum-Dot Solar Cells ... A Phase-Change Approach to Thermal Storage ... Biofuel Byproducts and Concrete Mix It Up ... Defects Strengthen Magnesium Alloys ... AIChE Journal Highlight: CO2-Selective Membranes for Carbon Capture ... and more
Plus: Letters ... Patent Update: An Invention's Nonobviousness May Not Be Obvious ... Material Matters: Using Casting Simulation to Ensure Better-Quality Pumps and Valves ... Process Safety Beacon: Pressure-Relief Valve Chatter ... What's New: Interphex Expo Preview ... What's New: Offshore Technology Conference Preview ... Product Digest: Bioprocessing Equipment ... Software ... Career Corner: Creating Work-Life Harmony ... Institute News: ... 2013 Election Candidates ... Farid will Deliver Spring Meeting Keynote Lecture ... Former AIChE President Leaves Legacy with Foundation Bequest ... Member News ... Education and Conference Calendars
The April 2013 issue of CEP is now available online. AIChE members receive access to CEP, including a searchable archive of issues dating back to 2001, online at http://www.aiche.org/cep.