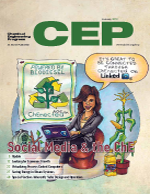 NEW in CEP: This month marks the debut of YPOV, a new column for Young Professionals. YPOV will look at chemical engineering from a different viewpoint. ?The inaugural topic:
More Than One Way to Build a Career
Community service and volunteer activities offer experiences not always available in the workplace.
SPECIAL SAFETY SECTION:
Inherently Safer Technology: The Fundamentals
Build safety into your process by substituting less-hazardous materials and chemistry, minimizing inventories and equipment sizes, moderating operating conditions, and simplifying unnecessarily complex operations.
Design an Inherently Safer Plant
Continue to search for ways to build safety into your process -- from conceptual through detailed design, to procurement and construction, and even into operation.
Make Your Existing Plant Inherently Safer
Don't overlook opportunities to build more safety into a process that is already in operation.
CHEM ECONOMICS:
Looking for Growth in the Chemicals Industry (click here to read this article now)
Recovery has stalled in developed nations. Debt, unemployment, and the emerging recession in Europe will encumber U.S. growth prospects in the years ahead. One bright spot, however, is the shale gas story.
INSTRUMENTATION:
Virtualizing Your Process Control Computers
By employing the latest virtualization solutions for process control systems, chemical plants can reduce PC hardware requirements, simplify system management, and lower the total cost of ownership, as well as improve site availability, reliability, and disaster recovery.
BACK TO BASICS:
Saving Energy in Multilevel Steam Systems
Avoid some common pitfalls by taking this holistic approach when implementing projects to reduce the consumption of steam.
CAREER CATALYST:
Getting Started in Social Media
Engineers can derive professional benefits from Facebook, LinkedIn, Google+, Twitter, and other social media. Here is some practical advice on using these tools effectively, whether you are a veteran or a relative novice.
ChEnected will also be running a special feature on chemical engineers and social media the week of January 16th to complement the launch of this series of articles that will run throughout 2012.
News: All-Weather Material Emits Near-IR Light ... Graphene Gets Selective ... Shock Treatment Creates Nanoporous Materials ... Bacteria are Engineered to Eat Cellulose and Produce Liquid Fuels ... Nanoparticles are No Match for These Molecular Traps ... AIChE Journal Highlight: Cell-Free Biology Transforms Biochemical Engineering ... and more.
Plus: Bio Beat: Biodiesel Generates Savings in Rural Costa Rica ... Process Safety Beacon: What Happens When the Lights Go Out? ... What's New ... Product Digest: Valves ... Institute News: President's Message: The Year to Come; Member News ... Award Deadlines ... Calendar.
The January 2012 issue of CEP is now available online. AIChE members receive access to CEP, including a searchable archive of issues dating back to 2001, online at http://www.aiche.org/cep.