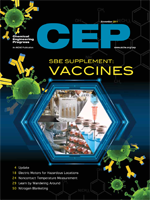 SBE SUPPLEMENT: VACCINES


An Introduction to Immunity and Vaccines
An understanding of the basic approach to creating vaccines, as well as how vaccines confer immunity, is essential to developing safe and cost-effective formulations.
Chemical Engineering Perspectives on Vaccine Production
Fundamental chemical and bioprocessing engineering principles and tools will be key to the development and manufacturing of vaccines and expanding their availability around the world.
BACK TO BASICS: Choose the Right Electric Motors for Hazardous Locations
Risks associated with operating an electric motor in hazardous areas range from production downtime to injury and death. Learn how to assess the operating environment and select the appropriate motor.
BACK TO BASICS: Measuring Temperature by Indirect Means
Noncontacting infrared thermometers can be used in many applications that are too harsh or impractical for thermocouples and resistance temperature detectors. Understand their principles of operation and their advantages and limitations to select and use these instruments effectively.
FLUIDS AND SOLIDS HANDLING: Nitrogen: A Security Blanket for the Chemical Industry
The benefits of nitrogen blanketing include improved process safety, better product quality, and longer equipment life. Here's how to achieve the desired safety or quality results while minimizing costs.
CAREER CATALYST: Learn by Wandering Around (click here to read this article now)
Walking, listening, and learning are three easy steps that promote good communication and can yield high dividends.
News: Artificial Photosynthesis Comes to Light ... Plant's Cunning Ways Slide into Nonstick Technology ... Carbon Nanotube Cables Step Up Performance ... Engineered Microbes Produce Diesel Fuel ... Carbon Nanotubes Flex their Muscles ... Chem Economics: Are We Destined for a Double Dip? Which Way Will We Go? ... AIChE Journal Highlight: Challenges and Opportunities in Layer-by-Layer Assembly.
Plus: Process Safety Beacon: One Incident, Three Beacons ... What's New ... Product Digest: Solids Handling ... Software ... Institute News: Annual Meeting Highlights; New Fellows; Division and Forum Awards; Member News; Calendar ... We're History: Risk, Perception, and the International Year of Chemistry.
The November 2011 issue is now available online. AIChE members receive access to CEP, including a searchable archive of issues dating back to 2001, online at http://www.aiche.org/cep.