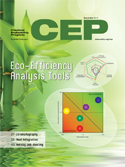 Environmental Management: Measuring and Communicating Sustainability through Eco-Efficiency Analysis
Eco-efficiency analysis promotes an understanding of the economic and environmental trade-offs over products' lifecycles, and supports informed, strategic decision-making in all areas of a business, from spurring innovative product development to promoting credible marketing claims.
Back to Basics: Using Chromatography to Separate Complex Mixtures
Purifying high-value mixtures, such as pharmaceuticals, can be an expensive undertaking. Choosing the correct chromatography methods can improve purity and reduce processing time and cost.
Heat Transfer: Improve Energy Efficiency via Heat Integration
Process heat integration using pinch analysis is a respected tool for achieving energy efficiency. This article explains what pinch analysis is and how to use it in process design and operation to attain real-world energy efficiency gains.
Career Catalyst (click here to read this article now): It's a Gift: Make the Most of Holiday Job-Searching
It is a common misconception that the November-December holiday season is an unproductive time for job-hunting. Smart job seekers take advantage of the unusual opportunities that the season brings -- to position themselves for holiday job-search success.
News: A New Golden Rule: Alcohols Do Oxidize in Water ... Sweet Smell of Success -- Nanoparticles Defeat Odor ... Shaping the World of Carbon Nanotubes ... Nanostructure Kills Bacteria in Water ... Microreactor Speeds Up Production of Nanoparticles ... Portable Device Senses High-Powered Explosives ... A Diamond (-Coated Electrode) is Forever ... Transparent Thin Films Harvest Light and Generate Electric Charge ... Just Add Milk -- Turning Clay into a Biodegradable Plastic ... Green Technology Allows for Catalyst Salvaging ... Chem Economics: Long-Term Growth from a Supply-Side Viewpoint ... AIChE Journal Highlight: Using Aerosol-Based Manufacturing to Develop Nanoscale Functional Materials.
Plus: Patent Update: Understand What Constitutes an Act of Invention ... What's New ... Software ... Process Automation Corner: Process Automation Meets Economics 101 ... Process Safety Beacon: Are You Ready for Winter? ... Product Digest: Solids Handling ... Institute News: President's Message, Annual Meeting Highlights, Member News ... Profile: A Chemical Engineer's Twist on Marketing -- S. Shariq Yosufzai
The December 2010 issue of CEP is now available online. AIChE members receive access to CEP, including a searchable archive of issues dating back to 2001, online at http://www.aiche.org/cep.