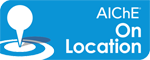 The most important ChemE event of the year is taking place this year in Salt Lake City from today through Friday, November 12, 2010. AIChE's Annual Meeting, or simply "Annual" as it is often called, draws more than 5,000 attendees comprised of students, academic professionals, and Industry professionals from across the spectrum of the chemical engineering profession.
Meeting by the Great Salt Lake
The Annual Meeting has returned to Salt Lake City, Utah after its successful event there in 2007. Plenary lectures, 12 topical conferences, more than 700 technical sessions, and multiple special events and keynote speeches will take place at the Salt Palace Convention Center and nearby Marriott and Hilton hotels.
Stay Connected to Annual with ChEnected
ChEnected will be covering many of the events at Annual with a few dedicated bloggers and the help of multiple volunteers at the meeting. If you're one of them, Thank You!
Regardless of whether you're at this year's meeting or not, you can follow it right here on ChEnected or via our Facebook Page or Twitter Stream. Check out the meeting highlights below and as the meeting progresses, we'll link to the events we're covering.
If you're at the meeting, have an opinion on a session or would like to highlight a presenter (even if it's yourself) who made an impact on you, please make a quick meeting-related contribution to ChEnected. You can do this at the url below and be sure to spread the news around! Also, don't forget to stop by the ChEnected Environment and pick up your free t-shirt.
Meeting Highlights Include:
Click on any of the links below to see more detail.
Sunday, November 7:
Monday, November 8:
Tuesday, November 9:
Wednesday, November 10
Thursday, November 11
Friday, November 12
Contaminant Transport and Site Remediation
Thanks for checking in on ChEnected during this important week for chemical engineering. It's ChEnected's first attempt at blogging at the meeting so forgive us for any typos/errors we may make as we scurry to bring a taste of Annual to your computer screen. But feel free to point out any typo or error in the comments section of any blog.