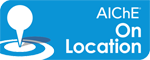 Cindy Mascone, Editor-in-Chief of Chemical Engineering Progress interviews David A. Klanecky, Global Research & Development Director, Dow Water & Process Solutions, and Spike Narayan,

IBM Senior Scientist.
The interview took place ahead of the the 2010 Annual Meeting Plenary: Energy and Water Sustainability for a Smart Planet. You can watch the interview in the video area on the right.
Stay Tuned to ChEnected for a video of the entire Energy & Water Plenary at the 2010 AIChE Annual.
See a full list of special events covered at the 2010 Annual Meeting.
Check out all videos taken at the 2010 AIChE Annual Meeting, including: