AIChE presents the most recent post in this series featuring LGBTQ+ engineers and their allies as part of an ongoing effort to share stories of equity, diversity, and inclusion. Other related efforts include a variety of LGBTQ+ programs and events at last year's Annual Meeting. These programs and events are all supported by the AIChE Foundation's Doing a World of Good Campaign.
In this installment of our series, we interviewed Gisella Lamas, who shared her story as an LGBTQ+ ally and lecturer in chemical engineering at the University of Kentucky.
Tell us a bit about your job and your job responsibilities. What's a typical day at work?
I am a lecturer in chemical engineering. I work for the University of Kentucky – Paducah extended campus. My job responsibilities are 90% dedicated to undergraduate teaching, 9% service to the community and 1% professional development. On a typical day, I spend part of my morning preparing for my classes. I teach two courses and they could be for either first year students, juniors, or seniors. I attend meetings, review scholarships or proposals, participate in committees and finish the day studying a new skill. I also hold office hours and respond to emails quite frequently. I am trying my best to keep my work schedule within the 8am – 5pm range but there is always something or other that shifts that standard schedule.
In the workplace (industry or academic), what has been your experience of working with LGBTQ+ chemical engineers? Can you recall a specific experience where you showed support or welcomed an LGBTQ+ engineer? If so, what was that like?
Since I was a student in college, I have had classes with LGBTQ+ professionals. They were and still are professors, staff members, department chairs and deans of my alma mater. Most of them are still in contact with me and I have learned so much from all of them. They were excellent mentors who helped me as I was graduating with my engineering degree.
Does your organization do anything to foster inclusivity for LGBTQ+ people? If so, how do they engage allies?
One of my colleagues and great friends at UK is the faculty advisor to STEMgiQueers, a student organization on the main campus. The group alternates between discussions, gaming, and informational events with guest speakers. It is a great venue for engineering students and faculty. They have recently included our Paducah campus, thanks to the ability to easily do conference calls. This has had a positive influence on our students, who no longer feel they are alone.
As an educator I really want to make everyone feel represented and welcomed in my classes. A good friend of mine always told me, "You cannot be what you cannot see," and I take that motto very seriously.
Do you have any suggestions of what allies of LGBTQ+ people can do to help make their professional climate more safe, welcoming, and inclusive for diverse engineers?
The addition of pronouns to someone's email makes a huge difference in someone's life. It is all about welcoming people. We all like to feel welcomed. I believe we can do a lot of things to be more inclusive. I would be open to any ideas and suggestions from the community and really ask them. What can I do to make this environment more inclusive for you and other LGBTQ+ students we have (in an academic setting)? As an educator, I really want to make everyone feel represented and welcomed in my classes. A good friend of mine always told me, "You cannot be what you cannot see," and I take that motto very seriously.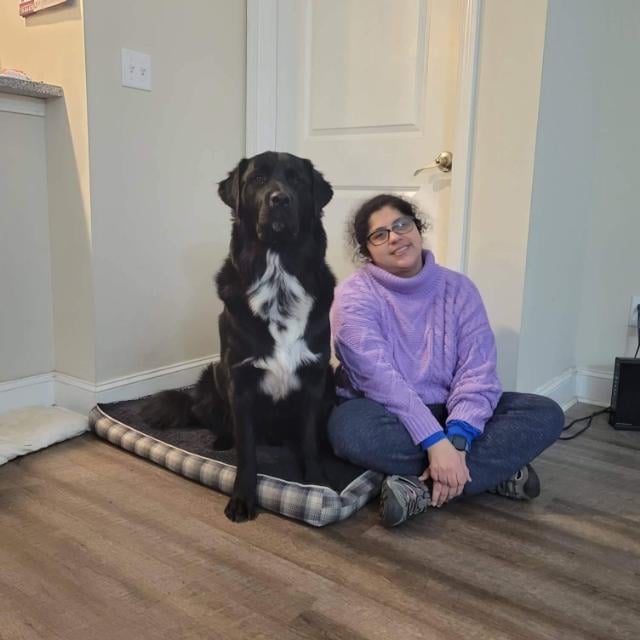 Gisella with her dog, Moscow
In your opinion, why is AIChE's LGBTQ+ & Allies initiative an important one?
I am so glad that AIChE's LGBTQ+ & Allies initiative exists. It is amazing to see these successful faces, hear stories, and to be able to relate to all of my AIChE colleagues. It is a great resource for my students as well. I am looking forward to participating in any in-person or virtual activities involving this community throughout the year or during the Annual Meeting.
How could AIChE help you to fulfill your professional and personal goals?
AIChE is a great place to find mentors and collaborators. It is a great place to find resources and develop new skills. I am just thrilled by how AIChE cares about the professional as well as the human being.
Tell us about your personal life.
I was born in Peru, but my family moved to Brazil when I was two years old. My family moved to a different country because of the Peruvian terrorist group in the early 80's. Brazil was a great country for us, which is why I relate more to the Brazilian nationality. I graduated as a biochemical engineer from the University of Sao Paulo. I had a couple of experiences in research and industry, but I found my passion in teaching. After I received my master's in chemical engineering, I decided that I wanted a job in academia and I decided to pursue my PhD abroad.
I did my PhD in environmental sciences and engineering at University of Texas at San Antonio. When I graduated from UTSA, I applied for a lecturer position at the University of Kentucky – Paducah extended campus. After my first interview, I felt that my next destination would be Kentucky. I was thrilled when they called me for the on-campus interview. I liked everything about the program, the people, and the town as well. Paducah is a charming place and it reminded me a lot of the place where I grew up (Lorena, Sao Paulo, Brazil).
In terms of gender and sexuality, I am proud of being a woman and I identify myself as such. However, I was not interested in dating men or women for most of my life. I would say that people were quick to judge, and they would assume that I was a lesbian because of that. I have never been a very feminine woman and people just had this idea that if you do not fit a certain standard, you are not "one of them." Truth is, I was not interested in dating.
I never really thought I had to like a specific person or gender. I do not see sexuality and most things in life as a checklist that you need to complete to become or be successful in life. I have never lived my life like that. Even in my profession, it took me many years to complete all of my degrees, and I was simply not ready to do all of that in a simple chronological way. I did it when I was ready or could afford it. I am fortunate, though, to have met someone that complements me. I am married now, and my husband identifies as a man. I have a lot of characteristics in me that are very feminine but also a lot of them that are not the stereotypical feminine traits. The same could be said for my husband.
Human beings are complex and also wonderful just as they are.
Are there any LGBTQ+ inspirations, role models, or moments in history that are important to you?
My friends were very reserved in their sexuality and did not express interest in participating in LGBTQ+ events until 1997. That year marked the very first Gay Pride Parade in Sao Paulo. The same sex union was recognized in 2004, so the early 2000's were really the years in which this conversation started. There were more events involving the LGBTQ+ community that were not directly related to Carnaval. Carnaval had been a tradition for many years, but it did not seriously acknowledge the LGBTQ+ community. It was more of a theatrical event in which everyone could have a feeling of what it was to dress up as someone from another gender.
I remember when a couple of my friends and I went to the Gay Pride Parade and it was a success. There was a lot of good music, a healthy environment, and it became a tradition in the capital. It is listed in the Guiness World Records as the biggest pride parade. Unfortunately, homophobia remains a serious issue in Brazil, but there is a lot we can do to break the cycle and prevent it from continuing in the future.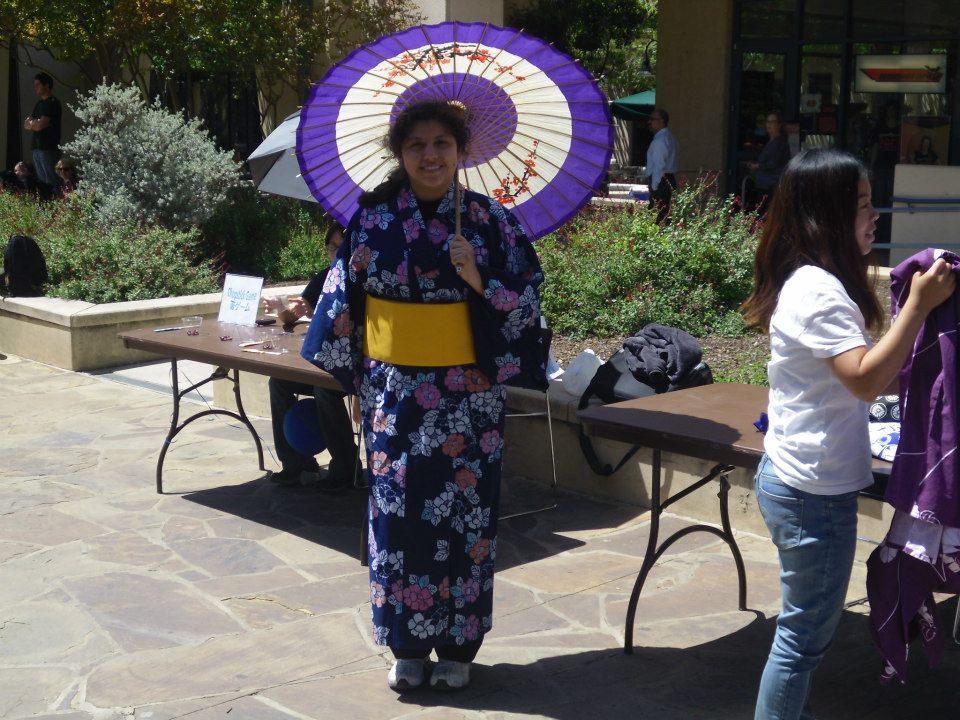 Gisella attending the International Fair at UTSA
Do you have a story about an effective or inspirational professional ally or LGBTQ+ person you'd like to share? Or a personal story related to an LGBTQ+ friend or family member?
The very first person I met who was actively involved in the LGBTQ+ community was my former colleague, Thiago. He was hired as an English teacher at the school I used to work for before I came to the US. On the very first week, he had a meeting with us and told us openly that he was gay and that he was active in the LGBTQ+ community.
I hardly disclose anything from my personal life, and I loved that he was so fearless. He just wanted us to know who he was and how he wanted to be addressed. He did not want to pretend to be somebody else at work, and we could either love or hate him, but he had to be true to himself. He was the most creative and engaging person I ever had the pleasure of working with. We had many projects together and it made my days of developing content funny and relaxing. He is so charismatic, and students just loved his cheerful personality. I miss working with him a lot.
What's your dream getaway?
My dream getaway is Japan. I want to visit both the super modern side of it as well as the very traditional side. I grew up among Japanese descendants and reading manga and watching anime. I even learned a bit of Japanese thinking that I would need it when I travel to Japan. I absolutely love most of their food, tradition, and festivities. I cannot wait to see some of their famous landmarks and travel from north to south among the beautiful islands that are part of Japan.
Do you have a favorite LGBTQ icon?
George Michael is by far one of my favorite lead singers of all times. I cried so much when he passed away as I have always been a huge fan. There have been many Brazilian icons, but it was not easy to be open about it during the 80's and 90's. One of the most prominent figures that I remember as an LGBTQ icon is Elke Maravilha.
Join AIChE's LGBTQ+ & Allies Online Community
This community is open to professional AIChE members who are LGBTQ+ and allies. Topics of discussion will include the ongoing development of LGBTQ+ initiatives at AIChE, plus issues concerning, and opportunities for, LGBTQ+ chemical engineering professionals.
Connect with Gisella on Engage.
Learn more about the community.
Learn more about AIChE's Diversity and Inclusion Initiatives.
Interested in helping?
Are you an LGBTQ+ chemical engineer and AIChE member interested in sharing your story to help create awareness around diversity and inclusion? Are you an LGBTQ+ ally interested in helping with diversity and inclusion efforts? Send us a note at chenected@aiche.org with the subject "Diversity and Inclusion."