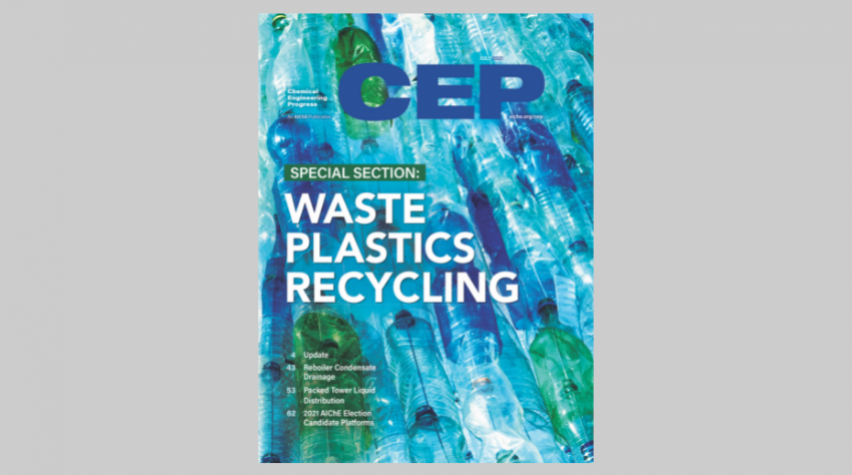 SPECIAL SECTION: WASTE PLASTICS RECYCLING
The ubiquity of plastics and the lack of easy and cheap recycling techniques have resulted in waste plastics accumulating in landfills and encroaching on the environment. The current, linear paradigm of produce, consume, and discard is in need of a complete overhaul. This special section addresses some of the work being done to curb the threat of waste plastics and establish a circular plastics economy.
Forge a More Sustainable Path
One Lab's War Against the Plastics Pileup Read this article
Advancing a Circular Economy
Transforming the Science and Technology of Plastics Recycling
Heat Transfer
Optimize Reboiler Performance via Effective Condensate Drainage
Reboilers, particularly those that use inlet steam control (ISC), can suffer from control and maintenance issues related to condensate backup. Observe these key design considerations to help debottleneck underperforming reboilers.
Reactions and Separations
Parting Boxes Can Make or Break Packed Tower Performance — Part II: Spargers with Dip Tubes
Using dip tubes to deliver liquid into a packed tower's parting box can significantly improve liquid distribution.
News Update
Researchers Develop Novel Protein-Based Flu Vaccine
A Better Beating Miniature Heart
Microparticles Help Save the Bees
Making Wind Turbines Work Together
Turning Food Scraps into Construction Materials
3D Bioprinting Method Could Transform the Pharmaceutical Industry
Plus
Editorial: Reexamine Your Relationship with Plastics
Catalyzing Commercialization: A Fast, Cost-Effective Path to Decarbonization of Heavy-Duty Vehicles
AIChE Journal Highlight: The Future of Refineries: A Separations Perspective
Process Safety Beacon: Cybersecurity and Plant Operations
New Products: Environmental, Health, and Safety; Fluids and Solids Handling; Instrumentation; Materials and Chemicals; Operations and Maintenance; Laboratory Equipment; Bioprocessing; Software
Emerging Voices: Keep Your Job and Earn Your MBA
ChE in Context: Understanding the U.S. Chemical Safety Board
Institute News

2021 AIChE Election Candidate Platforms
Laurencin Selected as 2021 Hoover Medalist
RAPID Institute Names Palou-Rivera as CTO
The July issue of CEP is now available on the AIChE website, on the CEP app, and as a digital flipbook.