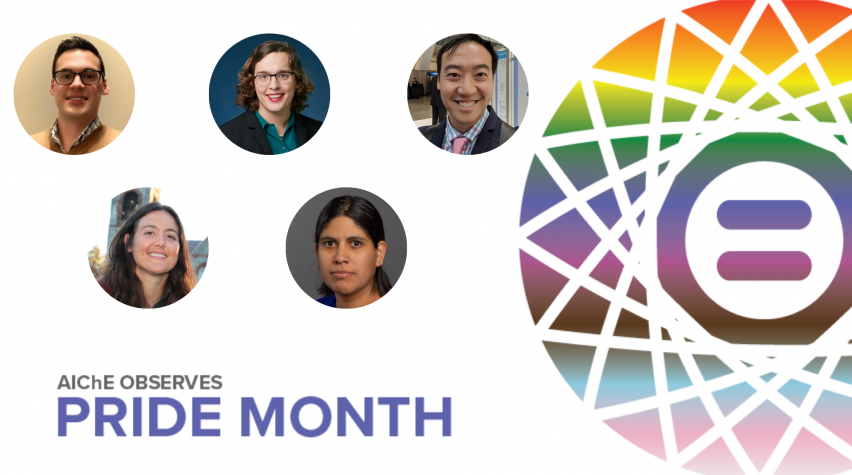 In celebration of Pride Month, we're sharing this podcast featuring five panelists who were part of the LGBTQ+ & Allies Young Professionals Panel at the 2020 Virtual AIChE Annual Meeting.
The panelists include Dr. Scott Danielsen, a postdoc at Duke in Mechancial Engineering and Materials Science; Elizabeth Haughton, a Senior Engineer with Savannah River Nuclear Solutions; Austin S. Lin, past chair of the AIChE Management Division; Dr. Itzel Marquez, an Assistant Professor in the School of Engineering and Technology at Central Michigan University; and Dr. Shelly Peyton, the Armstrong Associate Professor and Graduate Program Director of Chemical Engineering at the University of Massachusetts, Amherst.
In the podcast, the participants share their unique experiences as out LGBTQ+ individuals and allies working in industry and academia. Topics discussed include career development, allyship, and visibility in engineering and STEM. Additionally, we learn how AIChE is leading the charge through its LGBTQ+ & Allies Online Professional Community and LGBTQ+ & Allies Endowment, which aims to cultivate and foster a safe, inclusive, and welcoming environment. You'll also discover how YPs and professionals can get involved to move this initiative forward.
Listen to the podcast using the audio player below:
Listen to more Doing a World of Good stories and podcasts.
Join AIChE's LGBTQ+ & Allies Online Community
This community is open to professional AIChE members who are LGBTQ+ and allies. Topics of discussion will include the ongoing development of LGBTQ+ initiatives within AIChE, plus issues concerning, and opportunities for, LGBTQ+ chemical engineering professionals.
The LGBTQ+ & Allies Community supports the IDEAL path.
Learn more about the community.