AIChE presents the most recent post in this series featuring LGBTQ+ engineers and their allies as part of an ongoing effort to share stories of equity, diversity, and inclusion. Other related efforts include a variety of LGBTQ+ programs and events at this year's Annual Meeting and those held at least year's meeting. These programs and events were all supported by the AIChE Foundation's Doing a World of Good Campaign.
In this installment of our series, we interviewed Vitor Gazzaneo, who shared his story as an LGBTQ graduate research assistant at West Virginia University.
Where did you complete your chemical engineering education?
I got my bachelor's degree in Chemical Engineering at the Polytechnic School of the University of São Paulo in Brazil. Then, I came to the US to pursue a Ph.D. in Chemical Engineering at West Virginia University.
How many years have you been a member of AIChE?
I've been an AIChE member for about 4 years.
One of the key challenges that LGBTQ engineers deal with is the status quo. People often think that because they are not personally bothered by a colleague's sexuality, they don't need to do more. Consequently, inclusivity never becomes a subject beyond discrimination training and sometimes it still feels taboo to be an LGBTQ engineer.
Tell us a bit about your job and your job responsibilities. What's a typical day at work?
I am a graduate research assistant working in the process systems engineering field with a focus on energy systems operability and techno-economic analysis.
My responsibilities include developing algorithms and software, authoring papers, orientation for undergraduate students, and researching intensified modular technologies.
Usually, I work at the university and conduct research in a contributive environment; however, because of the current pandemic, I work remotely. We still conduct our scheduled research group meetings, but now it's over the internet.
Tell us a bit about your experience as an out LGBTQ professional working in engineering.
The research environment has never been hostile. Younger colleagues have been very comfortable with showing interest and talking about my personal life. I have also had some experiences with people feeling uncomfortable with discussing my sexuality.
Being open is a challenge that took time to overcome. It was a struggle to disclose simple facts like having a boyfriend, traveling with him and his family, telling that I went to the gay bar on a weekend, and so on. So, it is upsetting when people change the subject after I talk about my life.
What are the most important issues that LGBTQ engineers deal with in the workplace today?
One of the key challenges that LGBTQ engineers deal with is the status quo. People often think that because they are not personally bothered by a colleague's sexuality, they don't need to do more. Consequently, inclusivity never becomes a subject beyond discrimination training, and sometimes it still feels taboo to be an LGBTQ engineer.
Do you know others in the profession who struggle with being out in today's workplace?
Yes, I do. There are individuals who will openly talk to me about their lives, boyfriends, girlfriends, etc., but at the same time will not tell their advisors and others. This happens particularly if they are from a different background or are older. I am extremely open, but I am also sometimes hesitant to discuss these things as well.
How can people (peers who are allies, and members of management and leadership who are allies) help foster a more inclusive environment for LGBTQ chemical engineers?
Diversity should be treated by organizations in such a way that there is no hesitation to discuss it. It sounds silly, but the words gay, diversity, transgender, etc., should be part of our vocabulary. These terms shouldn't be treated as taboo.
Discussing them as such causes LGBTQ persons to feel that a major part of their lives should be kept secret. Therefore, it is essential that those in leadership encourage and head discussions of diversity and inclusion. Organizations should normalize this kind of training in their workplace and HR should provide resources.
Does your organization do anything to foster inclusivity for LGBTQ people? If so, please describe.
It does. There is an LGBTQ+ center where I have met others and found support. Recently, the university hosted a diversity week and College Excellence in Diversity, Equity and Inclusion awards.
Do you have any suggestions of what out LGBTQ chemical engineers can do to help make their professional climate more safe, welcoming, and inclusive for diverse engineers?
LGBTQ chemical engineers should attempt to start discussions and talk about themselves more openly. Begin working with HR or others to start a club, group, etc., and put yourself out there. Because discussing LGBTQ topics doesn't happen often, you may not know where your colleagues stand on the matter. It can be surprising how welcoming people are when given the chance to talk.
Tell us a bit about your personal life.
I currently live in Morgantown, West Virginia. I have been with my boyfriend, who is a civil engineer, for almost two years. My hobbies consist of painting, playing video games, taking care of my plants and my cat. I love the outdoors as well, usually either hiking, biking, or going to the lake.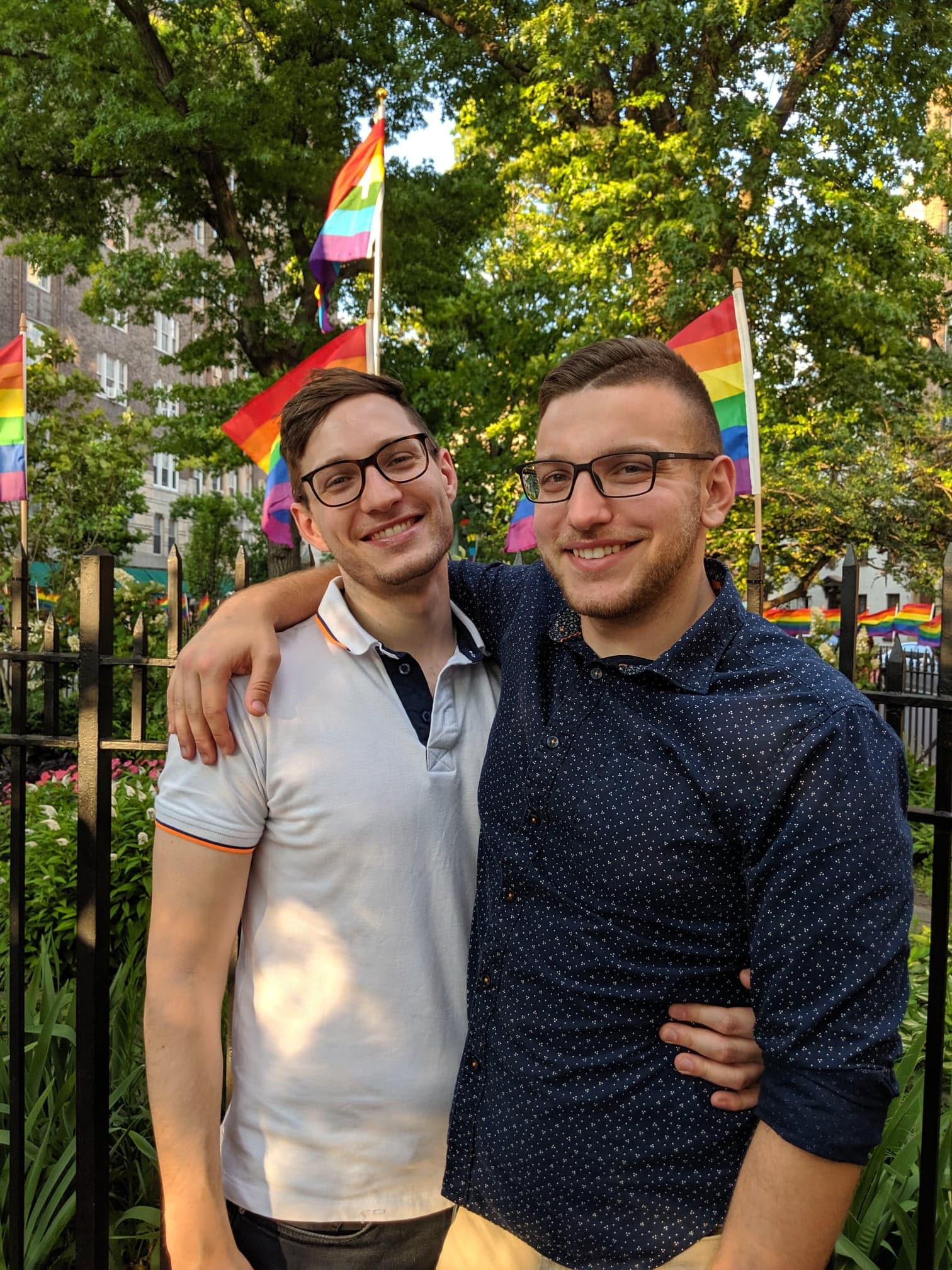 Vitor (left) with his boyfriend, Jon (right), visiting the Stonewall Inn during 2019 Pride.
Are there any LGBTQ inspirations, role models, or moments in history that are important to you?
Alan Turing inspired me because of his historical importance and geniality.
Do you have a coming out story you'd like to share?
I came out to my family when I was 16 but tried to hide it from other people in determined situations for a couple more years. Because of that, I passively experienced people making jokes and saying denigrating things about LGBTQ people in front of me.
Learning how to say with pride that I am gay keeps me from having many of these bad experiences. Ultimately, I stay true to and at peace with myself.
What's your dream getaway?
The idyllic Scandinavian landscapes that Windows keeps showing me.
Who is your favorite LGBTQ icon?
Lady Gaga.
Gaydar: Does it exist?
Absolutely. But my guess is that it sometimes fails, as people allow themselves not to be defined by stereotypical conventional models.
Join AIChE's LGBTQ+ & Allies Online Community
This community is open to professional AIChE members who are LGBTQ+ and allies. Topics of discussion will include the ongoing development of LGBTQ+ initiatives at AIChE, plus issues concerning, and opportunities for, LGBTQ+ chemical engineering professionals.
Learn more about the community.
Learn more about AIChE's Diversity and Inclusion Initiatives.
Interested in helping?
Are you an LGBTQ+ chemical engineer and AIChE member interested in sharing your story to help create awareness around diversity and inclusion? Are you an LGBTQ+ ally interested in helping with diversity and inclusion efforts? Send us a note at chenected@aiche.org with the subject "Diversity and Inclusion."