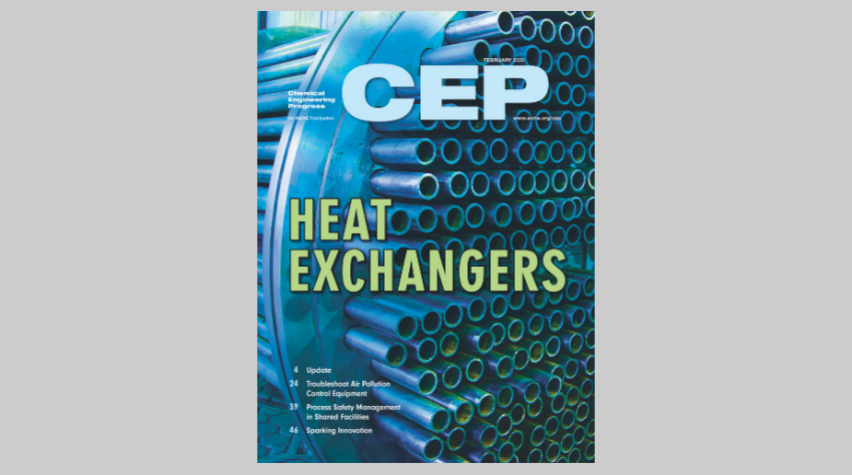 Environmental Management
Troubleshoot Combustion and Air Pollution Control Equipment
Follow this guide to keep your combustion and air pollution control equipment running at full capacity.
Back to Basics
Heat Exchanger Overview
Understand the basics of heat exchanger operation and design to ensure effective equipment sourcing and efficient operation.
Safety
Two Plants, One Fence Line: Process Safety Management in Shared Facilities
All employers within a shared site have a responsibility to effectively communicate process safety hazards and coordinate emergency response planning.
Career Catalyst
Innovation in Chemical Engineering
The concept of innovation goes beyond the pursuit of new products — all stakeholders need to be involved.
Update
Plant Synthetic Biology: A Budding Field
The Next Stop on the Silk Road: Turning Silk into Structural Materials
Saliva Sensor Monitors Glucose
Novel Microscale 3D Printing Recreates Michelangelo's David
Self-Cleaning Surface Repels Bacteria
Plus
Editorial - Innovation: Look to the Spork
Catalyzing Commercialization: Researchers Develop Rapid, Low-Cost Norovirus Detection Platform
AIChE Journal Highlight: Flame Synthesis of Metal Oxide Nanoparticles: Reactor Analysis and Design Guidelines
Career Connections: Become an Effective Company Spokesperson
Profile: A Scientific Perspective on Art: Joel Kowit
New Products: Instrumentation; Materials and Chemicals; Fluids and Solids Handling; Operations and Maintenance
Process Safety Beacon: Not Sure? Ask.
Safety Minute: The Competency Conundrum
Advanced Manufacturing Progress: Considering the Future of CPI Workforce Development
The ChE in Context: How Important Are Professional Credentials and Licenses?
Meeting Preview: Spotlight on 16th Global Congress on Process Safety
Institute News

Patel will Present AGILE Award Keynote Lecture
Center for Hydrogen Safety Signs MoU with South Korea's Gangwon Technopark
Nominations Due Feb. 15 for AIChE's Major Awards and 35 Under 35 Honors
In Memoriam


The February 2020 issue of CEP is now available online. AIChE members receive access to CEP, including a searchable archive of issues dating back to 2001, online at https://www.aiche.org/cep.