AIChE presents the most recent post in this series featuring LGBTQ+ engineers and their allies as part of an ongoing effort to bring about inclusion and diversity. Other related efforts include the LGBTQ+ Inclusion in Engineering (Workshop & Panel), held at the 2018 Annual Meeting, and leadership receptions for LGBTQ+ members and allies. Here are photos from the most recent reception at the 2018 Annual Meeting.
All aforementioned initiatives are supported by the AIChE Foundation's Doing a World of Good Campaign.
In the ninth installment of our series, we interviewed Nick DiDomizio, who shared his story as an LGBTQ+ process engineering professional working at CE&IC, an engineering and design firm serving pharmaceutical, biotech, and consumer product clients.
Where did you complete your chemical engineering education?
I completed my Bachelor's Degree at University of Delaware in 2013.
Tell us a bit about your job and your job responsibilities. What's a typical day at work?
I'm a process engineer at a small, specialty design and engineering firm that focuses on cGMP projects for the pharmaceutical, biotechnology, and consumer products industries. Our clients range from major Fortune 500 Companies to startups. At any given time, I could be working on several projects for different clients at different stages of development.
For the past couple years, I have been contracted as a full-time, on-site consultant at a client's site to provide support with projects under the process engineering team. This means that my time is primarily spent working away from my regular office, and I have my own workspace at the client site instead. Working out of the office is a valuable learning experience because I get to work directly with the client and see the equipment and facility up close.
A typical day would include performing P&ID revisions, overseeing contractor work, working on chromatography column and skid procurement, managing change controls, assisting in equipment and automation commissioning, and performing validation documentation reviews. I also work with many different departments, which helps me understand projects beyond the scope of engineering. Seeing how manufacturing operations work actually gives me a better perspective as a consultant so that I can design future facilities to be safer, more efficient, and ergonomically friendly.
Tell us a bit about your experience as an out LGBTQ+ professional working in engineering.
I have been working at my current job a little over five years, and this is the first job that I had after I graduated. That being said, I don't have too many experiences to share. I will say that I have made a personal commitment to never lie about who I am, and correct people quickly and unapologetically if they make the wrong assumptions.
For example, I recently got asked about my wife because of my wedding ring, and I was quick to correct the person by starting my response with "Well, my husband…". I generally have a sunny disposition about workplace faux pas, in that they are quick teaching moments, and as long as they are handled positively and directly, it will be one less instance of that person making the same assumption in the future. I am very fortunate to say that I haven't had any negative experiences.
If you can't find a way to become an official LGBTQ+ liaison for your company, create your own unofficial position. Perhaps get a mini Pride flag for your cubicle or desk. Chances are, someone else will notice, and it will spark some inspiration in them as well.
What are the most important issues that LGBTQ+ engineers deal with in the workplace today?
I can't speak for all LGBTQ+ engineers, but one of the biggest things that I have difficulty with is creating interpersonal relationships with people at work. I think that my natural inclination is to not divulge any personal information about myself, but that walls me off from other people. I focus on work, and outside of that, I don't tend to take part in small talk.
My fear is that creating personal relationships at work would keep me from being considered for other opportunities. Over the years, I have pushed myself to engage with people more. For example, I'll take the longer way around the office, stop by the break room during lunch, and say hi to someone I don't necessarily work with on a day-to-day basis.
I also think that all LGBTQ+ people go through a period of their lives where they are questioning themselves and trying to figure out who they are. I know I definitely did. That mentality still lingers from time to time. I've often found myself asking, "Am I ready to take on this project?" even though I knew that I was capable to handle the task. I'm really appreciative to have supervisors who push me to take on more responsibility.
Do you know others in the profession who struggle with being out in today's workplace?
Yes, absolutely. I acknowledge that I am fortunate to be working in an industry which generally is contained in more liberal-leaning areas. However, I know people who work in states where it is currently legal to fire someone for being openly gay. Even though their respective companies may have their own nondiscrimination policies, the cloud of societal judgement still feels like it hangs over them. Therefore, they feel less motivated to be truly who they are at work.
One thing that is unanimous among fellow LGBTQ+ engineers and allies alike, regardless of industry or location, are stories about their superiors or executive members openly cheering on support for certain political candidates that want to turn back the clock on LGBTQ+ rights. That sort of environment is enough to make anyone struggle with coming out in the workplace.
How can people help foster a more inclusive environment for LGBTQ+ chemical engineers?
I'm coming from a perspective of a small company, for example, one that doesn't have a formal HR department. I'm about policy, so I will try to list out as many specific examples as I can.

1. Re-evaluate your company handbook. Perform a search in your policies for gender-specific language and consider switching to gender neutral terms. Instead of using terms like husband/wife, consider using "partner" or "spouse."

2. Re-evaluate paid leave time for family bereavement. Develop a more open-ended policy, specifically encouraging employees to speak to the head of HR for exceptions. Some LGBTQ+ people are estranged from their parents and have closer relationships with a non-parental figure.

3. Re-evaluate your family/parental leave plan. Many LGBTQ+ people elect to adopt, and when they are planning for adoption, the opportunity can come at the last second.

4. When on-boarding new employees after the offer is accepted, consider including the question "What pronouns do you prefer?". Include this question as a standard for everyone, alongside questions about preferred nicknames.

5. Never assume anything. Use non-gendered language when asking questions. For example, if you see a wedding ring, ask about their "partner" or "spouse."

6. Don't shield LGBTQ+ engineers from jobs that you may consider to be too difficult. Instead, let your LGBTQ+engineers know that you support them, especially when it comes to working at client sites. Assure them that if they feel uncomfortable or are discriminated while on a job, that you will have their back.

7. Elect an LGBTQ+ liaison, if no HR representative is available, to field questions from fellow employees, as well as LGBTQ+ employees. Don't wait for an incident to happen — be engaged and proactive.

8. Be humbled by your lack of knowledge about the experiences of LGBTQ+ individuals. Push yourself to learn something new every week.

9. Speak up. Chances are that the upper management is comprised of all non-LGBTQ+ individuals. If you are an ally and you hear something being said that is offensive, you are allowed to be offended on our behalf. An LGBTQ+ person doesn't need to be in the room for it to be wrong.
Do you have any suggestions of what out LGBTQ+ chemical engineers can do to help make their professional climate more safe, welcoming, and inclusive for diverse engineers?
If you can't find a way to become an official LGBTQ+ liaison for your company, create your own unofficial position. Perhaps get a mini Pride flag for your cubicle or desk. Chances are, someone else will notice, and it will spark some inspiration in them as well. A lot of well-meaning allies are supportive, but don't know how to get involved. Be that catalyst!
Tell us a bit about your personal life.
My husband, Robby, and I live in Princeton, NJ. We originally moved here because he was pursuing his PhD at Princeton University, which he has since completed. Robby's PhD work was in drug delivery technology. He currently works at a startup that is based on patented technology that he developed during his time in graduate school.
We both enjoy outdoor activities like long-distance running, hiking, and biking. We really enjoy the Princeton area because it has the perfect balance of both nature and downtown. Princeton is centrally located between New York and Philadelphia, and the access to public transit makes a weekend trip extremely easy. Robby and I enjoy traveling, and we have been able to make so many memorable vacations happen because of his studies.
Relevant story: Robby and I met in undergraduate at University of Delaware. We were both in the chemical engineering program, although he was a year above me and a much better student than I was. We first locked eyes when I was a freshman, funny enough, at a student chapter meeting of AIChE. Even though we didn't get formally introduced until later that year, that moment felt like the beginning of our story. We recently got married on June 16th, 2018, in a small ceremony in our apartment.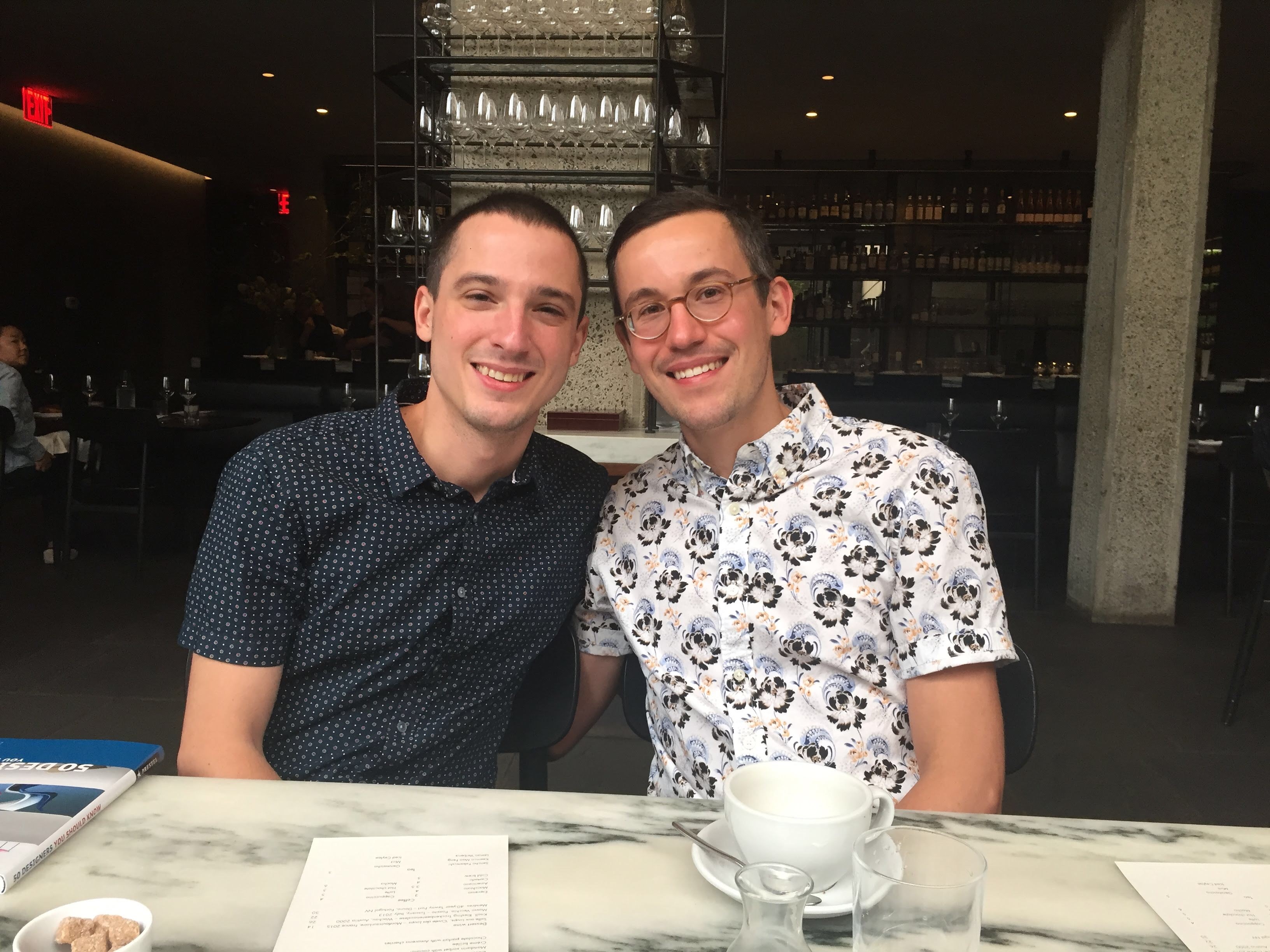 Nick with his husband, Robby
Do you have a story about an effective or inspirational professional ally you'd like to share?
Anyone at work who acknowledges that I have a husband, and remembers to refer to him by name, means a lot to me.
What's your dream getaway?
So far, I have had the opportunity to travel to Sydney and Berlin, which were both definitely dream destinations for me. I've always found a way to enjoy the vacations that we take, regardless of how far away we went.
Who is your favorite LGBTQ+ icon?
I had to do a quick search of what an "icon" truly means. The dictionary defines an icon as "a person or thing regarded as a representative symbol or as worthy of veneration." If there were a cover of an LGBTQ+ history book, I believe Marsha P. Johnson would be on it. When I think of Marsha, I feel fortunate for what I have today, but I am also reminded of what still needs to be done. I feel fortunate that there are so many Pride parades around the country.
Marsha was one of the first organizers of Pride parades in the 1970s. Marsha also reminds us that we still have work to do. The transgender community deserves a lot of credit for why gay and lesbian people have their rights today, and yet, they are the most underrepresented in politics and need the most help among the LGBTQ+ community when it comes to homelessness, violence, and suicide rates.
Gaydar: Does it exist?
I'm undecided. When I think about it, I probably only count the times that my "gaydar" went off and I was correct, and I tend to forget about all of the times that I wasn't.
When I was in 2nd grade, I had a best friend who moved away a couple of years later. I learned a couple of years ago that he is also gay! My gaydar was correct even before I knew what it was. I wonder if anyone else has a similar story of making friends with other LGBTQ+ people at a young age.
Join AIChE's LGBTQ+ & Allies Online Community
This community is open to professional AIChE members who are LGBTQ+ and allies. Topics of discussion will include the ongoing development of LGBTQ+ initiatives within AIChE, plus issues concerning, and opportunities for, LGBTQ+ chemical engineering professionals.
Learn more about the community.
Learn more about AIChE's Diversity and Inclusion Initiatives.
Interested in helping?
Are you an LGBTQ+ chemical engineer and AIChE member interested in sharing your story to help create awareness around diversity and inclusion? Are you an LGBTQ+ ally interested in helping with diversity and inclusion efforts? Send us a note at chenected@aiche.org with the subject "Diversity and Inclusion."