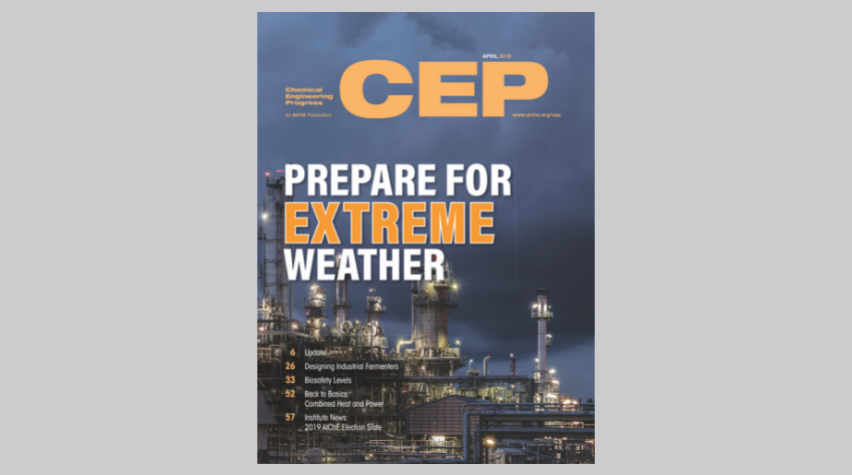 Safety
Manage the Risks of Severe Wind and Flood Events
In the chemical process industries, natural disasters are commonly thought of as "Acts of God." However, the risks of such events can be diminished with the right planning and preparation.
Reactions and Separations
Optimize Aspect Ratio in Industrial Fermenters
The ratio of a fermenter's liquid height to diameter can impact its heat-transfer surface area, blend time, and required agitator power. This article describes the factors that go into determining the optimum aspect ratio for a given set of conditions.
Bioprocessing
Create a Strong Safety Awareness Across Biosafety Levels
Understanding differences in microbial hazards and handling procedures is key to ensuring occupational safety when working with biohazard materials.
Back to Basics
Build a Combined Heat and Power Model from Scratch
Develop a thermodynamic combined heat and power (CHP) model to help optimize plant utility usage.
Update
Body Armor Inspired by Lobster Membranes
Novel Porous Carbon Fibers Store Energy
Researchers Discover New Crystal Structure
Using Ammonia as a Clean-Energy Solution
Placenta-on-a-Chip Models Caffeine Passage to Fetus
Engineers Use Recycled Car Tires to Produce Fire-Resistant Concrete
Plus
Editorial: Resolve to Better the Planet
Catalyzing Commercialization: Creating Novel Bimetallic Catalysts for Methanol Fuel Cells
AIChE Journal Highlight: Striking the Right Balance Between Model Detail and Experimental Data
New Products: Instrumentation; Fluids and Solids Handling
Offshore Technology Conference Expo Preview
Process Safety Beacon: What If That "Wrong" Instrument Reading Is Correct?
Profile: A Journey from Tehran: Overcoming a Revolution
Technical Entity Trends: Improving Bioproduct Synthesis with Cell-Free Systems
Career Connections: Redefining Career Success
Advanced Manufacturing Progress: Membranes Are a Flexible Intensification Solution
The ChE in Context: PAIC Reorganizes to Pursue AIChE's Strategic Objectives
Institute News:

AIChE Announces Candidates for 2019 Officer Election
AIChE Launches Center for Hydrogen Safety
Ecolab Advances AIChE's Initiatives to Promote Safety and Diversity in the Engineering Workforce
AIChE Members Named Fellows of The National Academy of Inventors
AIChE Establishes Climate Solutions Community
Air Products' Donation Advances AIChE's LGBTQ+ & Allies Endowment
The April 2019 issue of CEP is now available online. AIChE members receive access to CEP, including a searchable archive of issues dating back to 2001, online at https://www.aiche.org/cep.