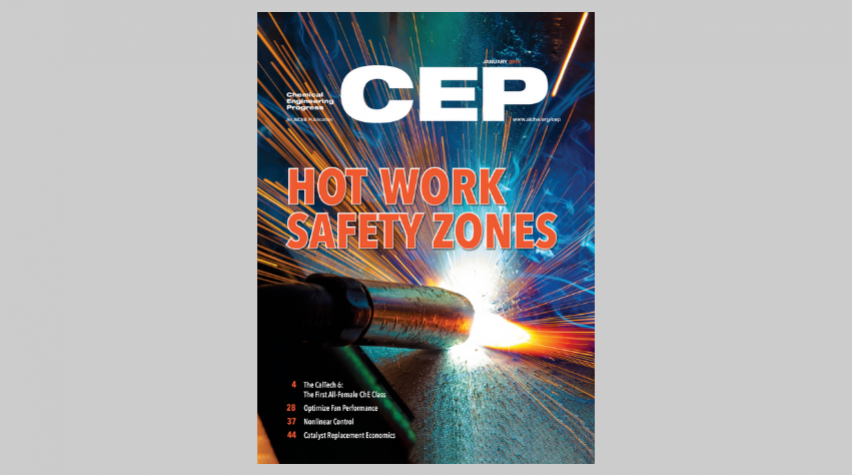 News Feature
The Caltech 6: America's First and Only All-Female Class of ChEs
The lives of six women reflect how far we have come, and how much further we have to go.
Back to Basics
Optimize Fan Performance
A fan upgrade can be a win-win. Understand the basics of fan operation to achieve better fan performance and reduce energy consumption.
Instrumentation
Select the Right Nonlinear Control Technique
Not all systems are compatible with a PID controller. Simple methods can maximize the control performance in nonlinear systems.
Reactions and Separations
Evaluate Catalyst Replacement Economics: Part 1 — Periodic Replacement
When is it time for fresh catalyst in your fixed-bed reactor? This article gives you the tools to determine the optimal replacement interval.
Safety
Is Your Hot Work Safety Zone Actually Safe?
Hot work safety zone boundaries are often based on fixed criteria, which fail to take into account changing conditions at the worksite and undetected gas leaks.
Update
An Embroidered Battery for Wearable Biosensors
Engineers Develop the First Personalized Tissue Implant
Nanoparticles Dance for Drug Delivery
Turning Waste Plastics into Fuel
Creating a Window that Rejects Heat by Changing Color
Plus
Editorial: Engineering Stories
Catalyzing Commercialization: Quantum-Dot Windows Produce Low-Cost Renewable Energy
AIChE Journal Highlight: Nanoparticulate Polymer Brushes: A Gateway for Complex Fluids Engineering
Process Safety Beacon: Share Stories to Communicate Safety
New Products: Materials and Chemicals; Software; Instrumentation; Environmental, Health and Safety
Technical Entity Trends: A Better Burger
YPOV: An Alternate Route: Working Before Graduate School
The ChE in Context: Perspectives on Industrial Water Reuse
Books
Calendars
Institute News

President's Corner: What Does the Membership Model of the Future Look Like?
Gala Lauds Pfizer, Covestro for Inspiring Women Engineers; Nance Dicciani Receives Doing a World of Good Medal
Institute and Board of Directors' Award Nominations Due Feb. 15
The January 2019 issue of CEP is now available online. AIChE members receive access to CEP, including a searchable archive of issues dating back to 2001, online at https://www.aiche.org/cep.

With the CEP mobile app, You can now have CEP at your fingertips — from the latest R&D news and new equipment to feature articles and special sections. Download the app.