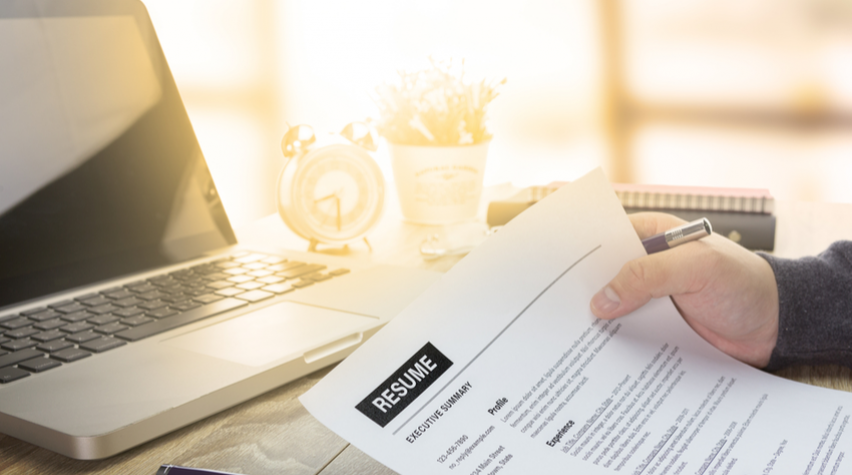 It tells your story, shares the skills you have acquired, and highlights your professional accomplishments. It is vital to helping you to progress in your career. But why is it so hard to put together a résumé?
When applying for a job, you have to think of yourself as more than just a list of skills. A résumé needs to describe the impact and value of your service and tell a story. Telling an effective story helps the hiring manager to envision you in the role, even before calling you in for an interview.
Define your brand
Telling your story starts with defining your brand. Everyone has a brand, but many have not designed it consciously. Unfortunately, this leaves your career and résumé open to interpretation. To define your brand, consider your values, passions, vision, and mission.
Values are your moral principles and beliefs or accepted standards. Ask yourself what is important to you at work — personally, morally, materially, and spiritually. Your core values help you to define what is important to you in a new role or company. For example, do you value and recognize individuality or do you feel conformity is important? Do you feel fulfilled by recognition, rewards, or appreciation?
Passions elicit strong feelings of excitement in you. If you didn't have to consider your monetary needs, what activity or career would you pursue? What do you enjoy reading?
Vision is your ability to think about or plan for the future with imagination or wisdom. When creating a vision, ask yourself: What do I consider possible through my actions? What four to six things are important to me and why? What do I want to be known for by my colleagues, family, etc.? Answering these questions and creating a vision can help you to see a clear path to the role you want next.
Mission is what you have a sense of duty or commitment to do or achieve. Define your mission by determining how you want to achieve success. Are you a leader, mentor, or strategist? In that role, do you intend to inspire, educate, design, or refine? Incorporate these words, as well as your values, passions, and vision, into your mission statement.
Build on your brand
Your brand is the base for your résumé. Now, build on that foundation.
First, consider the format. A résumé should be clean and easy to navigate. You can use your creativity to help differentiate your résumé, but you should stick to a relatively standard résumé format, without images or graphs.
Most companies use application tracking systems (ATS), so you should use a compatible format. An ATS helps companies rank résumés through keywords to determine which applicants fit a position best. An ATS may not be able to read complicated formats.
As a young professional, limit your résumé to at most two pages. Choose a clean, professional, and easy-to-read font, such as Arial, Calibri, or Times New Roman. Font size for the body of the document should be 10–12 pt. At the top of the page, state your name in large font (14–22 pt) and contact details, including phone and email address (10–12 pt).
Use an email address that is professional, that is, a variation of your name. Including personal information, such as interests, may give others a negative perception of you. If you do not want to use your name, use words that are focused around your career, such as cheme@anyemail.com.
Make it easy to read
In the body of your résumé, break the information into sections to help the reader navigate the document. Include a summary section at the top that tells a short story about you. In approximately three to six sentences, describe your brand, incorporating your values, passions, vision, and mission. An example of a summary section might be: Engineering project lead who builds and motivates teams while driving projects to successful conclusions. Consistently identifies opportunities for efficiency and improvement, while providing leadership needed to develop and implement solutions. Known as an engineer who is adept at identifying challenges that hinder business performance and is focused on engineering solutions for improvements and enhancing productivity.
Because keywords are important to ATS systems, it is a good idea to include a section titled Core Skills. Include concrete skills such as project management, change management, or any job description keywords.
Give dates and accomplishments
The Professional Experience section is the core of your résumé. It should include your professional experience, including company, title, and exact dates. This should not be a regurgitation of skills. Instead, describe situations, challenges, and problems that you have solved. Then, include actions you have taken to create value. Finally, detail what you can offer by showing what you have already done.
Start each bullet with an action verb. The words you choose paint a picture of who you are and what skills you have to offer. For example, words such as participated, developed, was part of, and contributed to might tell the reader that others did the work or that you are not confident enough to take credit for your work. Choose words that reflect the job description to help flag the ATS system.
Finish your résumé with sections describing your education, affiliations, and trainings.
This approach creates a résumé that tells an employer why it is worthwhile to invest time and money in interviewing and, ultimately, hiring you.
Kimberly Wilson is an executive/engineering recruiter for the chemicals and energy industry, where she develops competitive talent acquisition strategies and solutions for her clients.
This piece originally appeared in the January 2018 issue of CEP magazine. Members can find full issues online along with an extensive archives of back issues at www.aiche.org/cep