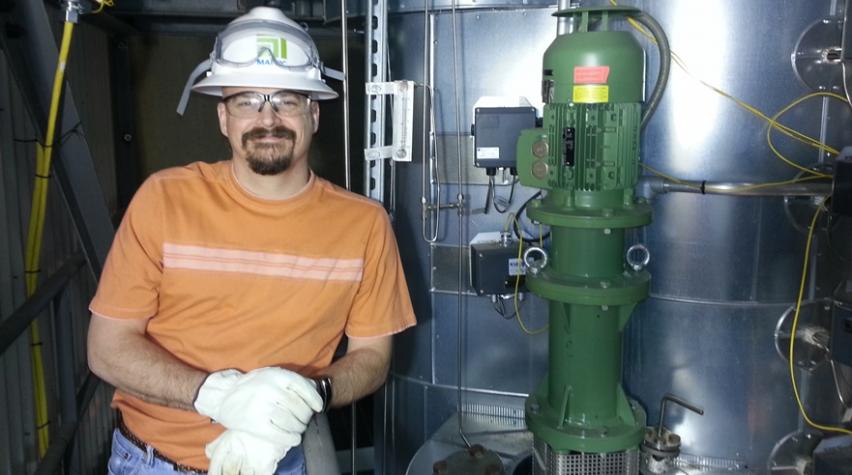 Welcome to the first in a series of AIChE blog posts profiling process engineers, a diverse group of professionals spanning multiple industries and regions. In this series, we aim to profile process engineers who work in fields as diverse as petrochemicals, pharma, bulk chemicals, food, any any process-intensive industry.
Are you a member and process engineer interested in being profiled? We'd love to hear from you via this volunteer opportunity. Also, we hope to build an online discussion group specifically for process engineers. You can find out about both of these initiatives and join our efforts by visiting https://www.aiche.org/processengineering
For our first profile, we meet process engineer Robert Nunely. He talks about his work at MATRIC, his career, specific challenges, the the importance of his work.
Tell us a bit about your work as a process engineer.
I spent over 10 years in Union Carbide's Process Engineering Department during the early part of my career. During that time I worked on a variety of projects, including retrofits of existing plants and designs of grassroots facilities implementing new technologies. I served as a section lead during the conceptual design phase of a $2B grassroots chemical complex when the site was still jungle. I also worked on department and business initiatives that were more of a consulting nature. The last three years of my time in process engineering were spent in the new products development area. In that role, I worked closely with R&D, putting together designs for new chemistries and providing guidance in the development decision process that would lead to more economical and operable commercial plants.
Why did you become a process engineer?
My attraction to process engineering was that you are typically a jack-of-all-trades, but you play a key coordinating role and major part in the execution of projects, even at an early stage in your career. You serve as the focal point for your design and solicit input from experts where needed for specific equipment design details. Having this central role was exciting for me, as was the opportunity to be on the front end of many designs. There have been several times where I have started with a blank sheet of paper and was the first person to ever draw out a flowsheet for a new plant or entirely new process. That's something that thrills me to this day. I also enjoyed Union Carbide's approach to process engineering where the department was closely aligned to the businesses and were as much a part of the discussion of the business development and direction as other functions, such as R&D and manufacturing. While I know that not all companies treat process engineering in this manner, that structure was engaging and allowed me to interface with many different functions and observe the decision-making process on a broader scale and higher level.
What are some of the biggest challenges you face in your role as a process engineer?
The biggest challenge is bringing together multi-functional teams to agree on design concepts. You often find yourself working with business objectives, regulatory requirements, manufacturing representative opinions, and R&D input. Working in a large company also means pulling together subject matter experts such as reactor design engineers, separations technologists, etc. Working in a small company means figuring out how to do some of that yourself and sometimes deciding when it needs to be contracted out. While you are not the project manager, you are the focal point for design during the process development stage of the project, and it takes strong leadership skills to pull all of those people together, balance out the project needs, and drive the team to consensus (not to mention putting together the design packages and working through all of the details at the same time).
How is your work as a process engineer critical to your particular job assignment or industry?
Process engineering is critical to the chemical industry. Each plant or project starts off as a set of drawings developed by a process engineer. The skills of a process engineer determine whether the plant will meet its technical and business objectives and whether it will be a safe facility to operate. The process engineer has to have a strong, fundamental understanding of chemical processing and the ability to transform business and technical objectives into a solid design. Your ability to provide a safe and economical design will have a lasting impact, because you may be designing a new facility that could have a life of 20 to 50 years, or more.
What do you think is most important about what you do as a process engineer?
Being able to understand the big picture of the plant objectives as well as the nuances of the process are important to a solid process design. To be really good in that role, it's critical that you have a solid understanding of many unit operations and how they interact with one another in a process. While that is important to a successful design and to your project, your most important contribution is fostering process safety. At the design stage, you know the plant details better than anyone else, so your ability to think about process safety risks and how to eliminate or mitigate them through design is critical. You have the ability to look at hazardous chemical inventories, MAWP's of vessels, upset conditions, reactive scenarios, emergency shutdown functionality, and pressure-relief design. While that isn't always the most glorious part of the job, it is the most important role you perform because your design decisions can impact the safety performance of the plant for years to come.
Connect with Robert on AIChE Engage
Join the Community of Process Engineers

The Community of Process Engineers is brought to you by Scott & Karen Love. Their support enables the AIChE Foundation to advance process engineers at every stage of their career allowing them to Do a World of Good.