Nicaragua and Zambia may be in different hemispheres and have different engineering challenges but one thing they share is having benefited from the Engineers Without Borders Grant Award, sponsored by AIChE's Societal Impact Operating Council (SIOC) and supported by the AIChE Foundation's Doing a World of Good Campaign.
The 2015 and 2016 EWB Grant Recipients are from the Illinois Institute of Technology and Mississippi State University, respectively.
In this video interview series we are joined by AIChE fellow and senior engineering associate for Air Products, John Cirucci. John is an active member of Engineers Without Borders-USA and founder of EWB Lehigh Valley Professionals Chapter. John interviewed the teams to learn more about their projects, the most challenging aspects of working with their respective communities, and how their projects changed communities and changed them.
Tommy Mai and Oscar Guzman are Illinois Institute of Technology students whose EWB chapter was awarded an AIChE grant in fall 2015 for a sanitation project in Nicaragua.
Erin Wynn and Angelica Maiers are Mississippi State University students whose EWB chapter was awarded an AIChE grant in spring 2016 for an irrigation project in Zambia.
The Engineers Without Border Grant is supported through the fundraising efforts of the AIChE Foundation.
Doing a World of Good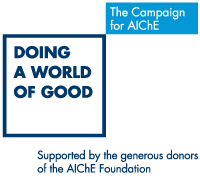 The Doing a World Campaign is the most ambitious fundraising programs in AIChE's history and will drive the profession for decades to come by funding five transformative priorities that advance chemical engineering and bring that expertise to bear in addressing societal needs.
Learn more at www.DoingaWorldofGood.Org