A Disability Unity Convocation launched this year as part of the 2016 AIChE Annual Meeting. It was created to help raise awareness of the needs of disabled chemical engineers and others in related industries, as well as to highlight the contributions these individuals can make to industry and academia.
Past AIChE president Bill Byers sat down with participants prior to the session for a discussion. Among other questions, he asked participants to discuss their experience with a disability and the role it has played in their career. The participants also discussed support resources they have found useful in their careers as well as the role professional organizations and societies can play in helping those with disabilities to thrive.  
Participants
Interviewer: Bill Byers, B.S. in Chemical Engineering, MBA, VP & Technology Fellow (retired), Industrial Water, CH2M, AIChE Past President (2004), Member of AIChE's ChemE's with Disabilities Taskforce
Chris Pope, Ph.D. in Chemical Engineering, Independent Researcher / Consultant in Chemical Engineering, Chair of AIChE's ChemE's with Disabilities Taskforce
John Johnston, Ph.D. in Food Science, MBA, Chair of ACS CWD Committee
Hoby Wedler, Ph.D. Candidate in Chemistry, Member of ACS CWD Committee
Ashley Neybert, B.S. in Chemistry, Member of ACS CWD Committee
The responses are varied and engaging, and we think they will provide new perspectives for everyone. You can also watch Bill's interview with Catherine Kudlick, director of  the Paul K. Longmore Institute on Disability and professor of history at San Francisco State University.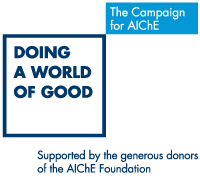 The Disability Unity Convocation was made possible by the AIChE's Foundation's Doing a World of Good Campaign.
To learn more about the Disability Unity Convocation, click here.