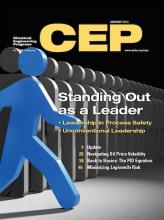 ---
BUSINESS
Navigating Oil Price Volatility
After several years of stability, oil prices plummeted to record lows in mid-2014. This, along with increased natural gas production in North America, has radically changed the basic economics of the chemical industry.
Leadership Q&A
Taking the Lead on Process Safety
Leadership Q&A is a new column focused on leadership and management. C-suite executives will talk with CEP's senior editor to discuss how they've overcome challenges, strategies for successful leadership, and tools and skills that have been effective during their tenure, among other topics. This debut column will be separate Q&As with each of the 2015 AIChE gala award recipients on process safety leadership.
Technical Entity Trends
Welcome to the TENT
Technical Entity Trends (TENT) is a new monthly CEP column written by the staff of AIChE's Technical Entities (TEs). The TEs are communities of chemical engineers and other professionals that address some of society's grand challenges: health and nutrition, energy, environment and sustainability, water, and more. TENT will explore trending topics related to the TEs' areas of specialization, and will introduce you to some of the projects and initiatives that the TEs are working on.
CAREER CATALYST
Standing Out Is the New Fitting In
Shirk conventions and express your individuality. You and your employer will benefit.
BACK TO BASICS
PID Explained for Process Engineers: Part 1 — The Basic Control Equation
The differential equation for PID control contains three possible modes: proportional, integral, and derivative. This article describes the control equation in language that process engineers can readily understand.
PLANT OPERATIONS
Minimize the Risk of Legionella Contamination in Industrial Cooling Towers
A new ASHRAE standard addresses Legionella in building water systems. Industrial facilities can apply the same risk-based decision-making approach to their cooling towers.
Update
Hybrid Material Delivers a One-Two Punch
Bifunctional Catalyst Upgrades Ethanol to Butanol
Green Coating Repels Water Better than Fluorocarbons
New Way to Screen CO2 Hydrogenation Catalysts
Power Paper Flexes, Creases, and Stores Electricity
Smart Bandage Senses, Lights Up, and Delivers Drugs
Hidden Wires Could Boost Solar Cell Efficiency
Plus:
AIChE Journal Highlight: Developing Transformational Carbon Capture and Storage Technologies
Catalyzing Commercialization: New Fermentation Technology Improves Ethanol Yields
Process Safety Beacon: Hydrate Hazards
Material Matters: Predicting High-Temperature Hydrogen Attack
Young Professionals Point of View: Consider a Career in the Water Industry
New Products
Software
Books
Product Focus: Materials
Calendars
Institute News

2015 AIChE Annual Meeting Wrap-Up
President's Corner – AIChE: Hub of Chemical Engineering Intellectual Activity
AIChE Elects New Fellows
Institute and Board Award Nominations Due February 15
Member News
Your AIChE Membership: Publications and Journals
The January 2016 issue of CEP is now available online. AIChE members receive access to CEP, including a searchable archive of issues dating back to 2001, online at http://www.aiche.org/cep.