This year began with the excitement of setting new goals. I have learned my best lessons on goal setting from one of my hobbies, running -- and what I've learned can be applied to professional goals as well.
Start with small measurable goals
I did not become a marathoner overnight. I began my running journey in Aug. 2008, in arid Calgary, Alberta. Initially, my goals were small, and they served as mini milestones that helped me track my progress and propelled me to the next breakthrough. I was not particularly athletic, so I started by running 10 minutes and walking one minute. The distances were short. I would run a few times a week for three miles at most. Within a few weeks, I gained confidence, and I was able to finish my run without feeling completely exhausted. At that point, I added a longer run (5-6 mi), once each week with my running group.
Setbacks and reassessment
No one ever said running was easy. Sometimes, my goal was to overcome a setback. My first running setback came after "mastering" the 6-mi distance with the walk breaks during the brisk Calgary autumn mornings. I thought running three miles without walk breaks would be achievable. How wrong I was!
During a vacation in Houston (on an 85?F, 100% humidity day), I attempted a seemingly easy 3-mi run...which ended after a mile and a half. What went wrong? As I later learned, without proper conditioning, running in the heat and humidity can significantly increase the body's workload; I was not trained for the humidity. In essence, my goal was unrealistic based on the training I had. However, because I was determined to improve, I made it my goal for the next few months to be able to run continuously for three miles without walk breaks.
Measuring progress
After I returned to Calgary, I consulted a few more-experienced runners, and I slowly increased my mileage each week. I also focused on cross-training to help me better adjust to different weather conditions. Not only was I able to meet my goal of running three miles without walk breaks, after three months I was becoming more comfortable, and my breathing was less labored. I set my next goal: a 6.2-mi race in May 2009.
Setting new goals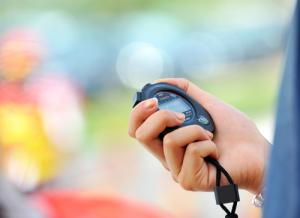 With discipline (and a stopwatch), a runner's progress can be easily measured. To prepare for the May 2009 race, I increased my running from three days a week to four, and I ramped up the mileage and my target pace. I also became more involved with my running group, and found that surrounding myself with people who have similar goals can be very motivating.
Going into the 6.2-mi race, I set three goals for myself: enjoy the race; finish strong; and finish in under 50 minutes (if conditions permitted). When the starting gun fired, my legs automatically sped up alongside a flock of runners. There I was, flying down the racecourse. Halfway through the race, fatigue began to build. I trusted my training. I checked my breathing and pushed through. After surging through the last uphill portion, the finish line was in sight. For those last few seconds, I sprinted, as fast as I could, toward the finish line. Not only did I reach my goals that day, I exceeded my time goal by one minute and 12 seconds.
More breakthroughs, with a little help
Since my first road race in May 2009, I've participated in 30 races of increasing distances -- from 3.1 mi to a marathon of 26.2 mi -- and each time I set a goal of beating my previous mark. With progress came more training and longer distances. I also learned the benefits of seeking help and coaching from others. While many of my goals have been self-imposed (e.g., beating my own time), external benchmarks also served as part of the feedback loop. Qualifying for the Boston Marathon became a goal when I trained for the January 2012 Houston Marathon. I had been training with a group of serious runners, and the leaders of the group became my coaches. They helped me arm myself with four months of training and a detailed race-day plan that accounted for contingencies. The goals for my first marathon were similar to those for my first race: enjoy the experience; finish strong; and start at a pace that is 10-20 seconds slower than my goal pace (the average pace needed to qualify for the Boston Marathon), and adjust based on the conditions.
One year later, I could still do a play-by-play of that marathon (which I will spare you). I can share that I ran the race at a consistent pace and I came in two minutes and 30 seconds under the qualifying time. My dream of running in Boston became a reality. The lessons I have learned from running translate to my day-to-day job:
Set mini-goals where progress can be measured.
Make overcoming setbacks part of the goals and assessment process.
Surround yourself with others who have similar goals for motivation and support.
Ask for feedback.
Celebrate each milestone and incorporate lessons learned to propel you to the next goal.
Keep goals in mind, and by this time next year, you could find yourself in a whole new race, whether at work or in your personal life.