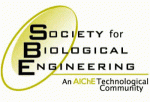 This post is presented by SBE, the Society for Biological Engineering, a global organization of leading engineers and scientists dedicated to advancing the integration of biology with engineering.
Pop recording artist Bj?rk released Biophilia, an project devoted to exploring the world of biology, in 2011. It's much more than an album because it's the first "album" to be released as both an "app album" and a traditional music album, plus the project also encompasses Internet sites, installations, and live shows. You can read more about Biophilia as whole here.
The single "Hollow" tells the story of DNA, Bj?rk-style. NPR describes the video for "Hollow," which you can watch below. Bj?rk turned to biology animator Drew Barry for help with the video. See the NPR story to watch the video and read about Bjork's and Drew Barry's idea behind the song and video.
"Hollow's" instrumentation is sparse - a rhythmic organ-like pulse and Bj?rk's echoing voice. The blending of the electronic manipulation of the vocals, which makes it sound like there's a whole tribe of Bj?rks singing in unison, and the thudding electronic notes give the song a feel that is primal yet futuristic.