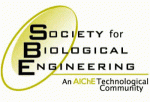 This post is presented by SBE, the Society for Biological Engineering--a global organization of leading engineers and scientists dedicated to advancing the integration of biology with engineering.
Drew Berry, a 2010 MacArthur fellow, is a biomedical animator who creates scientifically accurate and stunning animations to illustrate how molecules in our cells move and interact. At the TEDxSydney conference, in May of 2011, Drew Berry showcased his animations that help researchers see unseeable processes within our own cells.
In three- and four-dimensional renderings of such key biological concepts as cell death, tumor growth, and the packaging of DNA, Berry captures the details of molecular shape, scale, behavior, and spatio-temporal dynamics in striking form. His groundbreaking series of animations of the intricate biochemistry of DNA replication, translation, and transcription demonstrates these multifaceted processes in ways that enlighten both scientists and the scientifically curious. In one project, Berry, committed to educating the public about critical topics in medical research, created a two-part animation of the malaria life cycle that illustrates the pathogen's development in the mosquito host and its invasion of and diffusion throughout human cells.