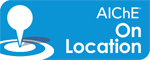 Looking for a change of pace and a chance to explore the other roles that chemical engineers can fulfill, I attended the Food, Pharmaceutical, and Bioengineering Plenary.
The overall conclusion that I came away with was that there are very few aspects of the modern world that are not impacted and improved by chemical engineers. After spending a few days listening to presentations on traditional chemical engineering topics such as energy, refining, and chemicals, it was an interesting contrast to see how the same concepts can be used to improve the safety, health, and productivity of the country as well.
Fighting inefficiency and food-borne pathogens
One example is the Food Innovation Center at Ohio State University, which is working to improve the efficiency and safety of our food supply. They estimate that there is as much as a 40% loss of food due to inefficiencies. As the world population increases, reducing these losses is increasingly important. They are also pursuing ways to protect the general population from food-borne pathogens. As we have seen in recent events, the quicker food-borne pathogens can be identified, the quicker the source can be located and the better effected people can be treated. This work is carried out across all scales, from local farms to internationally traded foods.
Developing new methods of vaccine delivery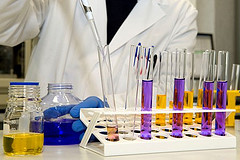 Vaccines may have saved more lives than any medical innovation since sanitation, and current research is looking to make further improvements. Balaji Narasimhan of Iowa State University spoke of using nanoparticle substrates to deliver vaccines. (Dr. Narasimhan was singled out for his work in this area in MIT's Technology Review's annual list of 35 Innovators under 35.) The smaller the molecule, the farther it will travel into the lungs with inhalation, though if it is too small it will be exhaled without delivering the intended vaccine. By fine tuning the size of the molecule, a highly efficient inhaled vaccine can be created, which has distinct advantages over traditional methods. The two primary benefits are efficiency and efficacy - less actual vaccine will have to be produced (important given limited supplies of certain vaccines) and those vaccinated will have a higher survival rate if exposed to the disease.
There is also some evidence that the protection provided by the vaccine will last longer. The new substrate provides extended shelf-life (in some cases without refrigeration) and an inhalation delivery method (compared to injection) eliminates the need for trained medical professionals. These last two factors would allow the vaccination of previously under-served populations. For example, vaccines could be air-dropped into remote areas or those isolated by disaster and easily administered greatly expanding their impact.
Using bioengineering to produce chemicals
The merging of biology and chemicals continues to be hot and stir the imagination. Ka Yiu San of Rice University presented work developing cellular factories. He discussed using microbes to produce chemicals and molecules that are currently important to our economy. Other topics included replacing factories with cell cultures. As chemical engineers continue their work, they are moving the bio-economy from a promising idea to reality.
Photo: Test tubes, Jungleboy ???? via Flickr; vaccine development in lab, Novartis AG via Flickr