This post is based on the reporting of Sandy Sidey, AIChE's Project Manager for the Future of STEM Scholars Initiative.
In observance of Black History Month 2023, ChEnected presents posts that reflect on the progress of Black engineers in the AIChE community and beyond.
On January 18, leaders and corporate sponsors of the Future of STEM Scholars Initiative (FOSSI) visited the campus of Howard University in Washington, DC, for a day of networking and mentorship with the 42 FOSSI scholars currently enrolled at Howard.
The FOSSI initiative
Recognizing a lack of diversity in the chemical industry workforce, in 2020, AIChE, the American Chemistry Council (ACC), Chemours, and HBCU Week Foundation partnered to establish the Future of STEM Scholars Initiative (FOSSI). FOSSI provides $40,000 scholarships ($10,000 per year) to students pursuing preferred STEM degrees at historically Black colleges and universities (HBCUs). As part of the experience, the scholars also receive leadership development, mentoring, and internship opportunities by FOSSI's corporate sponsor organizations. To date, 60 companies have signed on as FOSSI sponsors.
FOSSI scholars network with students and sponsors
At Howard, the scholars — many of whom were meeting for the first time — gathered with representatives from more than a dozen FOSSI partner companies. Participating organizations included AbbVie, AdvanSix, AIChE, the American Chemistry Council, BASF, Bayer, Chevron, Corteva Agriscience, DuPont, LANXESS Corporation, PPG, Quaker Houghton, Solvay, The Chemours Company, and W. R. Grace & Company.
In addition to making new connections with sponsors and other FOSSI scholars, each student participated in a photo session and received a professional headshot to use for their résumés and LinkedIn profiles.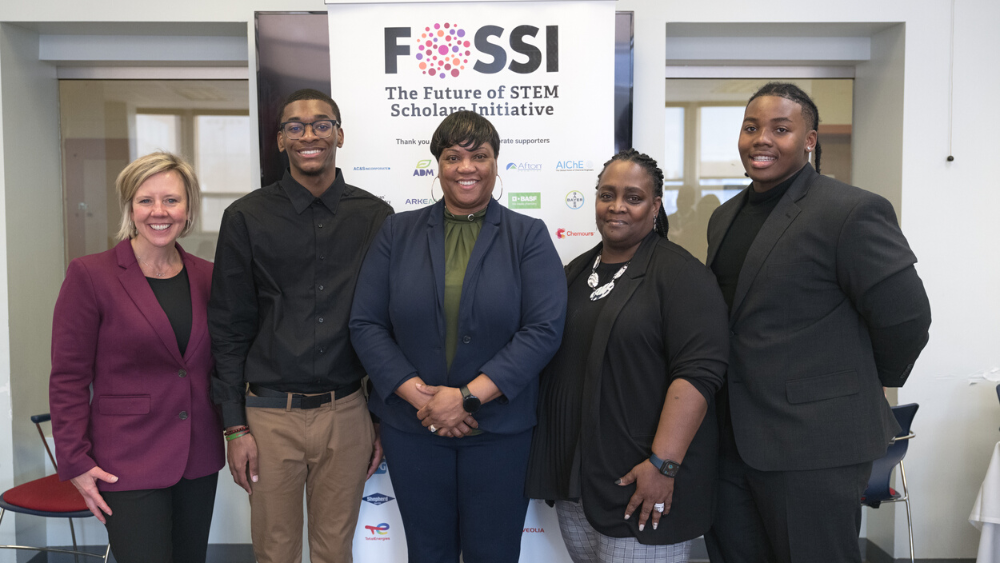 Representatives from AdvanSix meet with their FOSSI scholars. From left: Kelly Slieter (AdvanSix), Jaimon Washington (FOSSI scholar), Patricia Branch (AdvanSix), Zolla Kyle (AdvanSix), and Kendall Cousins (FOSSI scholar)
FOSSI chair Mark Vergnano and Kimberly White share words of encouragement
During lunch, participants heard from FOSSI Chair Mark Vergnano, former Chairman and CEO of The Chemours Company, and Kimberly Wise White, Vice President for Regulatory and Scientific Affairs at the American Chemistry Council. White spoke of her experience as a triple HBCU graduate of Texas Southern University, and said that she was excited to work with the FOSSI program. "I have loved science for as long as I can remember and am inspired by the immense talent and diversity of the FOSSI scholars, as well as the dedication of the chemical industry in supporting the next generation of STEM leaders," said White.
Vergnano added that "the relationships forged between scholars and sponsors will help provide real-world training and leadership skills, to ensure students' success in their college years and beyond." He advised FOSSI scholars to "meet as many sponsors as possible, share your interests, and follow up" and asked sponsors to "take full advantage of having so many outstanding students in one room."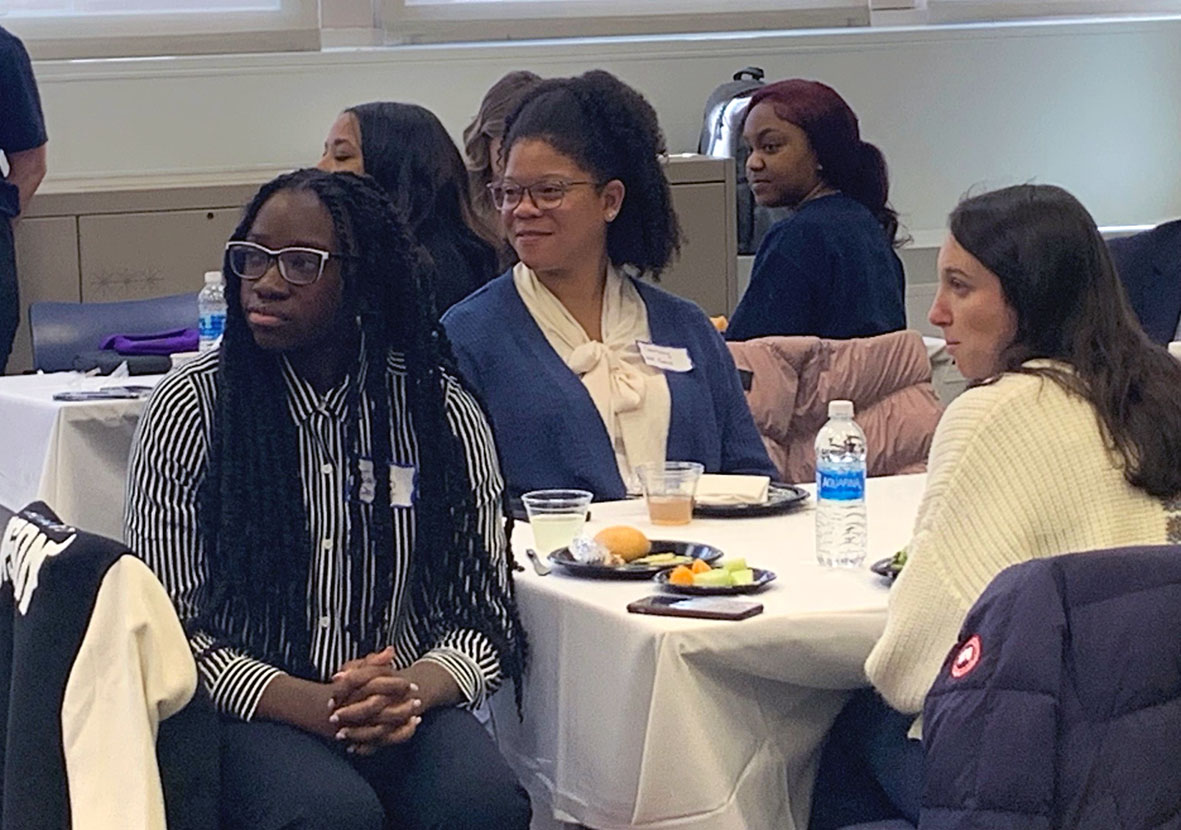 FOSSI scholars and corporate sponsors at the luncheon
FOSSI scholars give feedback
When the scholars were asked what they would like to see more of from the program, there was unanimous agreement on more in-person interaction, in addition to a request for more financial training within FOSSI's "Fundamentals of Success" program, including a course on tax preparation.
From left: FOSSI scholars Jalen Mays, Jada Horton, and Courtney Young
In 2022, FOSSI surpassed the halfway mark to its goal of funding 1,000 scholars by 2025, raising over $30 million to support more than 565 students. Currently, 295 FOSSI scholars are enrolled at 38 HBCUs.
The latest FOSSI application cycle closed on January 31, with hundreds of applications received for the FOSSI class of 2023, which will be announced this summer.
See more photos from FOSSI's visit to Howard below!