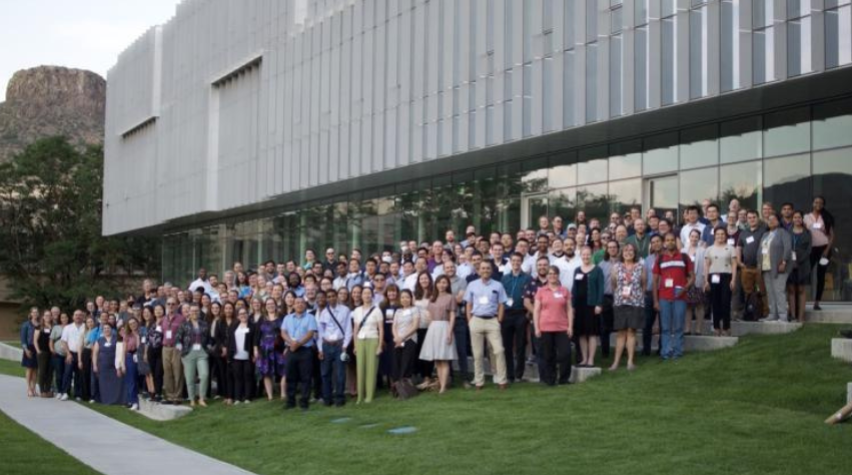 The ASEE/AIChE Chemical Engineering Summer School (ChESS) is a week-long workshop for Chemical Engineering Faculty with a focus on teaching pedagogy that's held every five years for chemical engineering faculty. This past summer, the Summer School was held at the Colorado School of Mines and sponsored by the National Science Foundation, 3M, Chevron, Dow, the Kern Entrepreneurial Engineering Network, Abbvie, Amgen, Bristol-Myers Squibb and Lilly.
MAC is the Minority Affairs Committee Community within AIChE, and five of the ChESS attendees – Manuela Ayee-Leong, Kazeem Olanrewaju, Sindia Rivera-Jiménez, Symone Alexander and Damilola Daramola – actively serve in MAC. These attendees are all within the first five years of their tenure-track positions and present their individual perspectives of the summer school.
An essential aspect of increasing the participation of MAC members in opportunities that advance their careers, like ChESS, is finding ways to effectively reach out to potential participants. In general, young faculty seem to be aware of ChESS via senior faculty or administrators. Also, the fact that the cost may have been covered by the departments seems to be a good motivation to attend. These efforts and administrative support show our MAC community that teaching is essential to the career pathway to tenure. The following are the perspective of the five MAC attendees after participating in ChESS.
How did you find out about ChESS?
Manuela: In March 2022, I received an email from one of the organizers, Matthew Liberatore, informing me about the ASEE/AIChE Summer School and encouraging me to attend. After looking over the forwarded information, I noticed that it was geared toward newer faculty in the first five years of their appointment and that I could register at no cost. I then spoke to my department head about the opportunity and went ahead to register.
Kazeem: I knew about the summer school from a senior faculty (Dr. Osborne-Lee) in the department who recommended that the Department Chair (Dr. Gyamerah) should encourage any of the junior faculty to attend. Subsequently, the Chair recommended that I should take advantage of this opportunity and attend. The rest is now history.
Sindia: I am involved as a board member of the AIChE Education Division and ASEE. This was my first time participating in ChESS. However, I was able to be accepted as a workshop presenter. I presented the workshop "Best Practices for Collaborative and Inclusive Teams," based on an ASEE publication that won two awards. This work was a multi-institutional collaboration between the University of Florida, Northeastern University, and the University of Kentucky. The other reason was that I wanted to meet new assistant professors. I have been a teaching professor for ten years, and this fall, I was hired as a tenure-track faculty. I wanted to meet people experiencing the same work-related issues as myself.
Symone: My department chair first told me about the summer school during my interview, then later invited all the assistant professors to attend and covered the costs.
Damilola: The current (Dr. Ridgway) and prior chair (Dr. Young) of my department mentioned this workshop as soon as I began my tenure-track position in 2020, including highlighting the complimentary registration (worth $1,000) for one faculty member from each participating university. As the only junior faculty member in the department, I was the "chosen one" for this perk. Even more intriguing, both mentioned they were still in contact with the attendees they met at their first Summer School. How could I resist?
What was most unique about your experience of the Summer School as a first-time attendee?
Manuela: My experience at the Summer School was unlike any other conference or workshop I have attended in the past. I appreciated the hands-on nature of most workshops and the opportunity to interact with my peers from around the country. I especially enjoyed the focus on active learning techniques and the practical examples and tools provided to attendees. I left Summer School inspired and equipped to implement a lot of what I learned immediately this semester.
Kazeem: The most unique thing about my experience was meeting with other faculty in positions similar to mine (assistant professor), and also benefiting from the experience of faculty who were previously in this position but had advanced in the academic profession both in teaching and research. The experience was an eye opener to several resources available, both humanly and otherwise, for an assistant professor to harness and advance himself/herself in this profession.
Sindia: It was amazing! As a member of the LatinX community, it was fantastic to hear people speaking Spanish or discussing issues that affect our community. I was also happy to share time with my friends from other MAC communities. The biggest lesson I learned is that we are ALL in this together at MAC. We are a family, and the common goal is to increase the representation and persistence of the fantastic talent we bring to AIChE and the chemical engineering community. It was great meeting so many new people that value education and at different stages of their careers. I also loved to see my MAC family well-represented. I mainly found that we had many LatinX and Black chemical engineers at that event! It was also great to host a MAC leadership meeting with Manuela and Symone, who I admire tremendously. Also, the opportunity to talk and socially share experiences!
Symone: What was most unique for me about the summer school was the ability to discuss teaching strategies – both successes and failures – with research and teaching faculty at all different stages of their career. As a tenure-track assistant professor, grants and research often take precedence, but I LOVE teaching, so the summer school was really refreshing and validating.
Damilola: The strong sense of community and the practical lessons obtained over the course of the five days. I was meeting most of the attendees for the first time, and the fact that we were staying in proximity made it easier to catch up and trade stories about being relatively new faculty after the workshops held during the day. A lot of the talks provided tools that could be applied immediately in the classroom with tips and examples. I would like to point specifically to the interactive notebooks using MATLAB and Python session (Drs. Ford-Versypt, Stuber, and Hesketh) because I teach a numerical methods class, and to the examples provided in "Active Learning Institute" (by Dr. Prince) because I teach an 80-minute class twice a week.
How will attending the ChESS impact your role as an educator?
Manuela: I believe that by incorporating all that I learned from summer school into my courses and research mentoring, I will be an even more effective educator. This will, in turn, provide many opportunities for my students to engage with and understand course material as they actively participate in the learning process.
Kazeem: Attending the summer school further exposed me to the effectiveness of active learning in chemical engineering education delivery and its practical application in an academic setting. It also offers several available tools than can enhance my teaching and mode of delivery.
Sindia: I learned so much! The ChE education community is dedicated and truly brings ChE systems thinking into education. I loved the resources shared and the conversations with the workshop presenters. As an engineering education researcher, it validated that the work and questions I am asking are meaningful for my community.
Symone: I spend a good deal of time developing my courses, building in interactive components, and making sure my students reach their learning objectives and (hopefully) become as excited as I am about the course content. However, sometimes that takes way too much time away from research and grant writing. Attending the Summer School taught me numerous ways to save time on grading and content development, while also validating that all that hard work is more than worth it.
Damilola: ChESS has already significantly impacted my role as an educator as I am currently implementing active learning techniques in my class this semester and plan to use interactive notebooks next semester in Numerical Methods. In addition, I learned about interactive textbooks, offered at a bargain in comparison to the paper version, and now can track where I need to focus my attention in class prior to concept assessment. There were additional parallel workshop sessions I was unable to attend but access to the materials after the workshop has been useful.
Any final thoughts?
Manuela: I would encourage any new faculty to consider attending Summer School the next time it is offered. You are provided an opportunity to gain so much experience, and the ability to network with faculty at a similar stage is invaluable.
Kazeem: I will recommend that every junior faculty who really wants to make strides in effective delivery of chemical engineering education and build a strong foundation in chemical engineering research should consider attending the ASEE/AIChE summer school. I also recommended that Summer School should be conducted every two or three years instead of a time frame of five years.
Sindia: I look forward to seeing how MAC can be more present in future ChESS. I saw various graduate students from underrepresented groups coming to ChESS and getting validation about their desire to improve the way we teach chemical engineering. Maybe in the future, we can get a ChESS-MAC scholar and support that student with a mentor while they start their academic career.
Symone: I am thankful that my department chair supported and encouraged our attendance at the summer school. After starting during the height of the pandemic where there was little interaction with other faculty and the teaching environment changed day by day, it was therapeutic to share experiences, tips, and tricks with other educators. I highly recommend the Summer School for all junior faculty as well as faculty at any stage that want to stay up to date with current teaching methodologies and technologies.
Damilola: My chair was correct in that I feel I will remain connected with those I have met during this meeting and can't wait to see everyone again at AIChE in November. I would gladly encourage any new faculty to attend ChESS as soon as they get the opportunity. It was life changing!
Attendee Bios