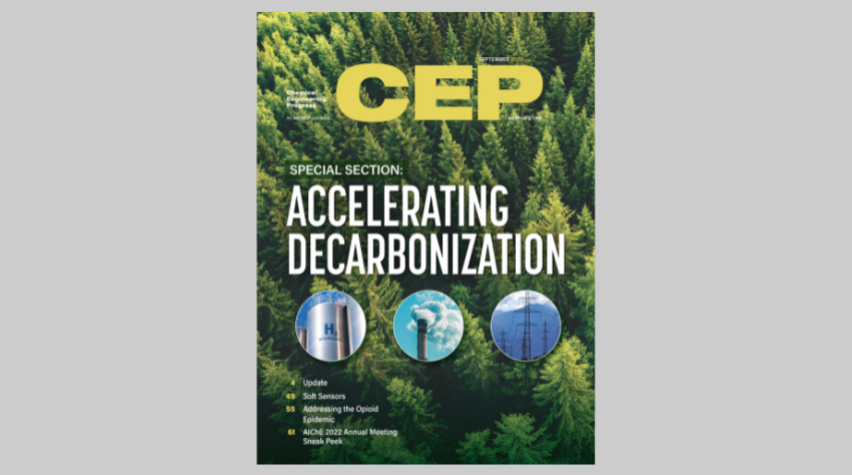 Special Section: Accelerating Decarbonization
Accelerating decarbonization will require a combined technological and regulatory framework that continues to promote the health, safety, and well-being of society. While the regulatory framework in the U.S. can be polarizing, the necessary technological changes represent an enormous opportunity for engineers and scientists. Articles in this special section include:
Accelerating Decarbonization: Challenges and Opportunities
Carbonomics: Introduction to Carbon Pricing, Regulations, and Frameworks
Transitioning to Net-Zero Carbon Emissions
Using Pinch Analysis to Plan Peer-to-Peer Carbon Trading
Embarking on an Industrial Net-Zero Journey
Instrumentation
Actionable Insights from Automated Measurements
Generating plant data and imparting it with context is the first step in many digital transformation projects. High-integrity data can be used to build soft sensors, which can reveal process insights.
Back to Basics
Responding to the Opioid Epidemic
Synthetic opioids have caused a sharp increase in deaths over the past five years, reinforcing the need for immediate solutions from the medical and chemical engineering communities.
Update
Solar Tower Produces Jet Fuel Sustainably
Organ Monitoring Goes Miniature with Ultrasound "Sticker"
Keeping Bacterial Cures Alive in the Gut
New Technique Gives Biologics Better Resistance to Heat
Business Update
Plus
Editorial: Decarbonization at Work and at Home
Catalyzing Commercialization: Photonic Smart Coatings Unlock New Efficiencies in Solar Panels
AIChE Journal Highlight: Building Laboratory Reactors for Fluid-Bed Kinetics
Process Safety Beacon: Lightning Strikes — Yikes!
New Products: Environmental, Health and Safety; Operations and Maintenance; Software; Fluids and Solids Handling; Engineering Services; Laboratory Equipment; Instrumentation
Emerging Voices: Condensing Years of Research into Three Minutes
Sponsored Content: CEP Investigates: Monitoring Energy and Water Consumption
Meeting Sneak Peek: Featured Events: AIChE Annual Meeting, Nov. 13–18, Phoenix
Institute News

Young Selected as Director of Institute for Learning and Innovation
AIChE, Partners Welcome 2022 Class of Future STEM Scholars
RE Society Establishes Award to Honor its Founder, Cato Laurencin
WISE ChE Students Go to Washington
The September issue of CEP is now available on the AIChE website, on the CEP app, and as a digital flipbook.