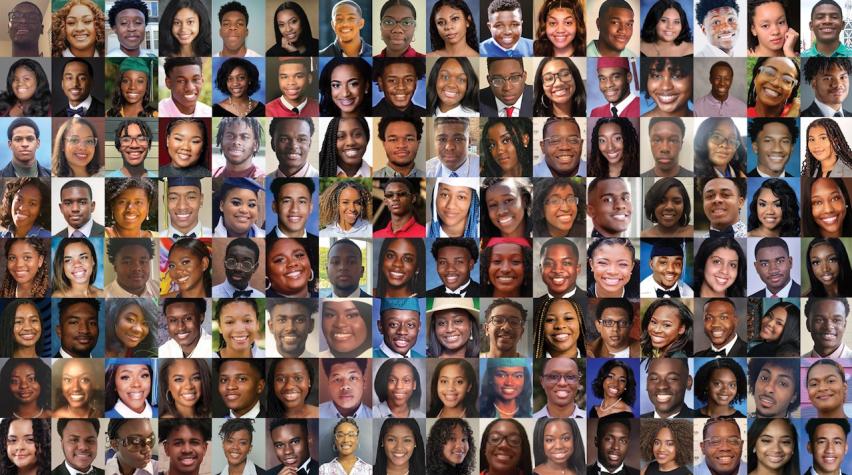 This article references material presented in a February 2022 CEP Magazine article about AIChE's Minority Affairs Committee (MAC), as well as a comprehensive history of MAC published by AIChE in 2015.
In 2021, AIChE played a key role in launching the Future of STEM Scholars Initiative (FOSSI). Created in partnership with the American Chemistry Council, Chemours Company, and HBCU Week Foundation, FOSSI provides scholarships of $40,000, along with mentorship, to students pursuing preferred STEM degrees at Historically Black Colleges and Universities (HBCUs). With the sponsorship of chemical manufacturers and related industry stakeholder, FOSSI awarded 151 scholarships in its inaugural year — with a goal of supporting 1,000 scholars by 2025.
FOSSI aims not only to enhance the career prospects of Black chemical engineers but also to strengthen and extend the pipeline for the engineering and STEM professions by creating a fully diverse workforce. To understand why programs like FOSSI are important, it is helpful to know something about the current state of enrollments in STEM professions among minority engineers.
The history of MAC
Let's begin at the November 2021 AIChE Annual Meeting in Boston, MA, where members of AIChE's Minority Affairs Committee (MAC) gathered at a special session to celebrate, belatedly, MAC's 30th anniversary. The event featured testimonials from past leaders of MAC, who lauded the efforts of those AIChE members who, over more than 50 years, had worked to raise the visibility and advance the professional prospects of minority engineers.
Formally established in 1990, the Minority Affairs Committee advocates for minority engineers within and outside of AIChE — providing a space for networking and mentorship among Black and other minority engineers at all career stages. For many minority engineers, MAC has been a professional lifeline.
Today, during a time of heightened awareness of racial disparities, MAC is redoubling its efforts to expand inclusion within the broader community, and to reach those who remain underrepresented in chemical engineering and STEM professions.
Histories published by AIChE, including a February 2022 CEP Magazine article about MAC, have underscored the progress made by Black engineers in the profession. The histories also underscore that, in spite of this progress, Black chemical engineers remain underrepresented.
Statistics
The statistics bear this out. According to 2020 U.S. Census data, 12.4% of the U.S. population is Black. At the same juncture, AIChE's 2021 Salary Survey of members found that only 2% of responding chemical engineers were Black. Also, a 2018 National Science Foundation (NSF) survey found that only about 4% of chemical engineering bachelor's degrees were awarded to Black students that year.
While the percentage of underrepresented minorities in chemical engineering rose between the 1970s and the mid-1990s, that growth — particularly among Black engineers — has leveled off. Between 2008 and 2018, degrees awarded to Hispanic and Latino engineers showed the most growth, from 7.4% of the total to 10%, according to the National Center for Science and Engineering Statistics, but the percentage of chemical engineering degrees awarded to Black graduates stayed about the same.
Interview with Lance R. Collins
In a 2015 interview conducted for a book on MAC's history, Lance R. Collins, an engineer professor at Virginia Tech and co-founder of AIChE's Minority Faculty Forum, shared his concerns about enrollment trends among Black people in STEM, and the inevitable impact on the engineering pipeline.
"While there had been a slow but steady rise in the representation of minorities in universities over the last 30 or so years, the disconcerting thing is that some of the numbers have gone flat. In particular, the number that I'm concerned about is the percentage of bachelor's degrees," said Collins.
He continued: "If there's a break or a change in the flow of one section of a pipeline, it's ultimately going to impact the higher sections as well. As an engineer, it makes me wonder about different segments of the population. We in MAC might have been slowly drawing into the pipeline the people who are used to being "the maverick" — the first to do things, the ones that will never be deterred from their goals. But at some point, in order for things to settle into a more natural state, you've got to be attractive to the broad population and not just a small segment of that population. And I worry that what we've done over the last 30 years is essentially address the issues related to that maverick group — but we haven't yet created an inclusive enough environment for the broader population, as there is for the white population."
STEM scholarships
AIChE and MAC encourage minority students to pursue STEM degrees with a slate of MAC scholarships for undergraduates, supported by the AIChE Foundation's Henry and Melinda C. Brown Endowment — named in honor of MAC pioneer Henry Brown. MAC also conducts mentoring sessions with professionals at AIChE's Annual Student Conference.
The Future of STEM Scholars Initiative (FOSSI) is another of those AIChE Foundation-supported programs dedicated to securing the future profession by empowering the next generation of engineers. AIChE members, parents, teachers, and mentors are encouraged to identify promising future engineers and to submit applications for the 2022 class of FOSSI scholars by February 15.