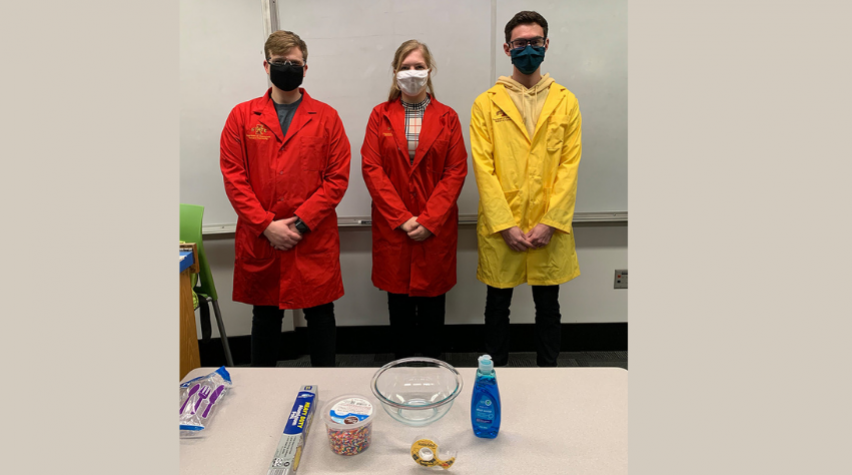 From left to right: Bailey McCrea, Hailey Bates, and Spencer Wolfe from Iowa State with their K-12 experiment: "Putting a Stop to Viruses!" Source: IOWA State website.
By Meemansaa Mishra
AIChE's K-12 Committee hosted the first all-virtual K-12 STEM Showcase and Outreach Competition on November 15, 2020. The event was part AIChE's first virtual Annual Meeting and Annual Student Conference experience.
One of the most fun parts of being in the K-12 committee is getting to see the wonderful designs for modules and at-home experiments that AIChE student chapters present at our STEM Outreach Competition. In this series, we highlight winning entries from last year's event.
Iowa State University AIChE Student Chapter's winning demonstration
At the 2020 K-12 STEM Outreach Competition, the Iowa State University AIChE Student Chapter won best in the K–2nd grade category for its demonstration "Putting a Stop to Viruses!"
After the competition, we interviewed Iowa State undergraduates Bailey McCrea and Hailey Bates. They are actively involved with AIChE, being President and Outreach Chair of the Iowa State Chapter, respectively. They also do a lot of collaboration with groups such as the Society of Women Engineers (SWE) and Engineers Without Borders (EWB) at their university.
Some of Iowa State's Student Chapter initiatives
As Outreach Chair, Hailey spearheads initiatives while also taking more academic credits than many full-time students. Both Hailey and Bailey major in chemical engineering, although they each have different career plans. Bailey interned with Dow Chemical, and he says that he hopes to work for Dow after graduation. Hailey is currently considering working in government engineering facilities, thanks to her current role at the Ames, Iowa, water treatment plant as a student-operator.
The students talked about the importance of making the STEM fields inclusive to all, and mentioned the lack of diversity at Iowa State's college of engineering, which has a student body that is still predominantly made up of white men. They also understand that, as a society, at least in the United States, children lose interest in STEM at an early age when they receive negative comments about how they may not be a 'good fit,' or be able to succeed in a STEM career.
Hailey also told us about her disability — narcolepsy — and how it can at times affect her performance. (If you want to know more about what narcolepsy is, click here).
Although disabilities are not always apparent to others, they can impact the likelihood for students to graduate, as well as affect the choice of an engineering major in the first place. Hailey feels that this added challenge has required her to focus on self-discipline. And for all students, Hailey believes that you have to motivate yourself to make your work and time productive, regardless of the challenges you face. This advice is what keeps her going through hard times, and her diligence makes her a role model for future engineering students.
Inclusion and outreach efforts
Inclusion and outreach efforts such as those performed by the student chapter at Iowa State help make engineering a welcoming place to students from all backgrounds.
The two students have different perspectives on outreach activities that did not go so well. Bailey mentioned an event in collaboration with SWE in which students learned the material, but needed a lot of supervision to make sure they finished the content in time. He said that the kids had fun, which is the most important thing, but he also realized that there has to be a better plan to make sure that everybody is doing what they are supposed to.
Hailey talked about collaborating with other groups, and sometimes not having their own voices heard. One strategy they have employed to some success in this areas is backing up ideas with evidence to support the AIChE group's position. Even in cases where an idea is initially met with skepticism or a lack of enthusiasm, evidence of good results can often help move detractors towards your point of view, especially in a large group setting.
They agree that, to be successful, it is important to have good time management, quality sleep, and a balance of personal commitments. Striking a balance between rest, well-being, and mental health with college courses, jobs, and outreach activities is extremely important — in order to stay motivated and to be the best critic of your own work.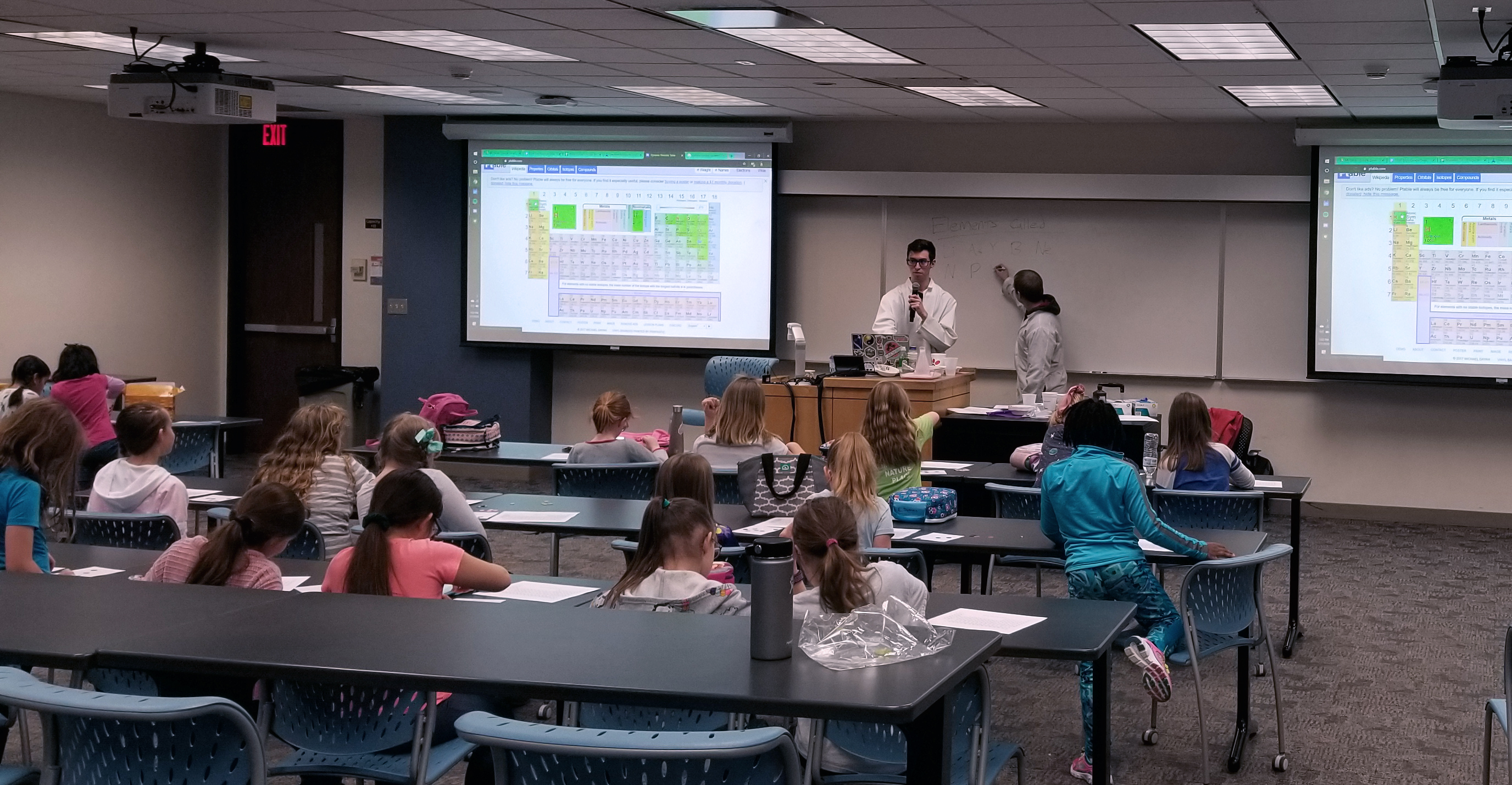 Glee Day: an event for girls. A partnership with SWE's Iowa student chapter.
In the end, Hailey's and Bailey's general advice for K-12 students is to "wash your hands!" and "challenge yourself."
Hailey adds, "Do not give up, and do not believe in those who try to steer you away from your goals"