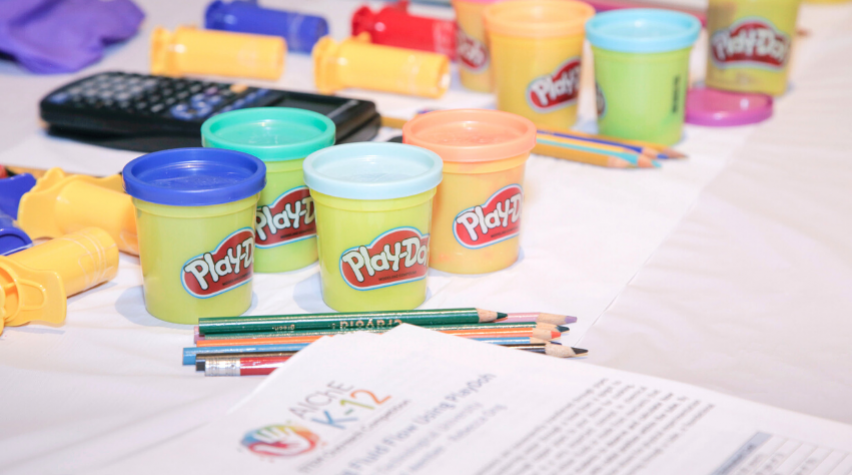 The 2021 AIChE STEM Outreach Competition and Showcase will take place over two days, Sunday, November 14, and Monday, November 15, 2021. We caught up with Ashley Pennington, the Chair-Elect of the K-12 Outreach Committee, to discuss the AIChE STEM Outreach Competition and Showcase, the AIChE K-12 Community, and why this competition is beneficial to both the presenters of the modules and the students who participate in them.
What value does this competition provide to the K-12 community and to the chemical engineering community as a whole?
The beauty of this competition is that it is a symbiotic relationship between chemical engineers and K-12 students and teachers, with each helping the other succeed. The chemical engineers involved in the competition range from undergraduate students to professionals to retirees.
Each of the chemical engineers involved in the competition gets the opportunity to learn through doing by developing modules that can entice and teach, and those in the community who volunteer their time and serve as judges get to choose the best modules and nurture the collaborative environment that brings the K-12 students, educators, and parents out to experience the event. Through such a competition, we give the chemical engineering community as a whole the ability to creatively develop new ways to think about old problems, which is essential for success in various aspects of life.
The value for the K-12 community is just as great. Parents and educators are able to harness the competition and our online modules to learn and critique science and engineering modules for students. Students themselves are able to interact (virtually in some years, in-person in others) with the competition finalists and learn about chemical engineering. Some, through their direct and novel questions, are even able to teach the competition finalists a little more about teaching youth.
Whether the K-12 students involved will become engineers or not, seeing what science and chemical engineering means in real life, is an experience that will be useful no matter which career path they take. The ability of the competition to highlight the importance of pedagogy in real life for both the chemical engineering community and the K-12 community is my favorite takeaway each year.
What should presenters expect their STEM modules to be judged on?
Module criteria changes slightly from year to year, as our pedagogical theories are updated from lessons learned in the past year, but generally speaking presenters of a STEM module should expect to be judged on a few things.
The first is that the presenters have submitted and have handy the written components and required materials (handouts, PDFs, presentation/poster, etc). Presenters should read the instructions carefully to make sure they have all the required materials and check all the necessary boxes.
The safety assessment form is crucial. We are chemical engineers, after all, and it is important that we teach the next generation about PPE. Secondly, the module demonstration will be judged on its feasibility, on how understandable it was for the student audience the module was intended for, and on how easy would it be for an educator or parent to replicate it at home. Thirdly, their delivery of the module will be judged on how dynamic it was, and as well as on whether the students engaged and followed along, or became bored and lost, and judged on how the module fared for students of different learning types.
Learn more about the AIChE K-12 STEM Outreach Competition.
Join us for the 2021 AIChE K-12 STEM Showcase on Sunday, November 14, and Monday, November 15, 2021.
In your opinion, what will make a STEM module stand apart from the others?
In my opinion something beautifully simple yet elegant sets a STEM module apart from others. As the oldest of seven, I've had a chance to learn about what it takes to keep others' attention and stand out. I would suggest presenters practice on their siblings, nieces/nephews, non-scientific parents, etc.
One such example is a module from our inaugural year. One of the teams brought Play-Doh (a substance that many students in that module's targeted age group were quite familiar with) and used simple extrusion tools to form the Play-Doh into different shapes, all while explaining what makes a non-Newtonian fluid!
There are many more examples. In fact, the winning modules are housed on our AIChE K-12 Community website, and I suggest checking it out whether you're a competitor, a K-12 parent, or an educator, to get an idea about what makes a module stand out.
What would you personally like to see at this year's STEM Outreach Competition, and what will mark it as a success?
Participation will make it a success for me! One specific success is that we have participants from around the world (both presenters and students) actively participate. Another is that I would love to see more students, particularly more students in the higher-grade levels.
Through the virtual platform last year, we were able to connect with students across the country and in various parts of the world during our 2020 Virtual STEM Showcase. We did, however, see a drop in modules for high school students and high school attendees. It will be imperative for continued growth of the STEM Showcase for us to increase the number of students across the K-12 community with whom we can interact (both to teach and to learn from).
Luckily, one benefit of a virtual event is that if a student has access to a computer and internet (whether it is at a public library, at home, in their classroom, or on a mobile device using public transit hot spots, etc.) they can reach us and participate. We are excited to get more students involved and participating.
If you have an idea on how to enhance student involvement please reach out and join our K-12 Community, we welcome all input, chemical engineer or otherwise! The STEM Showcase allows the AIChE community to get more involved with the K-12 community, so that both can learn and grow together for the benefit of society. Our entire executive committee, our committee membership, and our volunteers at large are happy to support that aim.
Join the AIChE K-12 Community today.
Join us for the 2021 AIChE K-12 STEM Showcase on Sunday, November 14, and Monday, November 15, 2021.