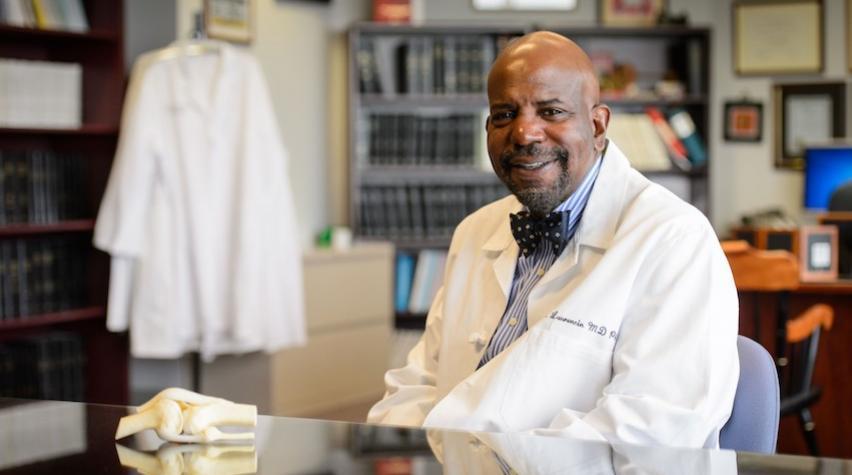 Cato T. Laurencin, M.D., Ph.D., Van Dusen Distinguished Endowed Professor at the University of Connecticut, has been named the latest recipient of the NAACP's prestigious Spingarn Medal. Dr. Laurencin is a Fellow of the American Institute of Chemical Engineers and currently serves on the AIChE Board of Directors. Among his many contributions and achievements at AIChE, he is also founder of the Institute's Regenerative Engineering Society.
The Spingarn Medal, which will formally be awarded during the NAACP's 112th Annual Convention, recognizes Dr. Laurencin's seminal and singular accomplishments in tissue regeneration, biomaterials science, nanotechnology, and regenerative engineering, a field he founded. His exceptional career has made him the foremost engineer-physician-scientist in the world. His breakthrough achievements have resulted in transformative advances in improving human life. His fundamental contributions to materials science and engineering include introducing nanotechnology into the biomaterials field for regeneration.
"Dr. Laurencin's contribution to furthering humanity's collective achievement in the field of science and engineering is extraordinary," said Derrick Johnson, president and CEO, NAACP. "As a pioneer of the new field, Regenerative Engineering, he is shaping the landscape of cell-based therapy, gene therapy, and immunomodulation. Named as one of the 100 Engineers of the Modern Era by the American Institute of Chemical Engineers, he has received countless awards for his transformative work. The NAACP is proud to present Dr. Laurencin with our highest recognition and join the chorus of those that realize what his work means globally."
The award's prestigious history
The NAACP Spingarn award was established in 1914 by the late Joel E. Spingarn—then NAACP Chairman of the Board of Directors. It was given annually until his death in 1939. The medal is awarded for the highest or noblest achievement by a living African American during the preceding year or years in any honorable field. Previous Spingarn medal recipients include: Mrs. Daisy Bates (Little Rock Nine), Myrlie Evers-Williams, Earl G. Graves Sr., W.E.B DuBois, George Washington Carver, Charles Drew, Jackie Robinson, Martin Luther King, Jr., Jesse L. Jackson, Maya Angelou, Oprah Winfrey, Cicely Tyson, Harry Belafonte, Sidney Poitier, Quincy Jones, and the Honorable Nathaniel Jones.
More about Dr. Laurencin's accomplishments
To learn more about Dr. Laurencin's exceptional career and accomplishments at AIChE, visit his AIChE profile and the Regenerative Energy Society website, and to learn more specifics about current work and extensive research accomplishments, visit his University of Connecticut profile.